Army marksman will shoot for gold at Tokyo Paralympics
by
Seth Robson
Stars and Stripes
August 16, 2021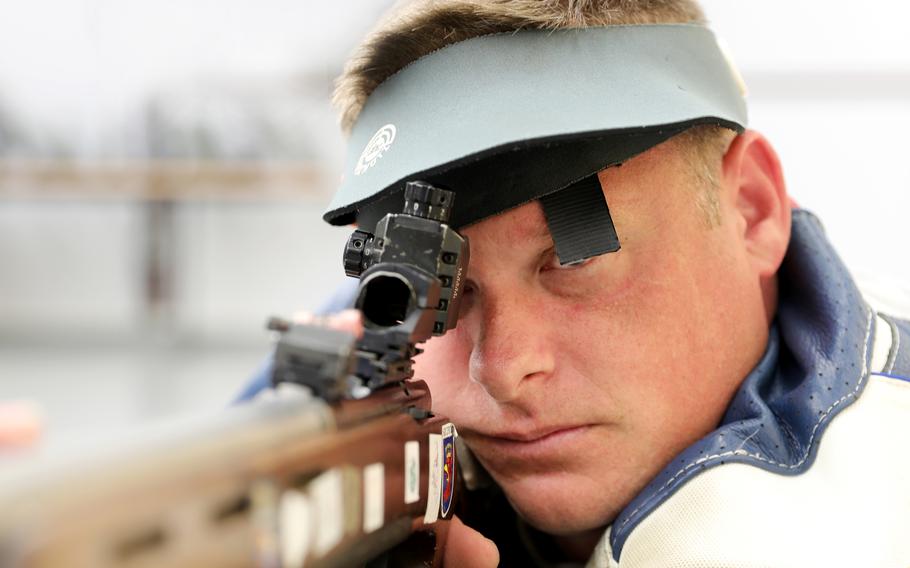 TOKYO — As a youngster growing up in Corsicana, Texas, Army Staff Sgt. John Joss shot caps off bottles with his grandfather's 1921 Remington .22-caliber rifle.
Seventeen years into his career as a soldier he's headed to Tokyo to shoot for gold as a member of the U.S. Paralympic team. The Paralympics open Aug. 24 and conclude Sept. 5. The shooting competition takes place at the Asaka Shooting Range in Saitama prefecture from Aug. 30 to Sept. 5.
Joss, 38, joined the Army in 2004, motivated, in part, by the Sept. 11, 2001, attacks on America, and found himself deployed to Camp Taji, Iraq, with 4th Battalion, 9th Infantry Regiment, "Manchu," in early 2007.
His crew set aside their mortars to serve as a quick reaction force, which meant "driving around in Strykers (armored vehicles) looking for enemy contact," he said in a telephone interview July 1.
Almost five months into his tour, on Memorial Day, his Stryker struck a roadside bomb. The blast shattered many of the bones in Joss' right leg. "Everything below the mid-shin was destroyed," he said.
The wounded soldier was evacuated to Balad Air Base north of Baghdad and on to Brooke Army Medical Center in San Antonio where a doctor told him, "We have to cut this off," Joss recalled.
His wounds required multiple surgeries that had him in and out of the hospital for 18 months. But a prosthesis got him on his feet and back to regular duty by October 2009.
To stay in uniform Joss had to pass challenging physical and mental boards, he said.
"The Army wasn't retaining troops with significant injuries at that time, so we had to fight to stay in," he said. "Very few of us made it through."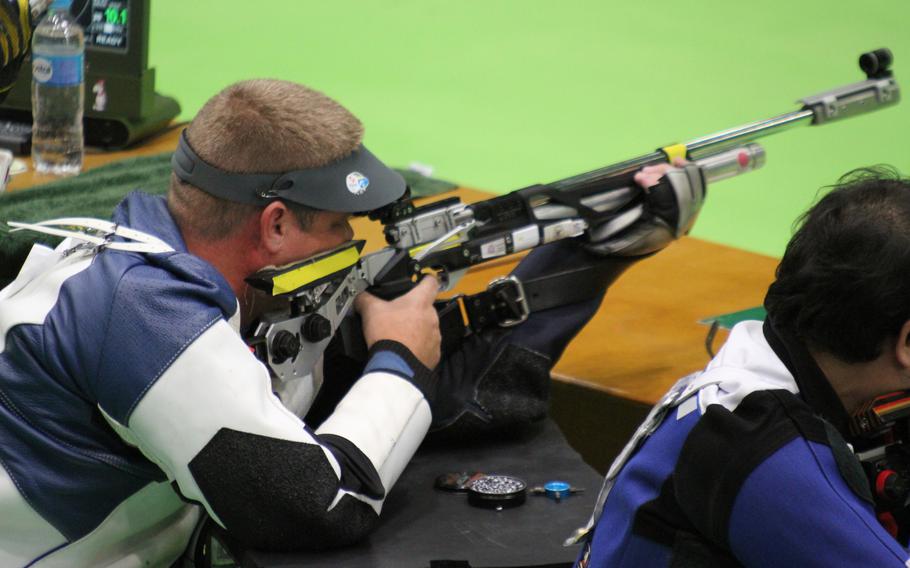 Marksmanship training
Joss was a mortar gunnery instructor at Fort Benning, Ga. until 2012, when his sharpshooting at a leadership course caught the attention of the U.S. Army Marksmanship Unit, which he joined soon after.
The unit was authorized by President Dwight D. Eisenhower in 1956, almost exclusively to win shooting competitions and raise Army marksmanship standards, according to the U.S. Army Recruiting Command.
"In the '50s, the Soviets dominated the international shooting scene," the command states on its website. "Many believed that only the U.S. Army had the personnel and facilities to develop a program that could compete with them."
Between 1962 and 1978, the unit led the United States to six Olympic Gold Medals and 59 individual and team championships in international competition, the command states.
From 2009 to 2012, the unit maintained a constant presence in Afghanistan by deploying multiple marksmanship training teams in support of the Afghan National Army NATO training mission, the command states.
In his schoolboy days Joss shot for kicks with his friends, he said.
"Mostly I just did fun target shooting," he said. "I was pretty good at taking caps off bottles at 50 to 100 yards."
As a mortarman Joss qualified as an expert every time he shot with an M-16 or M-4 rifle except the first time he shot, he said.
But he hadn't fired competitively before joining the marksmanship unit. His first competitive efforts were with air rifles, where he excelled, winning gold at the World Cup in Thailand in 2013 before transitioning to the 50-meter prone event with a .22-caliber rifle. He placed fifth in that event at the Rio Paralympics in 2016.
Other veterans on the U.S. Paralympic shooting team include Kevin Nguyen, who was wounded by an improvised explosive device while serving with the Army in Afghanistan, and two former Marines, Nick Beach and Marco DeLaRosa, Joss said.
The key to being a good competitive shooter is grit, he said.
"It's your brain and heart trying to work against you," he said. "It is a very mental sport."
Service in the Army teaches resiliency, which is an important trait for competitors, he said.
"I've been through a lot of stuff and should have died," he said. "I was taught at a young age that if I go into something with a strong mind, I will come out of it OK. I shouldn't have survived, but I did, so I have got nothing to complain about."