Deck sprints aboard USS Iwo Jima prepped Navy officer for Tokyo Olympics
by
Seth Robson
Stars and Stripes
July 27, 2021
TOKYO — A Navy officer who trained for the Olympics by sprinting across the deck of a warship on patrol in the Atlantic Ocean is set to race the world's fastest women over 100 meters in Japan.
Ensign Regine Tugade-Watson, 23, who graduated from the U.S. Naval Academy in May 2020, will run for the U.S. territory of Guam, which is sending its own contingent to this month's games.
The 115-pound, 5-foot-11 speedster, who competed for the U.S. territory at the 2016 Olympics in Rio de Janeiro, deployed as a surface warfare officer on the amphibious-assault ship USS Iwo Jima in March, but she didn't use that as an excuse to slacken her training.
"Before I got on the ship, I didn't know how conducive to sprint training it would be, but the flat deck was perfect," she told Stars and Stripes by phone July 16.
The Iwo Jima and its amphibious ready group took part in exercises this month in the Gulf of Aden with strike groups led by aircraft carriers HMS Queen Elizabeth from the United Kingdom and the USS Ronald Reagan.
The Iwo Jima's flight deck, more than 800 feet long, accommodates AV-8B Harriers and a fleet of Marine helicopters. It also provided more than enough space to run, Tugade-Watson said.
Sprinting isn't a favored exercise for most sailors and Marines at sea, but plenty of them run laps on the deck to stay in shape, she said.
Ocean swells and a moving deck didn't impact her sprint training on the Iwo Jima, but the sea breeze could be an issue at times, Tugade-Watson said.
"I'm not about sprint on the flight deck in 30-knot wind," she said.
Even before the deployment, Tugade-Watson had to juggle her track and gym time with military training.
And, during the coronavirus pandemic, with gyms often closed and track meets curtailed, things have been a little harder than they might have been, she said.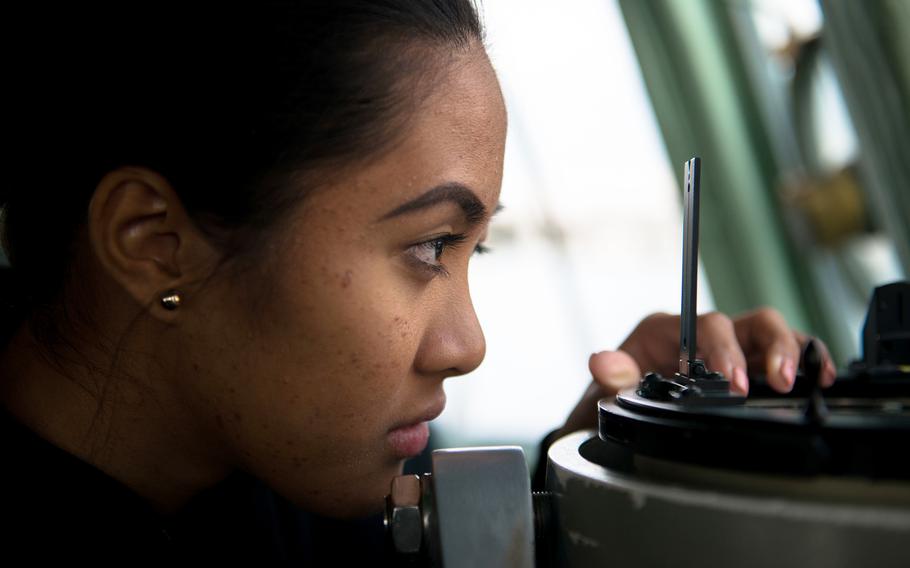 Coaches spotted Tugade-Watson's natural ability early, according to Guam Track and Field Association president Derek Mandell.
In middle school she was already outsprinting much older girls. By the time she was a senior at John F. Kennedy High School she was breaking records. Tugade-Watson, with a personal best of 11.92 seconds, is the first woman from the island to break the 12-second mark at 100 meters, Mandell said in a telephone interview Tuesday.
"She has natural talent, but she has worked incredibly hard," he said.
Guam has a vibrant sports scene, but it can be challenging for young athletes competing on an island with only four high school running tracks, he said.
Tugade-Watson, who also played volleyball and basketball at school, recalled competing against runners from Andersen Air Force Base on Guam and Department of Defense high schools on Okinawa.
At the Naval Academy she ran against Division I college athletes. She was "really bummed" to hear that one of her rivals, Sha'Carri Richardson, wouldn't be in Tokyo with Team USA after testing positive for marijuana.
One runner who will be there is Jamaican Shelley-Ann Fraser-Pryce, the world's fastest woman, who clocked 10.71 seconds in a recent race.
Japan, still coping with the coronavirus pandemic, has set strict rules for athletes, meaning Tugade-Watson can expects her activities to be limited to training and competing. But she said she is focused on her race. The women's 100-meter heats are slated for July 30.
"When I'm sprinting there's not much that goes through my head because it is so quick," she said. "The way you race is a direct result of how much work you put in."
The young officer said she's honored to be part of the Guam team at the Olympics.
"I'm just representing and going out here and seeing what I can do," she said.