'A place of peace': Army's first Paralympic swimmer reflects on journey to the pool and the Tokyo games
by
Sarah Cammarata
Stars and Stripes
July 21, 2021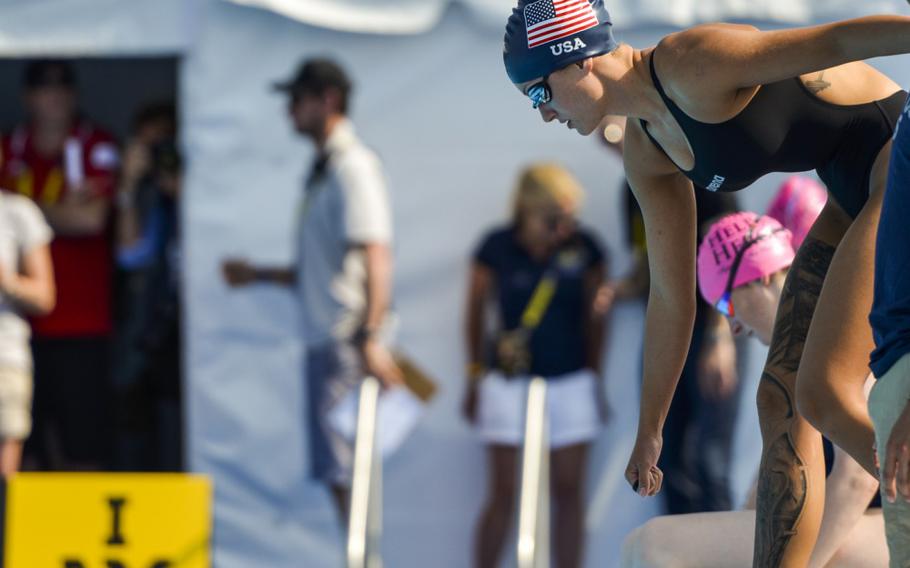 WASHINGTON — Lying in a hospital bed in Landstuhl, Germany, a 19-year-old combat medic had endured three operations to fix hip injuries suffered in Iraq and now faced the unthinkable: a medical discharge from the Army.
Neither she nor the Army will disclose what caused her injuries, but doctors told the young soldier that certain parts of her life might no longer be an option, including serving in the military.
Left feeling angry and discouraged at the constant reminder of all the things that she could no longer do, Sgt. 1st Class Elizabeth Marks was driven to become fit for duty again.
Eleven years later, the world record-holding Paralympic athlete laughed as she recalled thinking, "I could do anything, right?"
She became the Army's first Paralympic swimmer, the service said. But Marks said she considers herself a soldier first, then an athlete.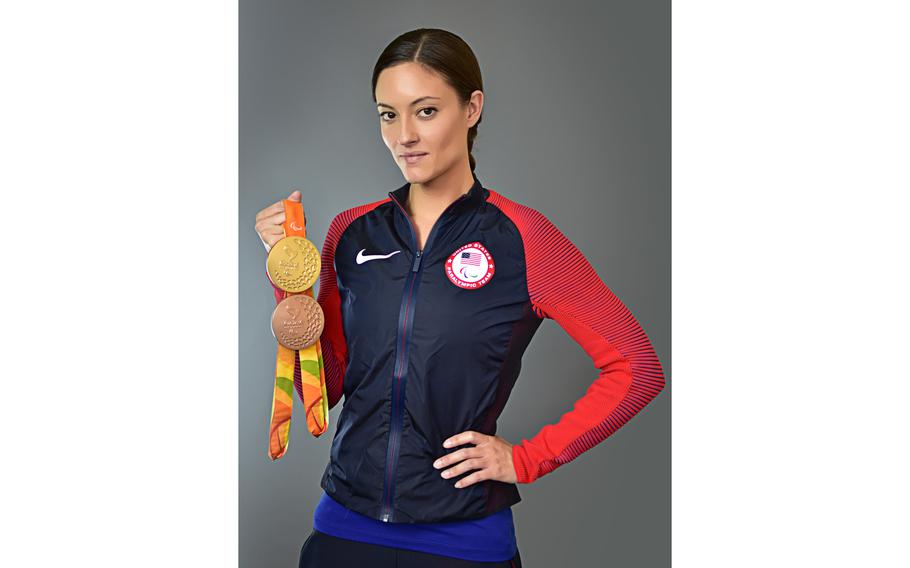 Marks said participating in adaptive sports that are modified to allow athletes with disabilities to participate has led her to a new calling. She can no longer care for wounded soldiers on the battlefield, but being a world-class adaptive sports athlete has shown her another way to help fellow soldiers.
"The biggest gift that [it] has given me ... is the ability to help other people who are ill, sick, injured or wounded in the military to find a different outlet and to share the healing power of adaptive sports," said Marks, who now mentors other troops.
The 30-year-old from Prescott Valley, Ariz., is one of 17 soldiers who are traveling to Japan to compete in the Olympics. Twelve of them are part of the Army's World Class Athlete Program, a unit that allows participants to fulfill their military responsibilities while training with the goal to qualify for the Olympic and Paralympic games.
The program includes active-duty, National Guard and Reserve troops who train for the Olympics or Paralympics who have just started in a sport or who have been training for many years.
"We currently have soldiers that participate in 17 different sports. They're located in six different areas around the U.S. Our No. 1 goal is to place soldiers on the national team so they can train with the national team," WCAP Program Director Willie Wilson said earlier this month.
Soldiers also must stay up-to-date with Army requirements, attend military schools, hold clinics, speak to high school and college audiences, talk with athletic teams and support Army recruiting efforts.
Marks is the Army's only athlete in the Paralympics, which begin Aug. 24. Three coaches in the Army will also be in Tokyo for the games, which start Friday.
Other soldiers will compete in a range of events including shooting, boxing, para-shooting, modern pentathlon, wrestling, steeplechase, shooting skeet, air rifle, smallbore rifle, pole vaulting, and track and field.
Marks was inspired at 17 to enlist in the Army during her time at the Arizona Project Challenge, an academy for at-risk youth run by the National Guard.
"I didn't have a lot of structure in my life and I didn't have very clear goals for my future but going through [the] Arizona Project Challenge really saved my life and changed the trajectory of my whole life," she said.
The six-month program, run by service members and veterans, provides a military-based education for students who have dropped out of high school, according to a LinkedIn description.
Her father, a Marine Corps veteran who served in the Vietnam War, and his lifetime of work at a Department of Veterans Affairs hospital in maintenance also made her admire the military.
But even after becoming injured, her fellow service members inspired her to stay in the service.
"I was obsessed with wanting to be the best medic, and when anyone is in that situation where they're injured, the rug gets pulled from under you and all I really had to hold on to is how much I love the people that I served with," she said.
Highly motivated to prove she was fit but unable to run, Marks tried competitively swimming for the first time at the Jimmy Brought Fitness Center at Fort Sam Houston in San Antonio.
That's where she met people who were training for the Warrior Games, a Defense Department-run annual event where wounded, ill and injured active-duty service members and veterans compete in a range of events. She began practicing with them, and eventually fell in love with the sport.
"Swimming just became a place of peace for me. It was the one place where I got to create my own pain, and push my own body and not just have to exist in that pain," Marks said.
In 2012, two years after her injury, Marks was found fit for duty for Army service and still serves as a combat medic today. She was awarded a spot in the WCAP on the same day. Despite an illness causing her lung capacity to be reduced and the mobility in her legs to decrease that year, she continued to compete on a national level, according to the International Paralympic Committee.
Marks was also hospitalized in 2014 shortly after arriving in the United Kingdom for a competition. Fluid filled her lungs and she was unable to breathe. She was placed in a medically induced coma for one month at the U.K.'s Papworth Hospital, according to a 2016 ESPN profile.
She was back in the pool nearly a month later, despite lingering effects from her lung disease, which was never identified, according to ESPN.
Since then, she has won four gold medals at the 2016 Invictus Games, an international sporting event for wounded, injured and sick service members, where she asked Prince Harry to present one of her medals to the doctors and nurses at Papworth Hospital who had saved her life two years earlier.
Marks also won a gold medal in the 100-meter breaststroke and set a world record for the race. She also won a bronze medal in the 4x100 medley at the 2016 Paralympic Games in Rio de Janeiro.
But Marks said she does not define success in terms of how many accolades she has. Instead, she said success is measured by, "How did this make you feel? What did it give you? What did it give your life?"
She called it "incredibly cathartic" to refocus her energy into something besides herself. And she feels grateful that's been something she can help teach others.
As a member of the WCAP unit and an Army combat medic, Marks has certain training requirements that she fulfills on an annual basis.
She also does community outreach and works regularly with soldiers at Fort Carson, Colo., who are sick or injured and healing for a return to the force or civilian life.
"The Army has been very supportive of me mentoring other ill, sick, injured and wounded, not just in my respective branch but in other branches of the military as well … that's what gets me up every day," Marks said.
At the same time, she said she still has much to learn.
"Oftentimes, I don't see myself as a swimmer and I'm around all these phenomenal athletes and I'm always impressed even when they're younger than me at how great and professional they are and how much they know and how much I don't know. I definitely feel more confident as a soldier," she said.
At the Rio Games, Marks said she felt like she was "out of her element" and "overwhelmed." One of the most challenging aspects, beyond the "culture shock," was feeling like she did not belong there.
She said the experience was difficult, but important, because it forced her to think about why she swims and why she wants to continue.
The reason always comes back to "my brothers and sisters in the military," Marks said.
"Little things that we do for each other in the military to support each other and to take care of each other. That's what I carry with me and there's so many people who will never know how much they've meant to me because they're no longer here," she said.
Physically, Marks always carries her father's dog tags in her pocket at competitions and the "memorial" tattoos that cover her right leg also represent her time in service. She also has a polar bear tattoo on her big toe.
"It's just like a goofy ugly tattoo. So, every time I look down on the block, the last thing I see is something that just makes me giggle. That's [for] my husband," she said.
Since the Rio Games, mental health has also been a focus for Marks, especially during the coronavirus pandemic, which caused all training to come to a halt.
"I had a lot of demons for a long time that I didn't pay the appropriate amount of time to and I did over commit and try to achieve maybe to avoid it," she said.
While training was on pause, Marks said coaches helped develop programs to do at home to keep athletes in shape, and sometimes she even lifted weights in the parking lot where she is stationed in Colorado Springs, Colo.
Marks said she has full confidence in the organizers of the Olympics that they will keep athletes safe, despite concerns over the virus.
In August, the swimmer will compete in the 50-meter freestyle, 50-meter butterfly, the 100-meter backstroke, and the 200-meter individual medley, in which swimmers compete in all four strokes.
For those who are interested in adaptive sports, Marks said, "Just try it."
"See if you like it. Why not? What do you have to lose?"