Soldiers, athletes, Olympians: Army coaches bring experience to Tokyo Games
by
Erica Earl
Stars and Stripes
August 5, 2021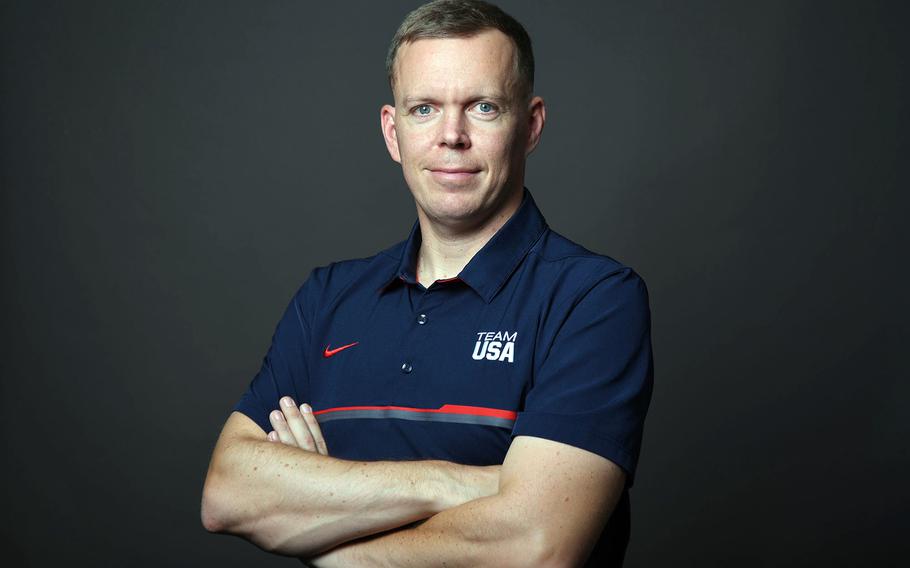 Three U.S. Army soldier-athletes, all former Olympians, are coaching U.S. wrestling, pentathlon and taekwondo teams at the Tokyo 2020 Olympics.
Staff Sgt. Spenser Mango, Sgt. 1st Class Dennis Bowscher and Sgt. Terrence Jennings are Team USA coaches this time around through the Army's elite athletics unit, the World Class Athlete Program.
"Being a coach is in some ways more stressful than being an athlete," Mango, a wrestling coach, told Stars and Stripes in a phone interview last week. "We've seen what it takes to compete and the ins and outs of the sport, and we have to take that and make our trainees' journeys a little easier and recognize what it takes to win at this level."
Team USA is still in the running for medals in events in which the soldier-athletes are coaching. The gold medal pentathlon event concludes Saturday. Freestyle wrestling concludes Saturday. Team USA athlete Anastasija Zolotic claimed gold in taekwondo July 25.
Mango coaches two active-duty wrestlers, Sgt. Ildar Hafizov and Spc. Alejandro Sancho, along with civilian athletes.
Mango said he takes pride in getting Olympians ready after his turn at two consecutive summer games, Beijing in 2008 and London in 2012.
"I feel content with my wrestling career after the Olympics, so I applied to be a coach to help and serve other athletes," he said. "The focus becomes about getting a whole team prepared versus just you as an individual athlete."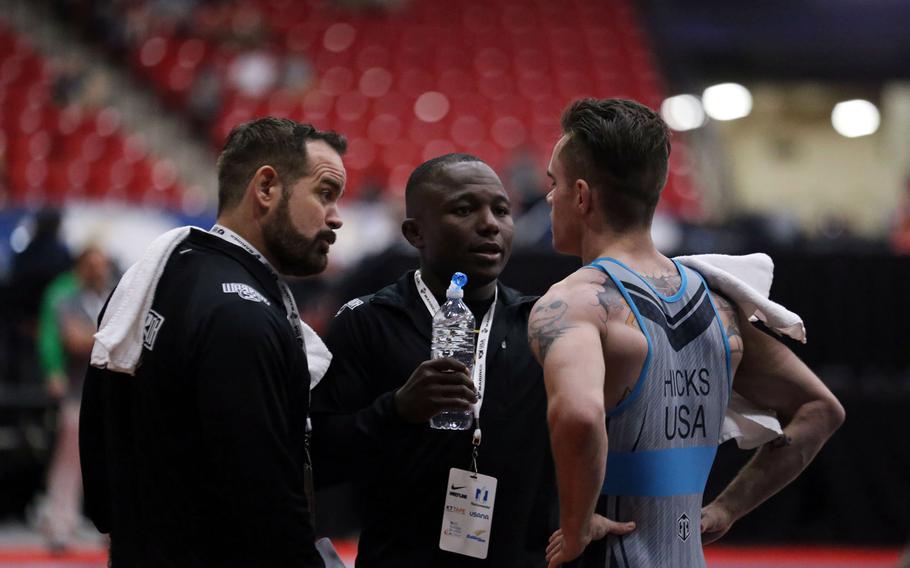 The World Class Athlete Program boasts 11 of its athletes at the Tokyo Olympics, delayed one year due to the coronavirus pandemic.
The program, based in Fort Carson, Colo., is an Army unit that exclusively trains soldiers for the Olympics or the Paralympics.
"I think there is a misconception about the program that it sounds simple to just train for your sport," Mango said. "But it's your whole lifestyle, not just a hobby. It requires year-round discipline on top of keeping up with your soldier tasks and military training."
Pandemic, and mental wellness
Browscher, who competed in modern pentathlon at the 2008 games and coached at the 2016 Olympic Games in Rio de Janeiro, said this year's event faced extra challenges because of the coronavirus pandemic and brought attention to athletes' mental wellness.
"Once you get to such a high level, there are many things that make the difference on competition day, including being in the right mindset and nutrition," Bowscher said. "We want to make sure our athletes have those resources available."
Soldiers in the WCAP athletes' programs must balance a demanding training schedule with their military occupational specialties.
Mango, Bowscher and Jennings, for example, have demanding careers as infantrymen.
"The military has trained us in the skills of discipline and time management already, so we're used to a high-caliber schedule," Bowscher said. "However, there is the mental stress of putting together plans and handling the logistics, and of course COVID complicated things."
During the pandemic, the coaches had to be creative in their training schedules to stay within safety regulations, such as coming up with home workouts and outdoor routines, Mango said.
For Bowscher and his pentathlon athletes, the challenge came in preparing for five very different sports – fencing, swimming, equestrian jumping, pistol shooting and running – while faced with the possibility the games might not happen.
Bowscher said that even in normal times he tells his athletes to try to keep mental clarity and avoid outside stressors while training, although he admits that is easier said than done.
"Ultimately, they should enjoy the journey and their experiences, as it all comes together for a few days out of many years of training," he said.
Bowscher, who began competing as a World Championships Team Member in 2005, said the most difficult part of an athlete's career can be deciding when it's over.
"The switch from competitor to coach was easy, and I was ready for the decision, but at some point, everyone comes to the end of being an athlete," he said. "That is a benefit of the WCAP. We are not just Olympians, but also soldiers set up to have a future career no matter what we decide to do."