'I get to cheer them on': Volunteers from US military community revel in Olympic experience
by
Erica Earl
Stars and Stripes
August 2, 2021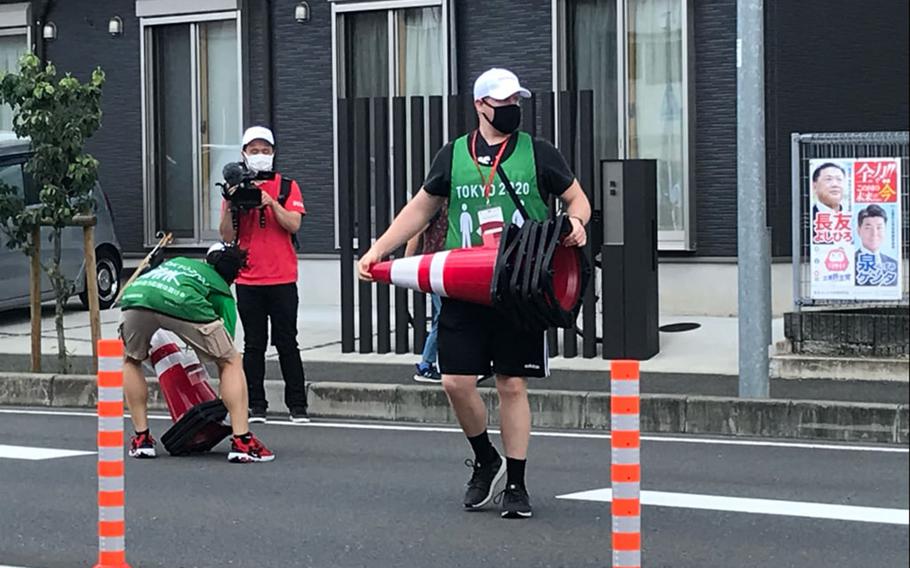 TOKYO — Few people are permitted to mingle with Olympians in Japan, but volunteers from U.S. military bases are among those fortunate enough to get close to the pandemic-affected games.
Service members, Department of Defense civilians and military families from Camp Zama and Yokota Air Base have been volunteering at cycling, baseball and aquatic events.
The International Olympic Committee in 2018 asked that service members be included in the pool of volunteers, a spokesman for U.S. Army Garrison Japan, Tim Flack, told Stars and Stripes by email Wednesday.
Sagamihara, where the men and women's cycling events were held, is a sister city of Camp Zama, headquarters for U.S. Army Japan. Olympic officials invited the garrison to send volunteers "as a way to include the Army community to help celebrate their long-standing friendship and various community exchanges," Flack said.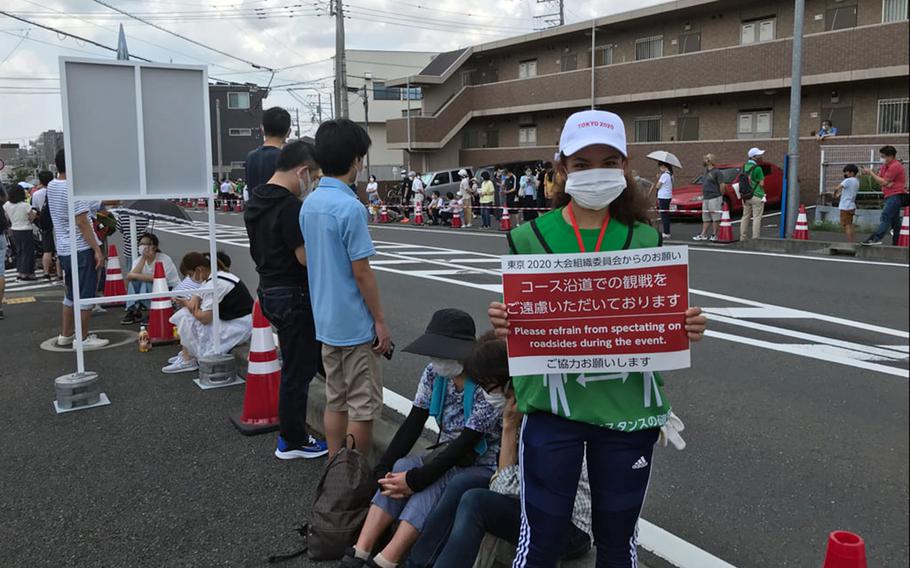 Over the course of the cycling event July 24 and 25, about 50 service members from Camp Zama volunteered to set up barriers and keep the 18 miles of roadway clear and safe, he said.
Sgt. Jennifer Jackson, president of Camp Zama's chapter of Better Opportunities for Single Soldiers, an Army morale program geared toward junior enlisted service members, said she was honored to volunteer at such a historic Olympics and feel the excitement as the competing cyclists roared by.
"Many of the young soldiers in BOSS are away from home for the first time and being somewhere as different and far away as Japan can be difficult," she told Stars and Stripes by phone Wednesday. "Opportunities like this can help alleviate homesickness and give them a sense of pride and stories to tell future generations."
Jackson said she will also cherish the memory of being involved in the Olympic committee stakeholders' meetings as president of the soldiers' program. Seventeen of the 50 Army volunteers are from the program, she said.
The Olympics also need volunteer translators like mother-son duo Shinobu and Robert Hanson, of Yokota. Shinobu Hanson, who works part time translating for the base's medical group, has been doing the same for the U.S. baseball team.
She said she has become like a "team mom" for the Olympians.
"I help them with translating everything from batting practice to any requests they may have, which has given me an opportunity to get a little close to the players," she told Stars and Stripes by phone Thursday. "Since people cannot go to the games, no one is there applauding, and for the players that can be a bummer, but I get to cheer them on and share some laughs with them."
Her son Robert Hanson, 20, a translator for the Israeli baseball team, is the youngest volunteer translator in this year's games. He said translating nuances from Japanese to English for a team that speaks English as a second language can be difficult, but the experience is rewarding.
"It is an honor to help out international players," he said in an email to Stars and Stripes on Saturday. "Being able to use my talent speaking two languages and translating everything is a new thing for me. It is very challenging but I'm having fun."
Volunteer Toshi Kato, an accounting technician at Yokota who volunteers for the Olympics baseball media operations, said he hopes Americans in Japan cheer for both the U.S. and their host nation Japan at this year's games.
Kato, formerly an assistant for one of Japan's professional baseball teams, the Seibu Lions, said he considers volunteering at the games to be an experience of a lifetime.
"My mother passed away a long time ago, but if she were still here, I would like to share everything from my experience with her," he told Stars and Stripes by phone Thursday. "I am really appreciative and want to enjoy this experience and share this memory."
Kato also volunteers at Yokota as a softball and baseball coach through the force support squadron.
The gold medal game for baseball is scheduled for Saturday. In women's softball, Japan took gold, and the U.S. took silver.
For some military-affiliated volunteers, this year is not their first time assisting with the games.
Hitomi Morioka, an English teacher near Yokota and a U.S. military spouse, is volunteering in the media operations center for aquatics sports this year and worked for NBC during the 1998 games in Nagano.
She said the Olympics, especially this year's games surrounded by hardships related to the coronavirus, is an opportunity to strengthen bonds among nations.
"A lot of my elementary-aged students are not very open to meeting foreigners," Morioka told Stars and Stripes in a phone interview Friday. "I want to teach them that moments like this are opportunities to make more friends in the world."
So far, the U.S., Australia and France have all claimed gold medals in swimming events. These include American stars Caeleb Dressel in the men's 100 butterfly and Katie Ledecky in the women's 800 freestyle.
Morioka said her favorite part of volunteering as a media liaison at the aquatics center is being so close to the action during an Olympics with no audience.
"There is all this excitement and happiness, and some of the athletes are so overcome by it all that they are in tears," she said. "I'm glad to be part of it and watching their dreams come true."