Among US Olympians, 83% are vaccinated against coronavirus
by
Adam Kilgore
The Washington Post
July 23, 2021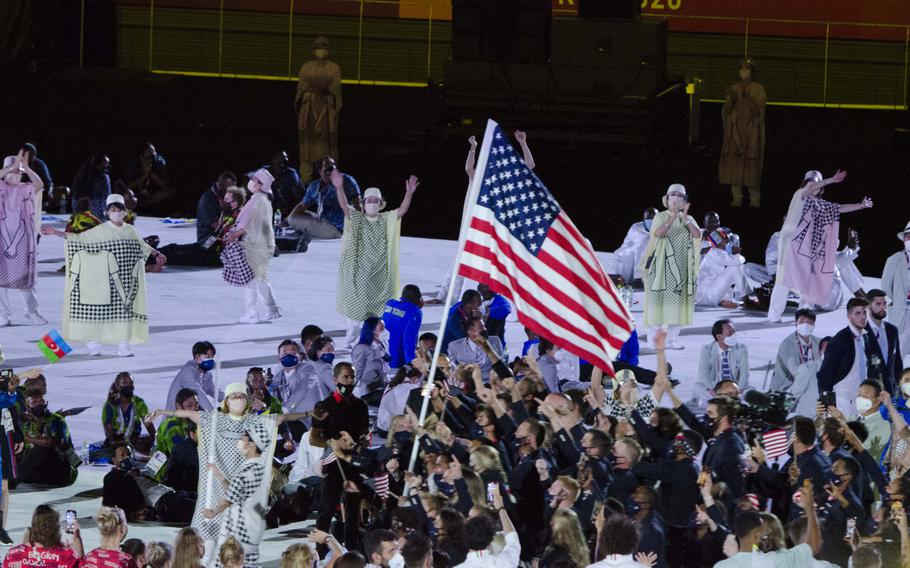 TOKYO — More than 80% of U.S. athletes participating in the Tokyo Olympics have been vaccinated from the coronavirus, a figure the United States Olympic and Paralympic Committee's top medical official called "a substantial number."
Not all 613 U.S. Olympic team members have submitted to the USOPC their health histories, which contain vaccination information. But with nearly 600 athletes reporting, 83% of them have been vaccinated, Chief Medical Officer Jonathan Finnoff said.
The rate means that from a nation with universal vaccine availability, more than 100 athletes will live in the Athletes Village and compete without having taken the shot. Still, the contingent's vaccination rate dwarfs the overall U.S. population's, and the USOPC considered it a success.
"I'm quite happy with that," Finnoff said.
Earlier this month, International Olympic Committee President Thomas Bach pledged 85% of athletes would have immunity, but his figure included vaccinations from outside the United States of varying effectiveness and those who possess immunity through previous infection. Finnoff indicated the U.S.'s stats include only those who have been vaccinated.
"The immunity you receive from vaccination is pretty established and consistent," Finnoff said. "When you get sick, there's high variability between individual's immune response and their immunity to future infection and also duration. And so I would say, and I would encourage ... anybody who is listening to this, the vaccination is more consistent and more effective than just relying on infection alone."
The USOPC did not provide figures on staff members, from whom it does not collect personal medication. It gathers athletes' vaccination history so it can create emergency health plans, Finnoff said.
Two American athletes, gymnastics alternate Kara Eaker and beach volleyball player Taylor Crabb, have tested positive for the coronavirus after arriving in Japan and will miss the Games. The USOPC has not determined the source of their cases, Finnoff said, but it strongly believes both became infected before leaving the States. Eaker and Crabb said they had been vaccinated.
The Olympics are taking place in a country under a state of emergency owing to the pandemic, with cases well below the peaks reached last year in the U.S. but surging as the delta variant grows dominant around the world. Less than one-third of Japan's population has been vaccinated after a rollout plagued with delays.
Despite the circumstances, Finnoff expressed confidence in Tokyo 2020's mitigation efforts and testing programs. USOPC officials vowed it would follow all precautions and rules set forth by Japan's government.
"When somebody asks me should the games go on, I can say emphatically that yes, indeed they should go on," Finnoff said. "The health and safety measures that have been implanted are exceptional. And I'm very confident we can have a safe and successful Games."
Almost no American Olympians, with the notable exceptions of gold medal-threat swimmer Michael Andrew and gymnastics alternate Leanne Wong, have revealed their unvaccinated status. Vaccinated athletes have received no different accommodations from unvaccinated counterparts, a nod to the fact that vaccinated carry hugely reduced risk of infection and transmission, but not no risk.
"The entire delegation from the United States, but also every athlete and staff member, volunteer — everybody within Tokyo 2020 — is being treated as if they're unvaccinated," Finnoff said. "And I think that's the safest way of treating this Olympics. The best thing to do is to assume everybody is at risk."
In other news, the USOPC declined to take a position on whether marijuana should remain on the World Anti-Doping Agency's banned list, which became a flash point after star sprinter Sha'Carri Richardson tested positive at the U.S. Olympic trials last month, costing her an appearance at these Olympics.
USOPC CEO Sarah Hirshland painted the United States as a powerful force in shaping the drug policy that governs the Olympics, saying three of the 12 members on the panel that decides the banned list are American. But she suggested the U.S. would not use that power to determine the status of marijuana.
"As an organization, the USOPC is not advocating one way or another," Hirshland said. "But we are in constant focus on making sure that we try to stay ahead of science and where we can help that science and where we can be collaborative partners. But we don't have a position on what should and shouldn't be on that list. We think we have the right expertise at the table to make those determinations, and the Americans have a nice voice in that process."