Olympians parade through near-empty stadium as Tokyo kicks off pandemic-delayed games 
by
Seth Robson
Stars and Stripes
July 23, 2021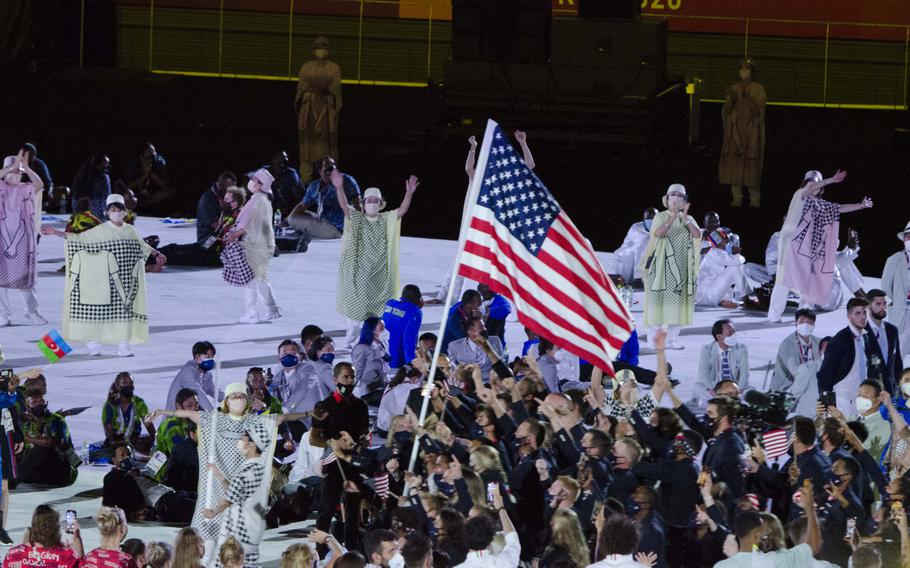 TOKYO — The games of the XXXII Olympiad began in surreal fashion Friday night with scaled back pageantry and ceremony and athletes marching inside a mostly empty National Stadium in Japan's capital city.
The world's largest athletic competition was postponed last year due to the coronavirus pandemic, which has killed more than 4 million people since the first cases emerged in China in late 2019, according to the World Health Organization.
Olympic organizers decided earlier this month to hold most events without spectators amid a new surge of coronavirus cases in the metropolitan area.
Small crowds, including anti-Olympics protesters, gathered outside a police cordon that blocked streets leading to the stadium ahead of the event but the area inside was quiet, except near the press entrance where journalists from all over the world gathered to take photographs with the Olympic rings.
As dusk fell on a hot summer night, the stadium, decorated with a large, stylized replica of Mount Fuji with a sun rising above its peak, was illuminated in Japan's national colors. It later proved to be the Olympic cauldron and was lit by tennis star Naomi Osaka at the ceremony's conclusion.
A moment of silence was held for the victims of the coronavirus while a ghostlike performer in a long white robe appeared alone on a platform in the center of the arena.
There was another display by performers in traditional and not so traditional costumes leaping on wooden tables surrounded by lanterns before a solo tap-dancing finale under the flagpole.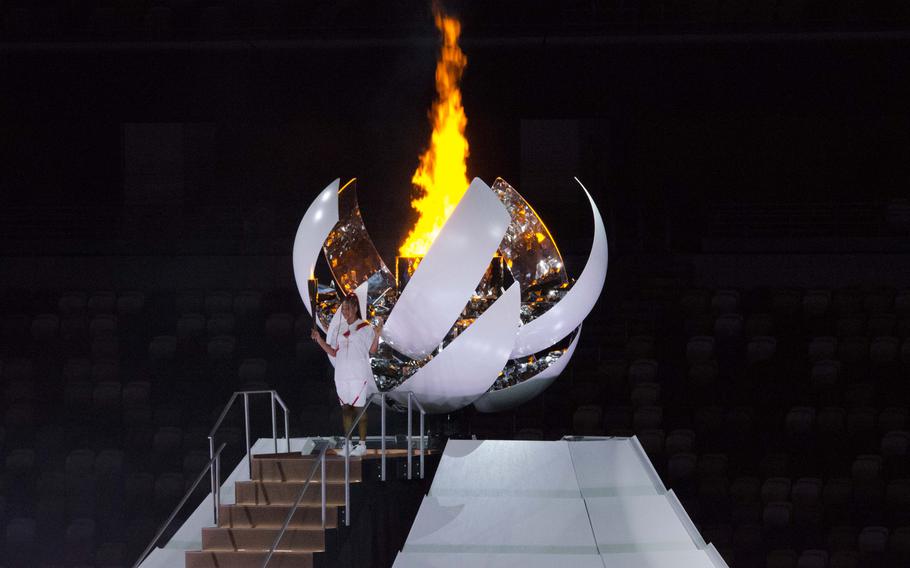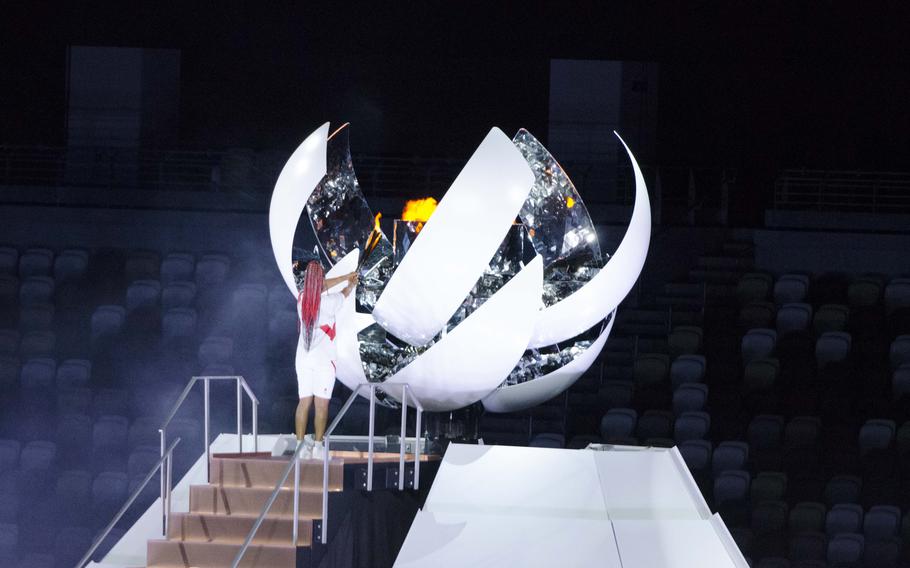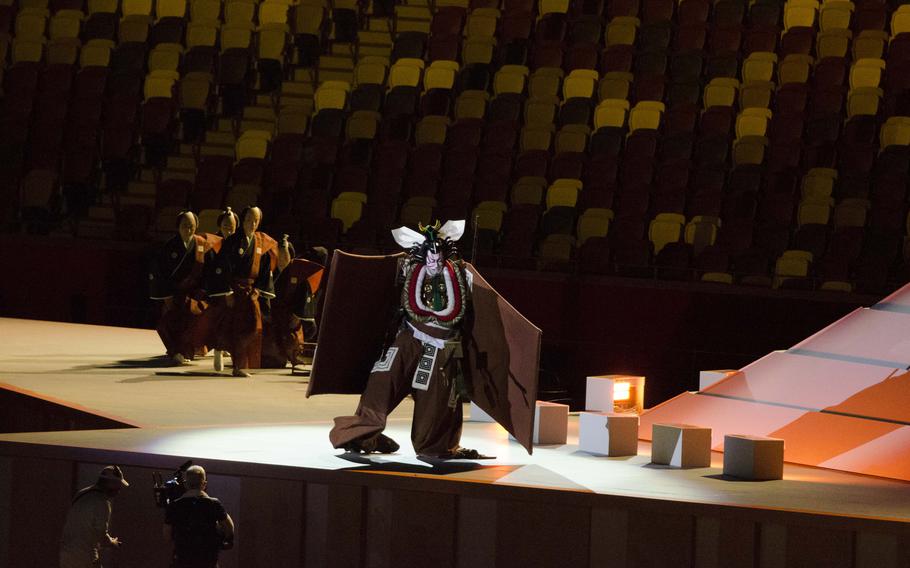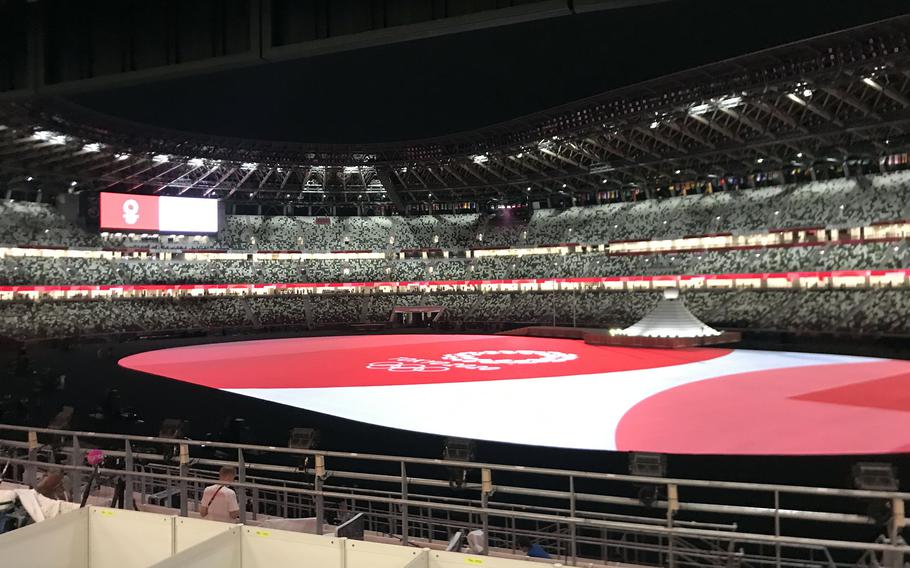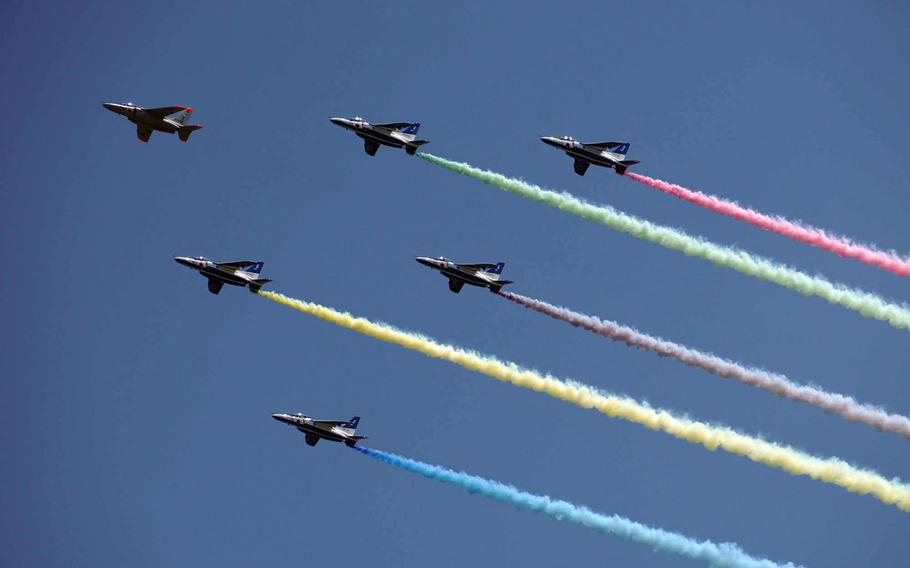 Among the dignitaries watching the action were U.S. first lady Jill Biden, who arrived a day earlier at Yokota Air Base, home of U.S. Forces Japan in western Tokyo.
Before heading to the stadium, she gave some American athletes a pep talk at the U.S. ambassador's residence, telling them: "Becoming an Olympian is a rare accomplishment in a normal time. But you did it during a global pandemic."
About 45 minutes into the opening ceremony, some of the more than 11,000 athletes from over 200 participating countries marched into the stadium behind their nations' flags.
The American athletes strolled in after most of the other teams. That reflected the fact that the U.S. will host the Olympics in Los Angeles in 2028. Team USA was followed by France, which will host the games in Paris in 2024, and finally the Japanese team.
The U.S. team, its size exceeded by only the Japanese team, made a fist-pumping entrance clustered around American flags. Clad in mostly dark blue Ralph Lauren outfits, they were led into the arena by basketball star Sue Bird and baseball player and speedskater Eddy Alvarez carrying the flag.
A diverse group of fans gathered to watch Olympics opening ceremonies at the enlisted club on Yokosuka Naval Base.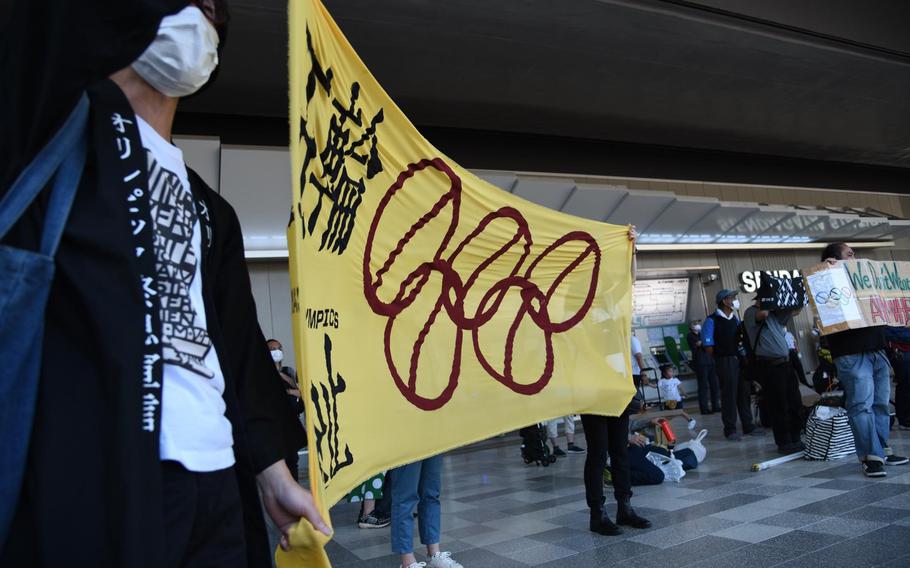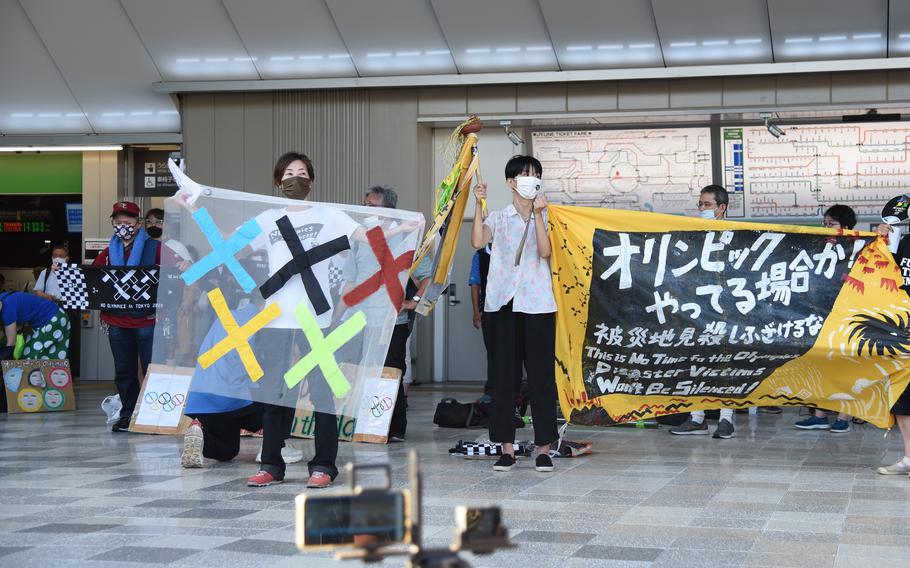 "It's really exciting," said Navy spouse Maia Champlin. "I've never sat in for a watch party anywhere. To see the opening ceremony in another country while it's happening is so exciting. We really wanted to go in person - and we would've if we could."
Yokosuka base commander Capt. Rich Jarrett also weighed in.
""We're excited to celebrate with Japan, especially during such an important global event," he told Stars and Stripes on Friday night.
Tokyo remains under a state of emergency scheduled to last until Aug. 22.
The Tokyo Metropolitan Government reported 1,359 daily coronavirus cases Friday, an increase of 88 from a week ago, bringing the seven-day rolling average of cases to 1,386 per day, up 46.5% from the previous week, according to metro government data.
At least 16 U.S. service members will compete in the games in events ranging from track and field to shooting, boxing, wrestling, sailing and modern pentathlon. Several service members are coaches.
The games will include a record 339 events and feature 33 sports at venues throughout Japan. New medal events include karate, skateboarding, surfing, men's and women's 3x3 basketball, and women's featherweight and welterweight boxing.
Competition in sports such as softball and soccer started earlier this week with the first medals to be awarded in the women's 10-meter air rifle event Saturday.
It's unclear how the lack of spectators and the pandemic might impact viewership, which topped 3.5 billion at the London and Rio Olympics in 2012 and 2016, according to the International Olympic Committee.
The American Forces Network is screening NBC's coverage of the games. Members of the military community in Japan can stream 7,000 hours of coverage using NBC's website or smartphone application by logging in at https://stream.nbcolympics.com/olympic-channel?pid=2024805 with their online shopmyexchange.com account.
Stars and Stripes reporter Alex Wilson contributed to this report.