Tokyo logs another 1,359 COVID-19 cases hours before Olympics officially begin 
by
Joseph Ditzler
Stars and Stripes
July 23, 2021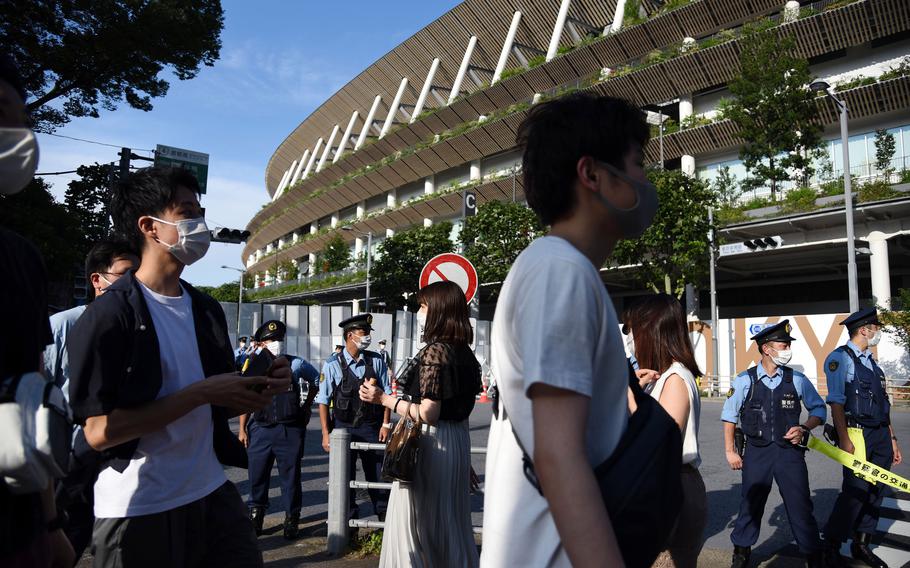 TOKYO – Japan's capital reported more than 1,000 newly infected coronavirus patients for a fourth consecutive day Friday, as the city opened the delayed 2020 Olympic Games.
Another 1,359 people tested positive in Tokyo, continuing the second-largest of five waves to hit the city since the pandemic began, according to metro government data. It reported 1,979 new cases Thursday, a seven-month high.
The number of COVID-19 cases linked to the Olympics reached 71, including 22 athletes, of whom five are Americans, CNN reported Friday. About 11,000 athletes are expected to take part in the games, according to Olympics.com.
The Olympics go forward under a series of restrictions, including a ban on spectators at most venues and measures designed to keep athletes from having much contact with outsiders. Tokyo, parts of neighboring Kanagawa prefecture and Okinawa are under a coronavirus state of emergency until Aug. 22 due to rising case numbers.
Across U.S. military installations in Japan, 26 people tested positive for COVID-19, the coronavirus respiratory disease, according to reports Friday.
Kadena Air Base on Okinawa added 18 individuals to its growing July tally, according to a Facebook post by the base Friday.
Fifteen tested positive after falling ill with symptoms of COVID-19; two contracted the disease after close contact with a previously infected person; and one person came up positive in the test required prior to traveling to the United States, according to Kadena.
The air base has reported 61 new COVID-19 patients so far this month, the most it's reported since 74 in April.
The Marine Corps said two of its people on Okinawa also tested positive Friday, according to a Facebook post by Marine Corps Installations Pacific. It did not specify where those cases originated.
Yokosuka Naval Base, 43 miles south of central Tokyo, has discovered five new COVID-19 cases since Tuesday, according to a base news release Friday.
One immunized person fell ill with COVID-19 symptoms and tested positive during a medical screening; four base employees, none of them immunized, also developed symptoms and tested positive.
The base has seven patients under observation.
Naval Air Facility Atsugi, 26 miles southwest of Tokyo, on Wednesday reported one new patient, base spokesman Sam Samuelson told Stars and Stripes on Friday. The base has two active cases.
South Korea update
Five service members with USFK tested positive after falling ill with COVID-19 symptoms: three at Camp Casey, one at Camp Carroll and one at Camp Humphreys, according to a news release Friday.
Another seven were discovered during contact tracing: five service members at Casey, one at Osan Air Base, and a Defense Department civilian employee's family member at the K-16 Army airfield, according to the release.
All seven had direct contact with previously infected people, according to USFK.