Tokyo's COVID-19 numbers climb higher as Okinawa cracks down on pandemic violators
by
Joseph Ditzler, Mari Higa and Hana Kusumoto
Stars and Stripes
July 22, 2021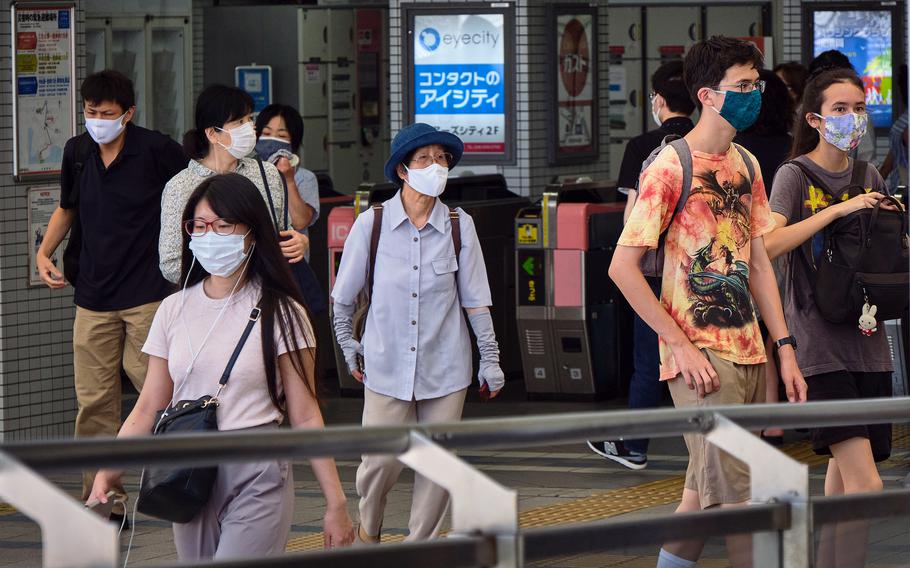 TOKYO – Japan's capital city recorded a third consecutive day of more than 1,000 new COVID-19 cases Thursday, the day before the Olympic Games' opening ceremonies.
The Tokyo Metropolitan Government said another 1,979 people had tested positive for the coronavirus respiratory disease, the highest one-day count since 2,044 on Jan. 15, according to public broadcaster NHK and metro government data. The seven-day moving average is nearly 1,300 new patients daily.
Tokyo has recorded more than 1,000 new cases on six of the past seven days, a stretch it hasn't experienced since the third and worst phase of the pandemic, thus far, in December and January.
On Okinawa, prefectural Gov. Denny Tamaki, citing a rising number of new coronavirus cases, on Tuesday declared an "intensive restraint period" starting Thursday until July 31. The prefecture, like Tokyo, is under a state of emergency until Aug. 22.
A new wave of coronavirus has swept the island, from 34 new infections on July 4 to 169 on Wednesday, according to the prefecture's COVID-19 tracking website.
"There is no way to deny that Okinawa is in the fifth wave of the COVID-19 pandemic," Tamaki said at a Tuesday press conference. "Today we confirmed 154 new cases and it is the first time in 34 days, since the 14th of June, that we confirmed more than 100 cases a day."
Tamaki imposed stricter measures than imposed in Tokyo and in Kanagawa prefecture, Tokyo's neighbor on its southern border. Kanagawa Gov. Yuji Kuroiwa on Wednesday declared a state of emergency in the cities of Yokohama, Kawasaki, Sagamihara and Atsugi effective until Aug. 22.
Okinawa is home to the greatest concentration of U.S. troops and their families in Japan. On Thursday, the Marine Corps reported four new patients at four of its camps there.
One person each at Camps Hansen, Foster and Courtney and Marine Corps Air Station Futenma had tested positive, according to a Facebook post Thursday by Marine Corps Installations Pacific.
Kadena Air Base on Okinawa in June and July experienced a bump in case numbers, tallying 39 in June and 43, so far, this month.
A statement from Tamaki's office Wednesday outlined further measures, including a request to island residents to stay home and refrain from unnecessary travel, and calling on vacationers and other visitors to postpone their plans or "stay healthy for two weeks before coming to Okinawa."
Prefectural facilities will close until July 31, he said, including Churaumi Aquarium, Shurijo Castle Park and Kaihin Park. Public libraries and museums may also close.
The prefecture is also stepping up enforcement of restrictions on restaurants, bars and clubs, sending "night patrols" to check on those who disregard government requests to limit their business hours.
The government gave first notice to 287 businesses, ordered another 134 to comply with the restrictions, fining 29 of the latter for violating the Special Measures Law, according to Tamaki. The law, passed by the national Diet in February, gives government authorities power to enforce coronavirus measures that were previously voluntary.
Japan has counted more than 853,000 COVID-19 cases during the pandemic and more than 15,000 deaths, according to the Johns Hopkins Coronavirus Resource Center. About 29.4 million people, or 23.3% of its population, are fully vaccinated.
Although the nation is making progress administering COVID-19 vaccines, the virus cannot be contained even if 60% of the population is inoculated, the head of Japan's coronavirus countermeasures subcommittee said Tuesday on Nippon TV.
With 60-70% of the population vaccinated, fewer patients will fall seriously ill and the burden on medical staff will lessen, Shigeru Omi said on the program. But herd immunity will be difficult to obtain.
Omi said that new case numbers may double in Tokyo over the next two weeks at the current infection rate, and could exceed the third wave of infection, which peaked in mid-January.