US military's footprint is expanding in northern Australia to meet a rising China
By
Stars and Stripes
September 8, 2022
---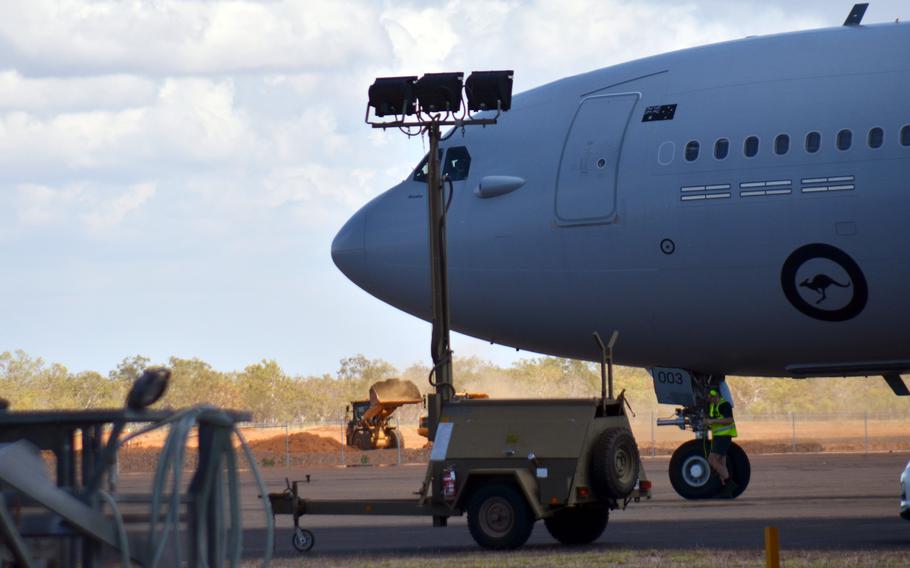 DARWIN, Australia — Red dust rises in Australia's Northern Territory as tractors churn the earth to build facilities for U.S. forces deployed to bolster a longtime ally threatened by China's rapid military buildup.
Major construction, funded by the U.S. and Australian governments, is underway in the northern port of Darwin, at Larrakeyah Defence Precinct and at Royal Australian Air Force Bases Darwin and Tindal for facilities that will be used by the U.S. Air Force, Navy and Marine Corps.
The facilities will support U.S. and Australian forces training to defend chains of small islands that would likely be an arena for any future conflict with China, according to former Australian assistant defense secretary Ross Babbage.
The allies are learning to conduct dispersed operations and deploy anti-ship missiles to island chains in the Western Pacific "to make it extremely difficult and dangerous for Chinese operations in a crisis," including a conflict over Taiwan, he said by phone Wednesday.
Australians are alarmed at Chinese efforts to gain influence among their South Pacific neighbors following a security pact, signed in April, with the Solomon Islands that many fear could lead to the establishment of a Chinese military base.
East of Darwin's central business district, 400 workers are building 11 massive tanks that will be able to store 80 million gallons of fuel, according to Crowley, a Florida-based fuel provider working under contract with the Defense Logistics Agency, according to the company's website.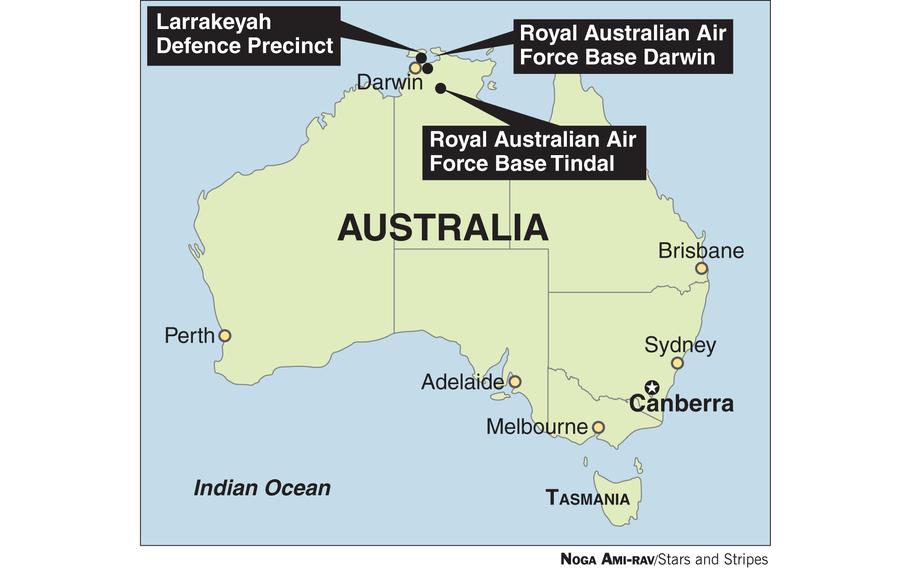 "Construction on all 11 tanks has commenced," the Northern Territory's government said in a statement Sept. 1. "The facility will be the largest of its kind in the Territory."
The $181 million project, to be completed by September 2023, will provide U.S. defense operations in the region with military-grade fuel, the statement said.
Larrakeyah projects
On the west side of Darwin, at Larrakeyah Defence Precinct, work is underway on a $317 million upgrade of facilities and a new 820-foot-long wharf and fuel farm, according to the Australian Defence Department's website.
The new facilities, due to be complete in 2023, will support surface warships, submarines, mine hunters and hydrographic ships, the website states.
The base has been home to 100 U.S. Marines, deployed there the past six months as part of a 2,200-strong rotational force that has been training in the Northern Territory during the southern hemisphere's cooler months since 2012. The bulk of the force is at Robertson Barracks, an Australian army post about 12 miles to the east.
The Marines at Larrakeyah make up the rotational force's command element and live on base in modern, multistory apartments, each with its own bathroom and balcony.
The base displays old military equipment, including guns used to defend Darwin from Japanese air raids in World War II. The installation, which dates to 1932, was damaged in the bombing.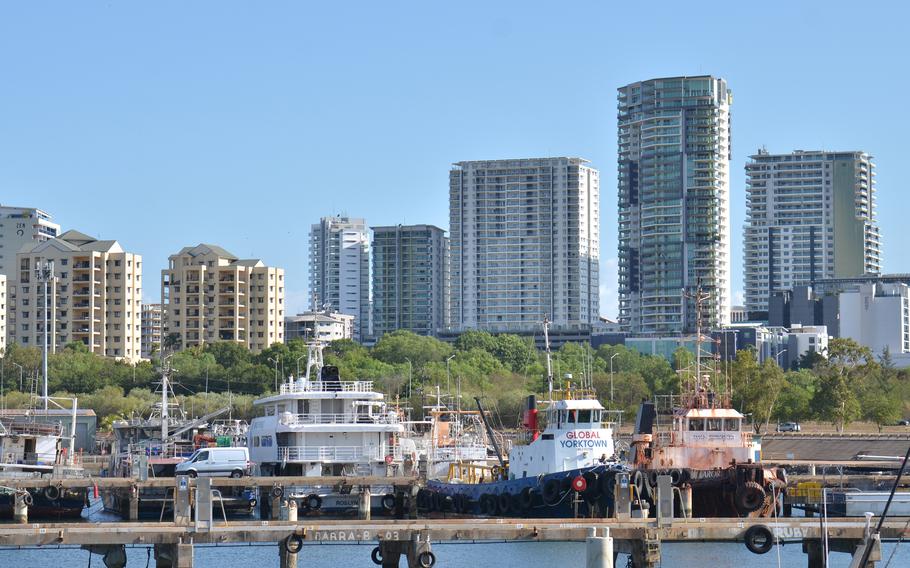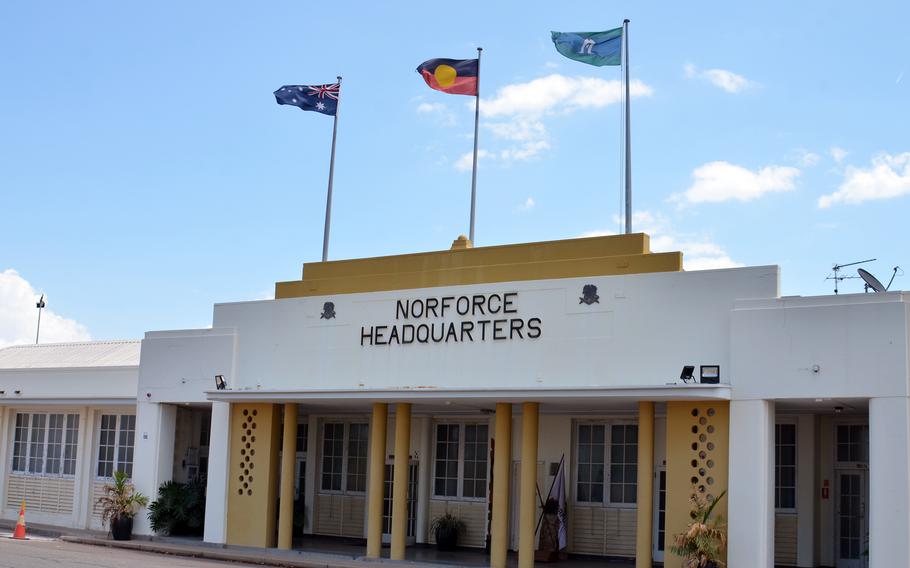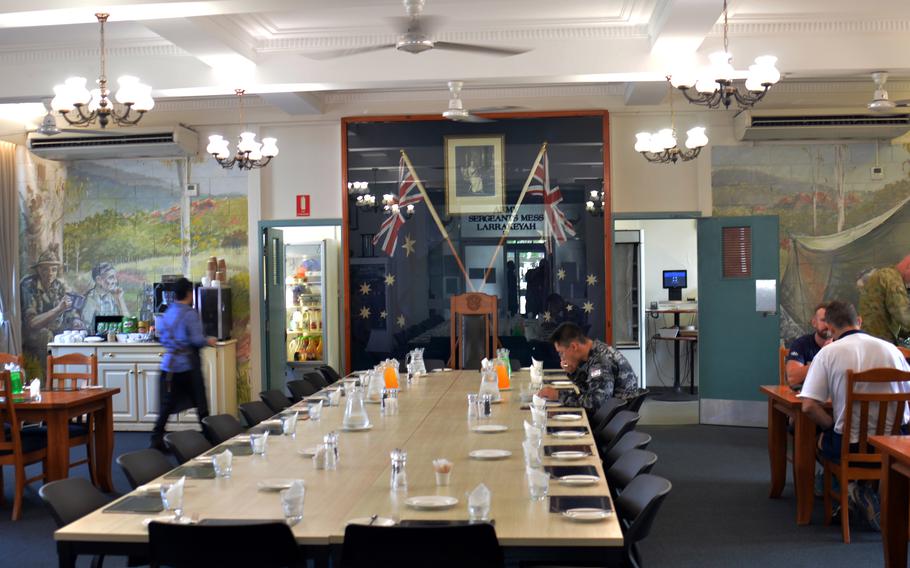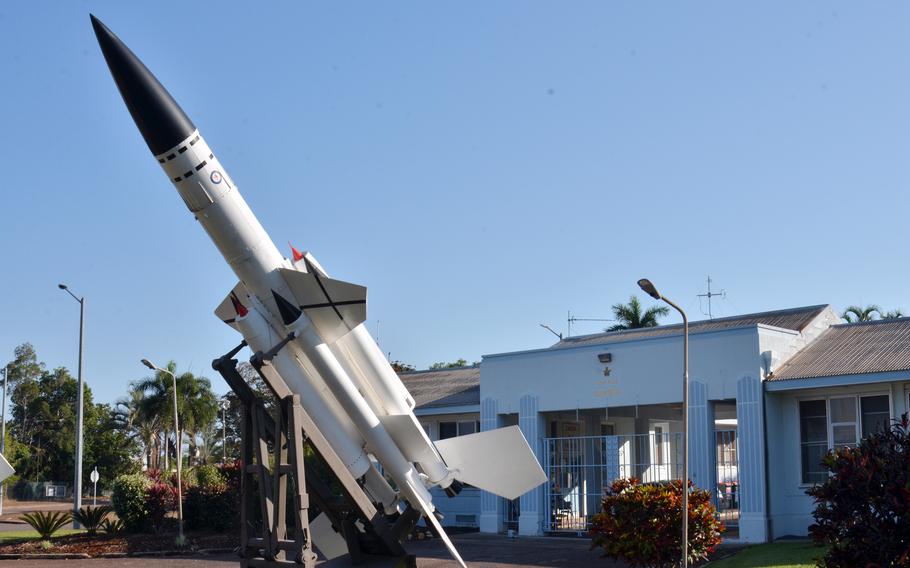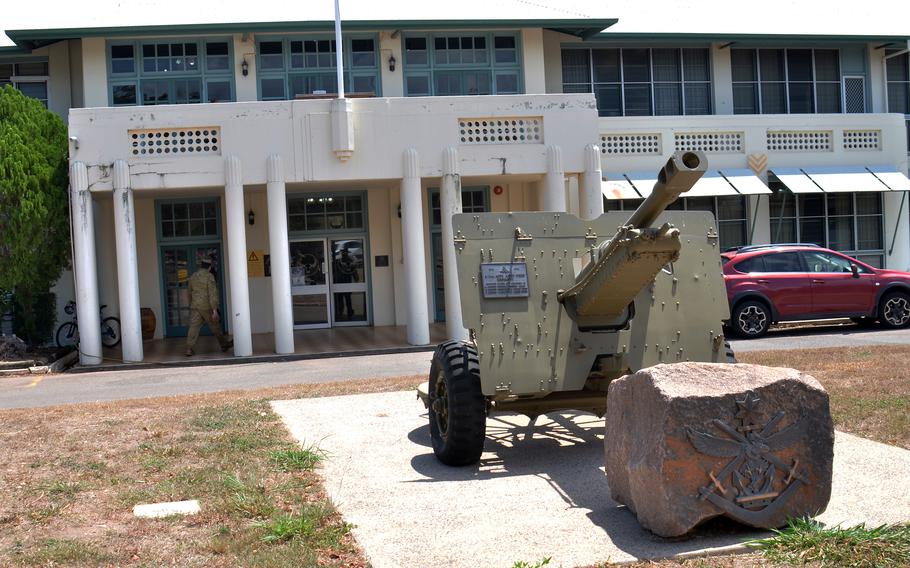 The Marines work out in a well-equipped fitness center and on a grassy playing field nearby. They eat at the Australian navy dining facility beneath a large portrait of Queen Elizabeth II. They can enjoy an after-work beverage at a bar upstairs decorated with Vietnam War-era souvenirs.
The Marines are planning a rugby game against the Stray Cats, a local civilian team, on Sept. 11. The fixture commemorates a match between members of the 15th Marine Expeditionary Unit deployed from Camp Pendleton, Calif., and local players that happened on the same date in 2001, shortly before the attack on the Twin Towers.
The Marines share Larrakeyah with 600 Australian sailors assigned to naval base HMAS Coonawarra. Larrakeyah is home to 11 Armidale-class patrol boats. Sailors there can haul the 171-foot-long vessels out of the water and into a massive shed for maintenance.
"They patrol an area from Christmas Island to Ashmore Reef (in the Indian Ocean) and the Timor Strait," a spokesman for the Australian Defence Department in the Northern Territory, Todd Fitzgerald, said during a base tour. "They're looking for anything that shouldn't be there like illegal fishing, human traffickers and drug shipments."
Pier improvements
The Australians are adding larger, 262-foot-long offshore patrol vessels to their fleet with the first one to be launched later this year, he said.
The new wharf at Larrakeyah will allow Australia's 755-foot-long landing helicopter dock ships the HMAS Canberra and HMAS Adelaide, to make port calls, Fitzgerald said.
Similar-sized U.S. Navy amphibious assault ships will also be able to dock at the new pier, he said, meaning visiting U.S. Marines can disembark there, rather than at Darwin's civilian wharf where commercial berths must be booked in advance.
The base is on the opposite side of town to Fort Hill Wharf, where the U.S. Navy's dock landing ship USS Ashland made a port call in May. The wharf and other port facilities in Darwin are leased by Landbridge, the Australian subsidiary of a privately owned Chinese company that is reported to have links to China's army.
Larrakeyah is also home to Australia's North-West Mobile Force, a unit made up of indigenous troops who conduct long-range reconnaissance and surveillance missions, Fitzgerald said.
The force keeps tabs on almost three quarters of a million square miles in northern Australia by visiting remote communities and airstrips to collect information, he said.
"When the Marines go into an area these guys will give them a low down on what's in there," he said.
Members of the unit can talk to people in remote communities in their own language and introduce Marines who might work near them, Fitzgerald said.
"If you have someone from North Force who says they are with them (the Marines) it can avoid a lot of potential problems," he said.
Air base upgrades
Australian air bases in the Northern Territory frequently used by visiting U.S. aircraft are also being improved.
At RAAF Darwin, for example, $88.65 million worth of projects to build fuel tanks, expand the airfield and erect maintenance facilities are due for completion next year.
U.S. Air Force F-15 Eagles from the Okinawa-based 67th Fighter Squadron flew out of RAAF Darwin during the Pitch Black drills, a three-week exercise involving 2,500 personnel, more than 100 aircraft and 17 nations that ended Thursday.
A $496 million project at RAAF Tindal, a 200-miles drive south of Darwin, will upgrade the airfield, increase aviation fuel storage, re-invest in ageing base engineering services and provide additional accommodation for airmen, according to the Australian Defence Department's website.
A concurrent $294 million project at the base will upgrade power, water and sewerage, the website states.
Heavy equipment was at work on Sept. 1 building new ramp space capable of accommodating American B-52 bombers at Tindal. U.S. stealth fighters including Marine Corps F-36B Lightning IIs deployed from Iwakuni, Japan, and Air Force F-22 Raptors from Hawaii were taking off and landing near the worksite that day.
The Australian government will likely announce more initiatives in the northern Australia before the year is over, Babbage said.
"There is a lot of space and scope for doing innovative things and big things," he said.
---
---
---
---