Marines train for littoral combat in scorching Australian Outback
By
Stars and Stripes
August 25, 2022
---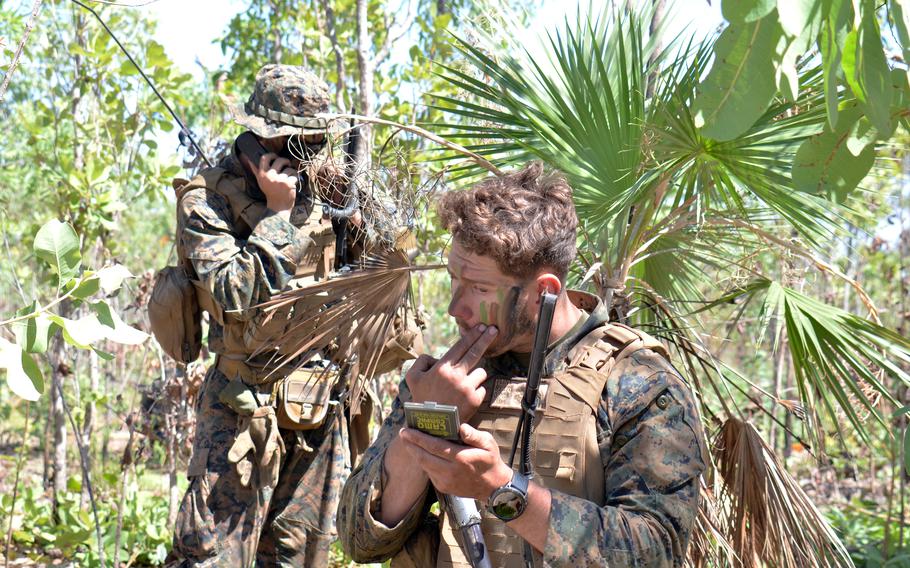 MOUNT BUNDEY TRAINING AREA, Australia — There is plenty of sun but little shade in the sparse Outback of Australia's Northern Territory, where U.S. Marines and sailors are honing amphibious warfare skills with troops from three other nations.
On Sunday, Sgt. Steven Wilson, 28, of Huntingtown, Md., led six Marine snipers and two Australian forward observers into the 290,000-acre Mount Bundey training area, a former cattle station.
They arrived in dune buggy-style tactical vehicles, humped two more miles and set up an observation post, Wilson explained on Wednesday. They scanned for opposing forces and sweltered in heat that reached 102 degrees over three days, Wilson said. But they spotted only wallabies and dingoes.
"In this area there's a million trees and no shade," he said. "We were burning up out there."
Exercise Predator's Run, which began Aug. 19 and runs through Sunday, pits the multinational force of Marines and Indonesian and Philippine troops under the Australian Army's 1st Brigade against other Australian troops role-playing as the enemy.
The Marines, from 3rd Battalion, 7th Marine Regiment out of Twentynine Palms, Calif., have been in Australia with Marine Rotational Force-Darwin since March.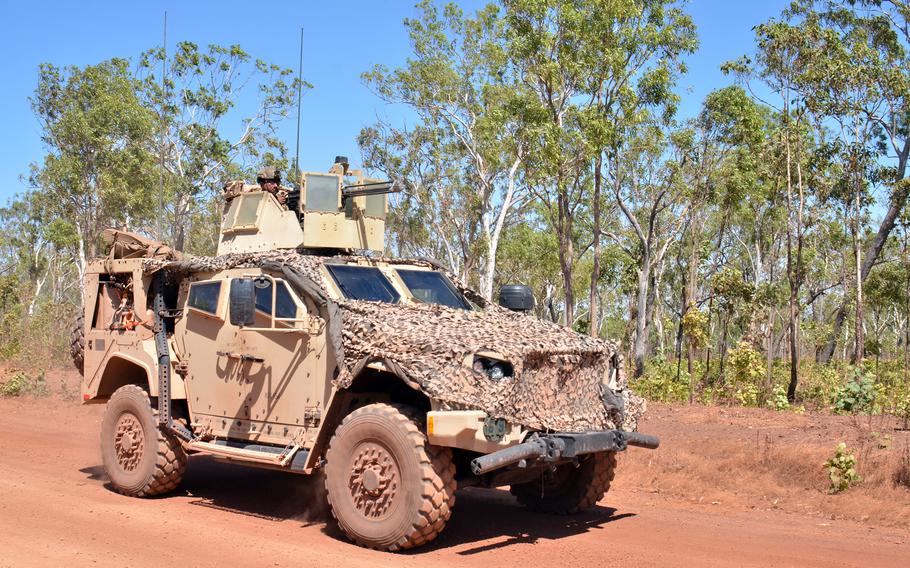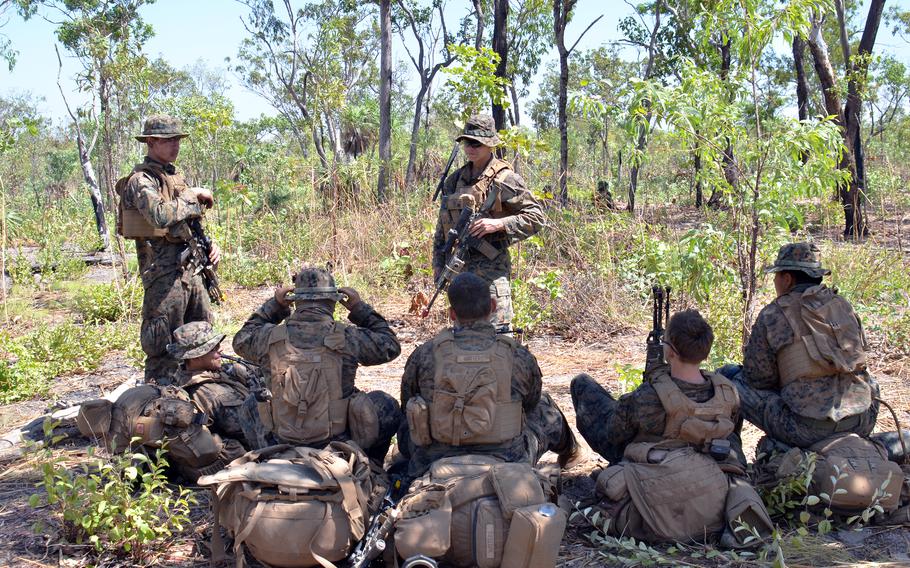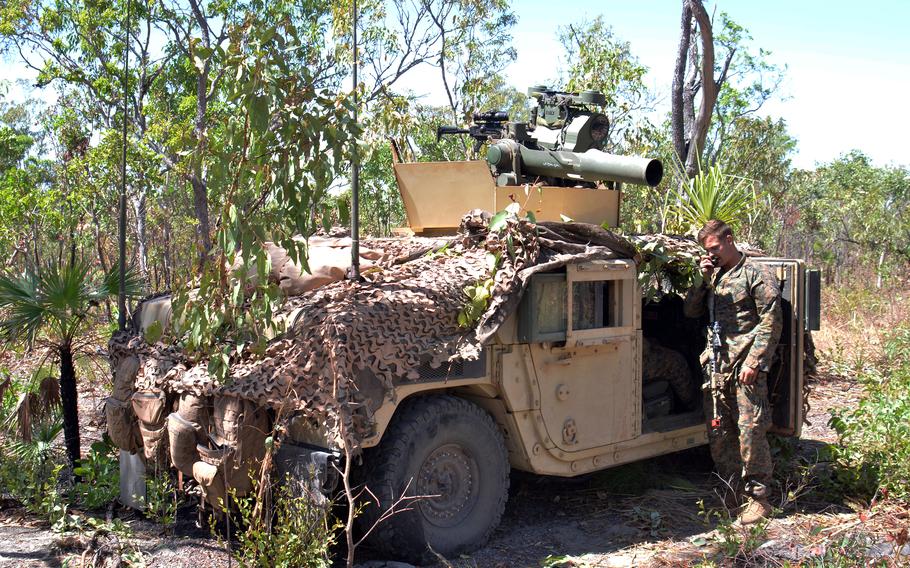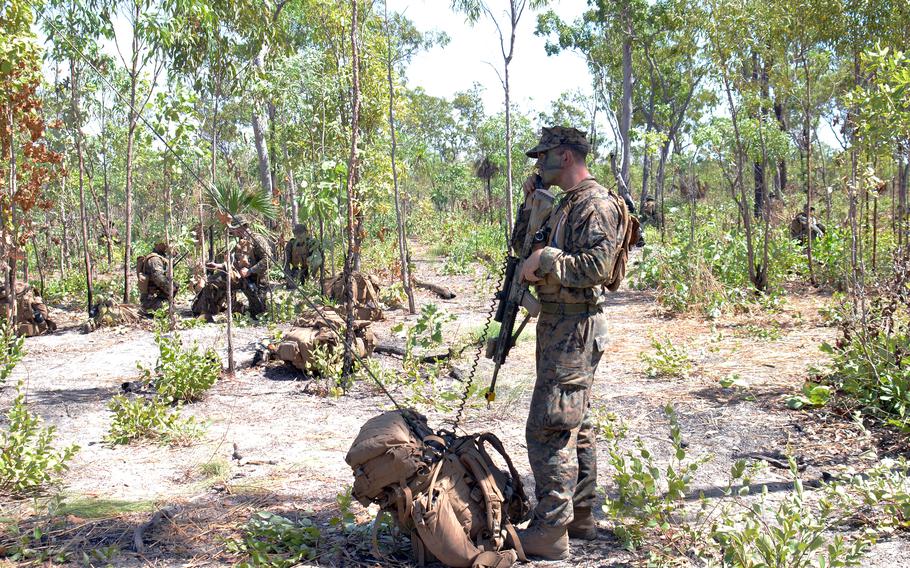 The battalion includes more than 800 Marines and sailors, two rifle companies, a battery of M-777 howitzers and a weapons company armed with Javelin missiles, Mark-19 grenade launchers, .50 caliber machine guns and snipers, the unit's commander, Lt. Col. Tyler Holt, 41, told Stars and Stripes in the training area Wednesday.
The Marines there have been batting away flies, warning off wild dingoes and seeking shade beneath sparse gum trees sprouting from the dusty red landscape.
Australian troops conducted an amphibious landing near Darwin to simulate the way they'd join the fight in a coastal battlespace, Holt said as he clutched a rifle while his troops took cover amid the gums.
Disputes with China
Amphibious forces could be key to victory in any conflict in the Western Pacific, where China is aggressively expanding its territory by occupying small islets, reclaiming land and building military facilities in the South China Sea.
The Philippines, Vietnam, Taiwan, Brunei and Malaysia have territorial disputes with China in those waters.
The newly formed 3rd Marine Littoral Regiment conducted amphibious training in the Philippines during the annual Balikatan drills in April.
Australia sent an infantry company and Malaysia sent observers to the Super Garuda Shield exercise involving 2,000 U.S. troops, including Marines, and 2,000 Indonesian service members in Indonesia earlier this month.
In recent years the Royal Australian Navy has commissioned its largest-ever warships, the amphibious landing helicopter docks HMAS Canberra and HMAS Adelaide. Meanwhile, the Australian Army, with the U.S. Marines' help, has learned how to launch forces from those ships.
The Marines and Australian Army have conducted a wide range of amphibious training together, including at the biennial Talisman Sabre drills in Queensland last summer.
Australia will seek to increase training with other nations' amphibious forces, 1st Brigade commander Brigadier Nick Foxall said in an Australian Army news release Aug. 16.
"The 1st Brigade will lead Army's thinking on the establishment of the littoral formation," he said.
Drones overhead
At Mount Bundey, the multinational force, which includes platoons from the Philippines and Malaysia and battalions from the Marines and Australian Army, is training to face a capable adversary equipped with drones and armored vehicles.
"We're making it as realistic as possible," said Holt, a veteran of counterinsurgency campaigns in Ramadi, Iraq, in 2005 and Helmand Province, Afghanistan, in 2011.
The Marines are accustomed to desert training at Twentynine Palms, he said.
"The big difference here is the vegetation," he said. "We can't see as far or shoot as far."
When the Marines spot enemy drones they take cover and let other units know a threat is overhead, Holt said.
The Marines have their own SkyRaider and RQ-20 Puma drones that are scanning for the opposing force, he said.
One Marine at Mount Bundey on Wednesday, Sgt. Carter Sampson, 24, of Brisbane, Australia, is a dual U.S.-Australian citizen.
During six years in uniform he served in Iraq, Syria, Kuwait and Okinawa before returning on rotation to his homeland.
When he's not scouting for the enemy in a tactical vehicle, Sampson teaches his comrades about Australian culture. For example, he showed them how to dribble an oval-shaped rugby ball, Australian Rules Football style, and introduced them to local delicacies such as crocodile meat, at a Darwin eatery, he said.
"Everyone I have taken there has loved it," he said.
---
---
---
---