Stealth fighters prepare to dogfight over Australian Outback during Pitch Black drills
By
Stars and Stripes
August 23, 2022
---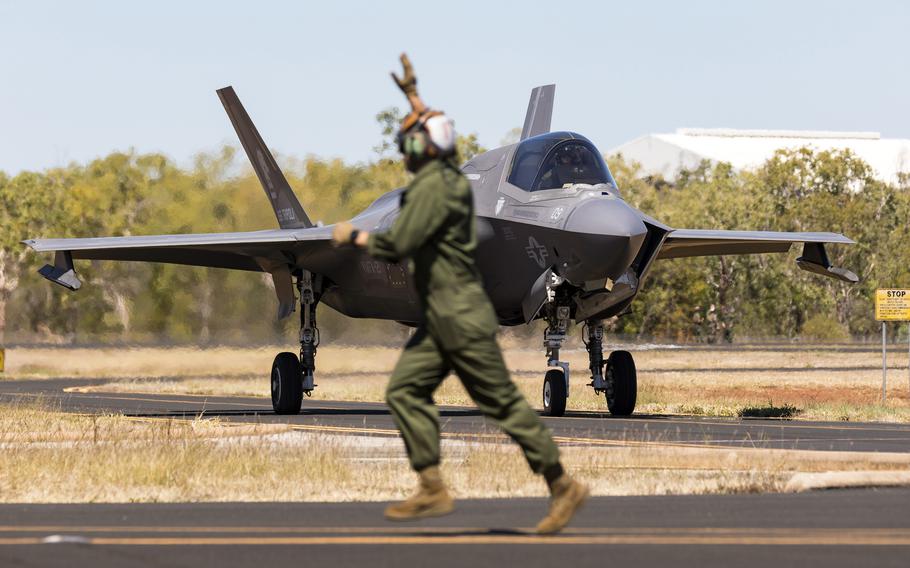 DARWIN, Australia — Air Force jets and Marine Corps F-35B Lightning II stealth fighters will engage in dogfighting practice involving as many as 80 planes at a time over northern Australia this month and next.
Pitch Black 2022, which includes more than 100 aircraft from 10 nations, began with integration flights Friday and will include night missions and large-scale simulated air combat starting next week until Sept. 8, Royal Australian Air Force Group Capt. Matt McCormack, the exercise director, told Stars and Stripes by phone Tuesday.
The Pitch Black official website shows 2,500 personnel from 17 nations and numerous fast jets participating. They include Australian F-35As and EA-18G Growlers, U.S. Air Force F-15C Eagles, French Rafales, German and British Typhoons, South Korean, Singaporean and Indonesian F-16 Fighting Falcons, Japanese F-2s and Indian Sukoi SU-30MKI Flankers.
Pitch Black typically happens every two years, alternating with the biennial Talisman Sabre exercise, which involved 17,000 U.S., Australian, New Zealand, Japanese, South Korean and British troops Down Under last summer.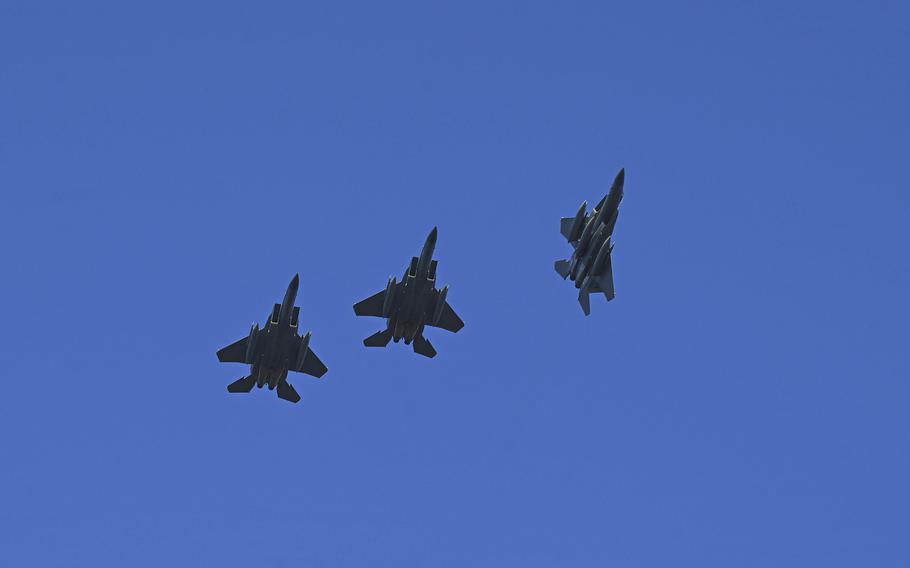 The Marines' F-35Bs are operating out of RAAF Tindall, also in the Northern Territory, while the Australian stealth jets — from No. 3 and No. 75 Squadrons — are flying from RAAF Darwin, McCormack said. Some aircraft will fly out of RAAF Amberly in Queensland.
"It's the first time we have operated F-35s in Pitch Black," McCormack, an F-35A pilot, said.
Pitch Black's dogfights will happen both day and night, he said.
During the dogfights, about 50 friendly aircraft will line up against 30 planes roleplaying as adversaries. The enemy aircraft will be able to regenerate from kills so that they simulate a force of 60-70 fighters, McCormack said.
"It adds complexity for coordinating and coming up with effective tactics to achieve mission objectives in a nighttime environment," he said.
India's multirole Flankers were designed by Russia to defeat U.S. F-15s and should be effective when employed as a simulated adversary during the exercise, McCormack said.
Most service members involved in Pitch Black are used to operating bilaterally or trilaterally rather than with 16 other nations, including some who aren't formally allied with each other. For that reason, none of the work they do together during the drills will be classified, McCormack said.
"There is a stack of people from different language backgrounds and cultures — all of our regional partners," he said.
Other nations joining the drills include the Netherlands, Canada, New Zealand, the United Arab Emirates, the Philippines, Thailand and Malaysia, according to the exercise's official website.
Some participating nations aren't sending aircraft but are contributing support services or air battle managers to help control the dogfights, McCormack said. For example, New Zealand isn't sending planes but will provide security forces and logistics during the training.
The training also involves tankers from several nations and Australian E-7A Wedgetail airborne warning and control planes, he said.
Pitch Black debuted in 1981 but was last held in 2018 because of the COVID-19 pandemic. The exercise is Australia's most important military engagement, according to Carlyle Thayer, an emeritus professor at the University of New South Wales and lecturer at the Australian Defence Force Academy.
"A special feature of this year's exercise is its focus on advancing air-to-air refueling," he told Stars and Stripes in an email Sunday. "Air-to-air refueling capability is a force multiplier that enables rapid response and extends the range and loitering time for combat aircraft."
The fighters will train over the Bradshaw Field Training Area and Delamere Air Weapons Range in the Northern Territory, one of the world's largest training airspaces and equivalent in size to a European country, Thayer said.
"This aspect makes Exercise Pitch Black especially attractive to countries with confined airspace," he said.
The training follows drills involving the U.S., Indonesia, Japan, Singapore and Australia in Indonesia earlier this month and Chinese exercises around Taiwan in response to U.S. House Speaker Nancy Pelosi's visit to the island on Aug. 3. China announced more drills near Taiwan last week following another congressional delegation's visit.
Meanwhile, Australians are alarmed at Chinese efforts to gain influence among their South Pacific-island neighbors following a security pact, signed in April, with the Solomon Islands that many fear could lead to the establishment of a Chinese military base.
However, Ralph Cossa, president emeritus of the Pacific Forum think tank in Hawaii, said Pitch Black isn't a response to anything China has done recently.
The overall goal of the exercise is defense preparedness, he said in an email Sunday.
"No need to specify who is the object of the preparedness," he said. "Chinese will complain and claim it's aimed at them. Response should be 'if the shoe fits, wear it!'"
---
---
---
---