US Army preps to fire HIMARS during Super Garuda Shield exercise in Indonesia
By
Stars and Stripes
August 10, 2022
---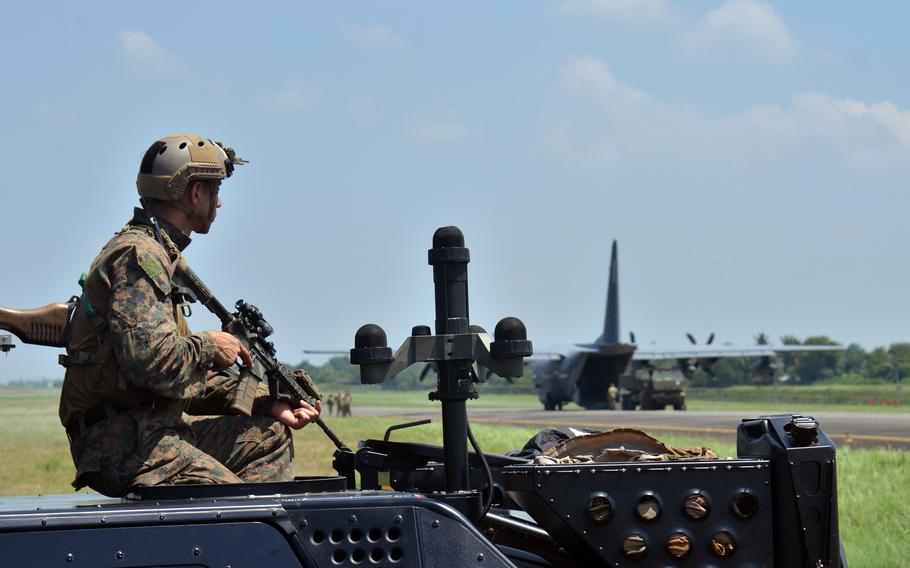 PALEMBANG, Indonesia — Indonesians gathered to watch as American and Indonesian aircraft delivered long-range artillery systems Tuesday morning at the airport here on Sumatra for a training exercise.
A U.S. Army High Mobility Artillery Rocket System, or HIMARS, and an Indonesian CASESAR self-propelled howitzer rolled off military airlifters and quickly drove to firing positions at Sultan Mahmud Badaruddin II International Airport.
HIMARS has made headlines recently with regular reports of rockets striking Russian targets. The U.S. has sent the Ukrainians 16 of the truck-mounted rocket systems that can hit targets up to 43 miles away with 500-pound, precision-guided ammunition, according to the Pentagon.
The artillery drill at Palembang is part of Super Garuda Shield, an exercise involving 2,000 American and 2,000 Indonesian troops. The largest installment yet of an exercise held annually for 16 years kicked off Aug. 1 and ends Sunday.
Twenty-five members of the 31st Marine Expeditionary Unit's amphibious reconnaissance platoon and a similar number of Indonesian troops arrived at the airport Monday to secure the facility for the big guns.
The Marines and Indonesians sped around the flightline in a pair of black tactical vehicles scanning for danger as the artillery pieces rolled into position under their own power.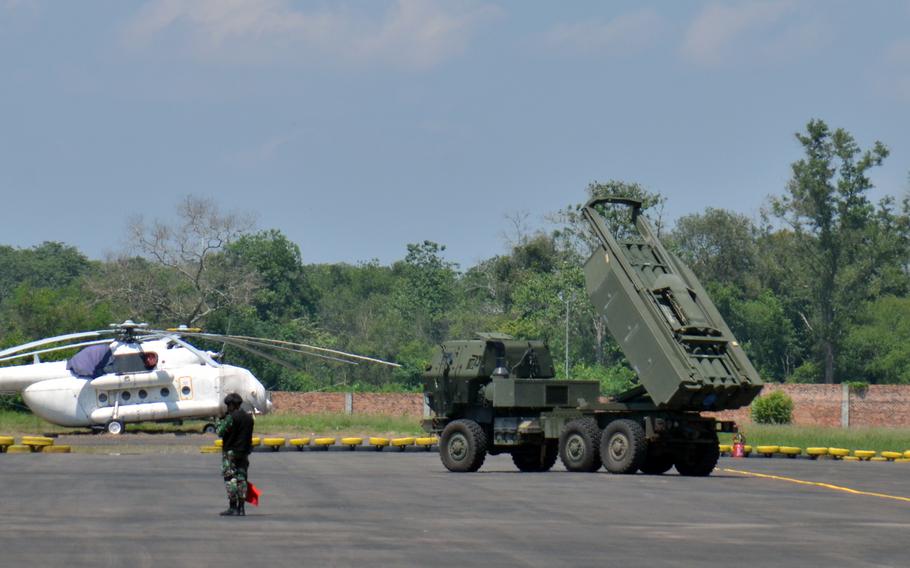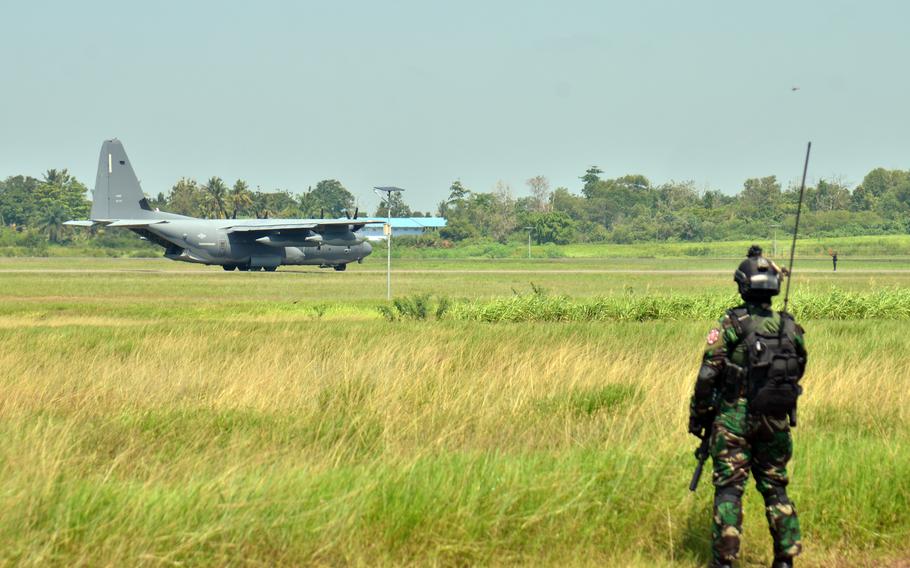 Several hundred reporters and military officials watched from outside a nearby passenger terminal.
The artillery didn't fire a shot at the airport, but Indonesian troops threw out smoke canisters and loud booms sounded as crews went through procedures with the weapons.
The Army and Marines have trained in recent years with the HIMARS in several Indo-Pacific countries, including Japan, Australia and the Philippines.
The 17th Field Artillery Brigade out of Fort Lewis, Wash., brought three systems to Indonesia this month for live-fire training at Baturaja Training Area, also on Sumatra, on Friday.
There are 54 members of the brigade participating in Super Garuda Shield, fire platoon leader 2nd Lt. Danny Perez, 24, of El Paso, Texas, said in Palembang on Monday.
The troops spend many hours becoming proficient before their live-fire training about twice a year, he said.
Perez said the HIMARS is usually transported on a C-17 Globemaster III, but it can just squeeze into an MC-130J Commando II, the special operations version of the Super Hercules airlifter that delivered the system to Palembang.
"This is the first time my platoon has used [an MC-130]," he said.
Backing a HIMARS onto a tactical airlifter is like trying to fit a large pickup truck into a garage built for an economy car, Sgt. 1st Class Garrett Skelton, 31, of Key West, Fla., said Monday, also at Palembang.
The system is ready to fire within minutes of rolling off a plane, said Skelton, the platoon sergeant, who is instantly recognizable among the other soldiers. As a practitioner of the Norse Pagan religion, he is authorized to grow a beard.
HIMARS has proved what it can do in the war against the Islamic State in Iraq and Syria, Skelton said.
"Nowadays it's showing what it's made of in force on force and it's winning," he said, referring to the system's performance in Ukraine.
---
---
---
---