US to send another $1 billion in military aid to Ukraine
By
Stars and Stripes
August 8, 2022
---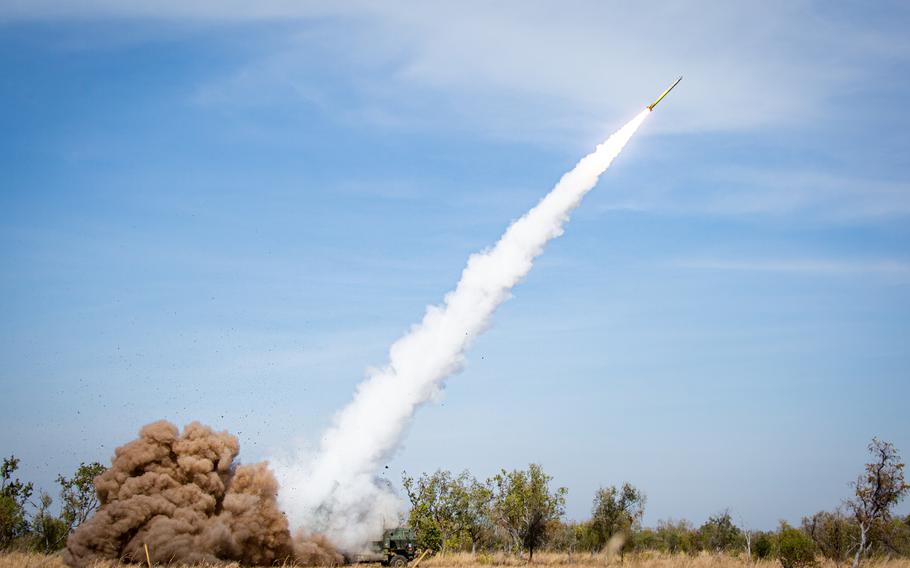 WASHINGTON — The United States will send a record-setting $1 billion in military aid to Ukraine as the country's armed forces attempt to beat back invading Russian troops, the Pentagon announced Monday.
"President [Joe] Biden directed the 18th drawdown of an additional $1 billion in weapons and equipment from the Department of Defense inventories," Undersecretary for Defense Colin Kahl said Monday. "This is the largest single drawdown of U.S arms and equipment utilizing this authority to date."
The new aid includes ammunition to support National Advanced Surface-to-Air Missile Systems, or NASAMS, and High Mobility Artillery Rockets Systems, or HIMARS, according to the Pentagon.
Long-range rocket and missile systems have been important in the war since Russia shifted the focus of its invasion of Ukraine five months ago to the country's eastern Donbas region, where the landscape resembles the flat, rolling plains of Kansas, according to the Pentagon.
The National Advanced Surface-to-Air Missile Systems and High Mobility Artillery Rockets Systems have "slowed [Russia] down and made it harder for them to resupply other forces," Kahl said.
"This is a 200-pound warhead. It's kind of the equivalent of … a precision-guided airstrike. These are GPS-guided munitions," Kahl said. "[HIMARS] have been very effective in hitting things that previously the Ukrainians had difficulty hitting reliably — control nodes of sustainment and logistics hubs, key radar systems and other things."
They have also helped Ukraine stall the ongoing battle in eastern Ukraine as the fighting begins to shift to southern Ukraine, Kahl told reporters at the Pentagon.
"Conditions in [eastern Ukraine] have essentially stabilized and the focus is really shifting to the south in part because the Ukrainians are starting to put some pressure down south and the Russians have been forced to redeploy their forces down there," he said.
Also included in the aid is 75,000 rounds of 155mm M777 howitzer ammunition, 20 120mm mortar systems and 20,000 rounds of accompanying mortars, 1,000 Javelin missiles and "hundreds" of AT4 anti-armor systems, Claymore anti-personnel munitions, C-4 explosives and "demolition equipment," Kahl said.
To date, the U.S. has sent Ukraine two NASAMS, which are the same missile-defense systems that are used to protect the White House, and 16 HIMARS, truck-mounted rocket systems that can strike targets up to 43 miles away with 500-pound, precision-guided ammunition, the Pentagon has said.
The U.S. also has supplied Ukraine with about 127 M777 howitzers, which can reach distances of up to 18 miles, according to a Congressional Research Service report published Aug. 2.
The aid also includes medical supplies and armored medical transport vehicles, Kahl said. The vehicles come about two weeks after it was revealed Defense Secretary Lloyd Austin approved the treatment of wounded Ukrainian soldiers at a U.S. Army hospital in Germany.
Landstuhl Regional Medical Center, the largest overseas American military medical facility, "remains postured and ready to support U.S. armed forces, NATO member countries and partners as directed," hospital spokesman Marcy Sanchez said July 27.
Kahl estimated there have been approximately 70,000 to 80,000 Russian fighters who have either been killed or wounded in the war so far. He did not have an estimate of Ukrainian casualties.
"Yes, both sides are taking casualties," he said. "The war is the most intense conventional conflict in Europe since the Second World War but the current Ukrainians have a lot of advantages, not the least of which [is] their will to fight."
Though the battle in the east has stalled, Russia did make "some incremental gains" there last month, Kahl said.
"But that's come at extraordinary cost to the Russian military because of how well the Ukrainian military has performed and all the assistance the Ukrainian military has gotten," he said.
Monday's aid brings the total cost of weapons and equipment sent to the country since Russia's invasion on Feb. 24 to about $9.8 billion.
---
---
---
---