Austin says he's confident public support for Ukraine aid will continue despite soaring gas prices and tanking stock market
By
Stars and Stripes
June 16, 2022
---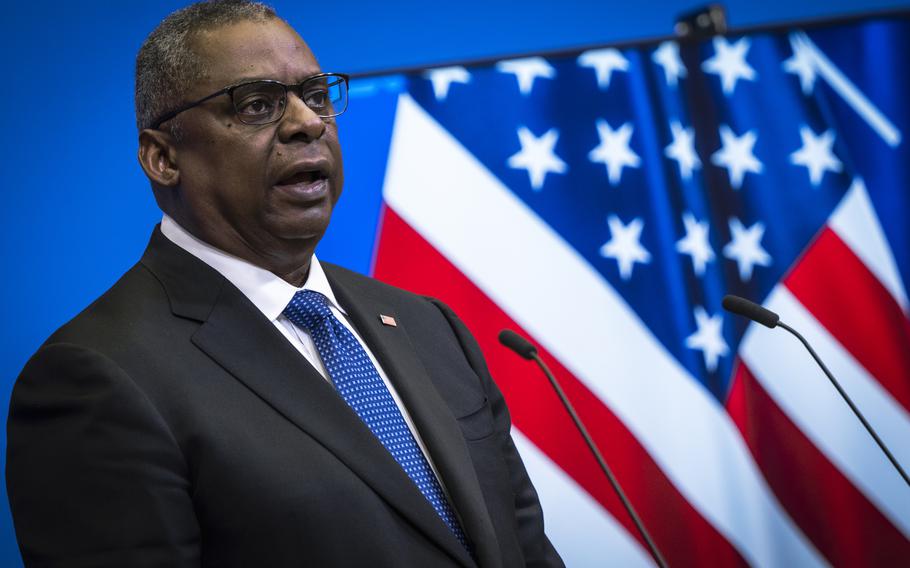 WASHINGTON — Defense Secretary Lloyd Austin on Thursday said he believes the citizens of NATO countries will continue to support spending billions of dollars on military aid for Ukraine amid rising inflation, soaring gas prices and a tanking U.S. stock market.
"In terms of making sure that the constituents of the various countries remain supportive of our efforts, I have confidence that the leadership of the various countries will be able to manage that and maintain support," he said after a meeting of NATO defense leaders in Brussels.
Austin made his comments as the average price of gas in the United States breached the $5 mark, nearly doubling the average of one year ago, according to the U.S. Energy Information Administration. More so, U.S. stocks shifted into what's known as a "bear market" status, meaning the market saw a decline of more than 20% from recent highs.
The defense secretary said NATO leaders from the 30 member nations have heard concerns from constituents about continuing the support for Ukraine in the face of an economic downturn and it was discussed during the alliance meeting. But Austin said he was "confident" that member nations will "do the right thing" and craft messaging to best explain the necessity behind NATO support of Ukraine.
"We can be assured from time to time that there will be differences of opinion but that's why we have these meetings," he said. "To make sure we really wring things out and entertain any questions or issues that various countries may have so they can go back and work with their constituents and make sure that people really understand where the alliance is going and what it needs."
President Joe Biden on Wednesday approved $1 billion in military aid for Ukraine, the 12th time that he has signed off on aid funding since taking office in January 2021. The package brought the total amount of U.S. military aid to Ukraine to $6.3 billion in that time, about $5.6 billion approved since Russia invaded the country on Feb. 24, according to the Pentagon.
With his latest pledge, Biden has about $9.3 billion left from the $11 billion that Congress earmarked for Ukraine military aid in its supplementary funding bill passed last month. The funds are expected to last until the fall, when lawmakers will have to decide whether to continue sending Ukraine assistance packages if the war drags on as senior U.S. defense officials predict.
National Security Advisor Jake Sullivan said Americans concerned about the economy should continue backing — not resisting — U.S. support for Ukraine because failure to do so could create long-term financial consequences.
"If war and conflicts of conquest are becoming the norm rather than a flagrant exception, the impacts on everything from food to energy to semiconductors and high technology to basic supply chains would be profound," he said Thursday during a lecture at the Center for a New American Security, a Washington think tank. "The hit on the lives and livelihoods of average people in the United States would be amplified magnified exponentially over time."
That's because leaving Ukraine to fight Russia without American assistance could also inspire conflict in other parts of the world, which would create more costly problems for taxpayers in the future, Sullivan said.
"Then all of a sudden you're looking at major countries with significant militaries taking territory and in doing so destabilizing not just the 'rules-based international order,' but the global economy in really profound and fundamental ways that end up hurting everyday people here in the United States," he said.
Sullivan said letting Russia take over Ukraine could empower China to invade Taiwan. Biden has said the U.S. would intervene if that happened. Though Taiwan split from mainland China in 1912, Beijing asserts sovereignty over the island and has made reunification a top priority.
"So drawing a line now to try to ensure stability will end up sustaining or helping sustain a longer period of peace and prosperity in the future," Sullivan said.
Ukraine Ambassador to the U.S. Oksana Makarova on Thursday said there are several reasons that U.S. citizens will ultimately avoid greater costs in the future by supporting Ukraine's fight.
She said Russia's threats to countries on NATO's eastern flank would be realized if its war in Ukraine is successful. That would draw the U.S. into war because it is required as a NATO member to come to the defense of any other country in the alliance if attacked, Makarova said.
"A number of NATO members have been directly threatened by [Russian President Vladimir] Putin," the ambassador said during a talk at the Center for Strategic and International Studies, a think tank in Washington. "It's actually more efficient to spend money now while he's still here [in Ukraine], than to pull all the resources when … war is everywhere in Europe."
Before invading Ukraine, Putin demanded the alliance return to its 1996 boundaries and remove all foreign troops and military equipment from the 14 countries who joined since that time as part of his pre-war negotiations with Western leaders.
Those countries, which make up nearly half of NATO's membership, include the former Soviet Union states of Estonia, Latvia, Lithuania, as well as the Czech Republic, Hungary, Poland, Bulgaria, Romania, Slovakia, Slovenia, Albania, Croatia, Montenegro and North Macedonia.
"If we fall, it's 100% guaranteed that Poland or others [are] going to be attacked — [Putin] is going to come for them," Makarova said. "So, it means that the U.S. will not only have to spend more to stop him there but put boots on the ground."
---
---
---
---