US to send Ukraine another $1 billion in military aid, including more howitzers and rockets
By
Stars and Stripes
June 15, 2022
---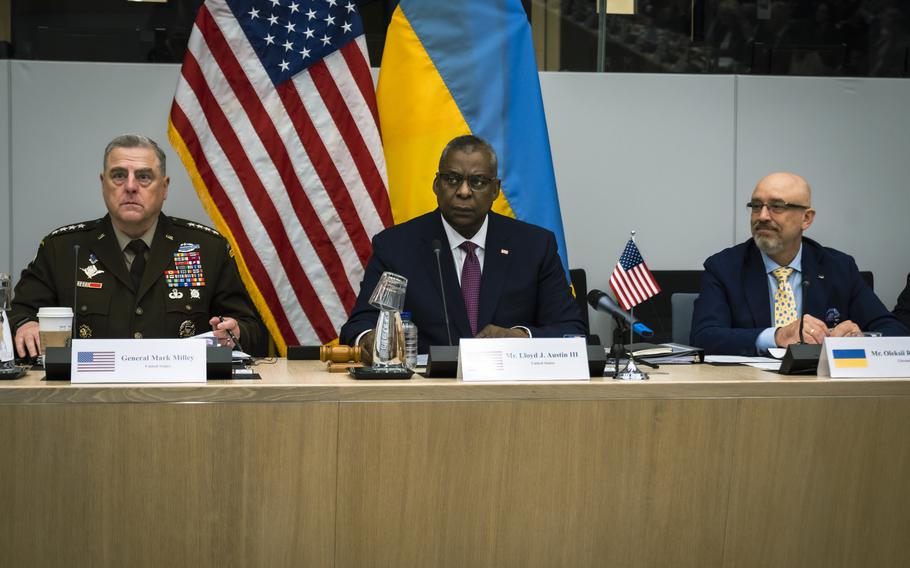 WASHINGTON — The United States will send Ukraine another $1 billion in military aid, including additional artillery needed to battle Russian forces attacking in the eastern part of the country, Defense Secretary Lloyd Austin said Wednesday.
The aid will include an undisclosed number of rocket system munitions, 18 M777 howitzers and tactical vehicles to tow them, 36,000 rounds of 155mm howitzer ammunition, two Harpoon coastal defense systems and "thousands of secure radios, night vision devices, thermal sights and other optics," he said.
It also includes four tactical vehicles "to recover equipment," various spare parts and "funding for training, maintenance, sustainment, transportation and administrative costs," the Pentagon said in a statement.
President Joe Biden said he told Ukrainian President Volodymyr Zelenskyy on Wednesday morning of his intentions to approve the latest aid package.
"The bravery, resilience and determination of the Ukrainian people continues to inspire the world," he said in a statement. "The United States, together with our allies and partners, will not waver in our commitment to the Ukrainian people as they fight for their freedom.
Stocks and procurement
The aid will come out of the approximately $11 billion that Congress assigned for military aid in its supplemental funding bill to support Ukraine's defense against the Russian invasion, Austin said.
The Pentagon has now spent about $1.7 billion of those funds, which defense officials have said are expected to last about five months. It follows $700 million in military aid that the U.S. provided Ukraine on June 1.
About $350 million of the latest $1 billion will come from equipment already in U.S. stockpiles, a senior defense official said. The rest will be spent to procure weapons, such as the vehicle-mounted Harpoon launchers that the U.S. military does not currently use, and pay for the training and other administrative costs.
"This announcement represents the beginning of a contracting process to provide additional capabilities to Ukraine's armed forces," the Pentagon said in its statement.
The Harpoon launchers are one of more than 1,300 proposals submitted by defense industry officials in response to the Pentagon's solicitation for "systems that can meet Ukraine's capability needs," the official told reporters at the Pentagon Wednesday.
It will take "a couple of months" to get the Harpoons operational in Ukraine as the Defense Department, allies and partners gather the weapons and equipment and train Ukrainians on them, said the official who spoke on condition of anonymity.
"We are going to do everything we can to pull that left and make this happen as urgently as possible," the official said.
The package brings the total amount of U.S. military aid to Ukraine to $6.3 billion since Biden took office, about $5.6 billion of which has been sent since Russia invaded the country on Feb. 24, according to the Pentagon.
Ukraine defense group
Austin made the announcement following the third meeting of the Ukraine Defense Contact Group, which the U.S. defense secretary launched in April to bring together defense leaders from dozens of nations to coordinate aid to Ukraine.
"We're here today because of our unwavering determination to get Ukraine the capabilities that it urgently needs to defend itself," he said before the meeting. "I'm grateful for the significant security assistance this contact group has provided thus far, but we can't afford to let up and we can't lose steam."
During the meeting, Ukraine Defense Minister Oleksii Reznikov and his team gave the group "important insights into the changing battlespace and a clearer understanding of Ukraine's priority requirements as the war shifts," Austin said.
"[Ukraine] identified [their] needs currently to be long-range fires capability, armor and some mid-range anti-aircraft capability, and also howitzers," he said.
Defense ministers and leaders from 48 countries attended the meeting in Brussels on Wednesday, according to the Pentagon. The contact group meets monthly.
"We've gotten a lot done thus far, but we don't have any time to waste, so we're here to dig in our spurs," Austin said. "We're going to deepen our support for the Ukrainian armed forces in today's fight, and we're going to build their enduring strength for tomorrow's dangers."
Since the group's last meeting three weeks ago, several countries in the group have sent Ukraine howitzers that "Ukrainian forces are now using in the Donbas [region]," harpoon launchers and missiles "to bolster Ukraine's coastal defense" and "other … assistance from tanks to helicopters," he said. "That's a reflection of a global outrage over Russia's unprovoked aggression and it's a reflection of global commitment to reinforcing an international order rooted in rules and concepts."
Artillery needs
The U.S. has already sent 108 M777 howitzers to Ukraine in previous aid packages. The cannons are capable of firing about 15 miles, U.S. defense officials have said.
Unlike Ukraine's Soviet-era 152mm howitzers, M777s fire 155mm munitions. Austin said the country will "very quickly" need to transition entirely to the Western howitzers because the Soviet cannon's munitions are no longer in production.
The U.S. is only sending 18 additional howitzers in this package despite the urgent need to transition Ukraine to the 155mm cannons because the Pentagon is working to secure more from the defense industry, a senior U.S. defense official said.
"We are currently working closely with industry to understand all of the supply chain constraints and how we can quickly address those constraints to up the production numbers to a rate that will support both the Ukrainians needs along with our backfill needs," the official said.
Artillery and other weapons capable of firing longer distances are needed for the fight in Ukraine's eastern Donbas region to allow Ukrainian forces to strike Russian front lines from farther away, Undersecretary of Defense for Policy Colin Kahl said Tuesday during a national security conference held by the Center for a New American Security, a Washington think tank.
The flat, rolling plains of the Donbas are more suited for artillery fire than the shoulder-mounted Javelin missiles that were effective in neutralizing enemy forces in the first months of the war when Russia was targeting densely populated cities such as the Ukraine capital of Kyiv, senior U.S. defense officials have said.
In addition to the U.S., other countries, including Canada, Poland and the Netherlands, also announced they will donate artillery to Ukraine during the contact group meeting, Austin said.
Rocket systems
Ukraine also has been requesting additional rocket systems from countries around the world as Russia closes in on Sievierodonetsk, one of the last holdouts in the Luhansk region of Donbas.
The U.S. on June 1 sent Ukraine four M142 High Mobility Artillery Rocket Systems, or HIMARS, with accompanying precision-guided ammunition that Kahl said weighs about 500 pounds and has a range of roughly 43 miles.
"Sometimes when you see images of [rocket systems] firing off, it's like salvos of multiple rockets going off at the same time," he said. "Think of [it] more like the effect of an airstrike rather than launching off whole salvos."
The four rocket systems sent previously are in Europe but not yet in Ukraine as their forces train on them. They are expected to be operational in Ukraine by the end of the month, the official said.
The first group of 60 Ukrainians trained on the systems finished instruction Wednesday, Army Gen. Mark Milley, chairman of the Joint Chiefs of Staff, said alongside Austin in Brussels.
While the new aid package will include additional HIMARS, the U.S. is not sending more of the rocket systems until the Pentagon can first assess how the Ukrainians use them against Russian forces, the official said.
"This initial tranche is going to help get the Ukrainians familiarized with the system and will provide us with information on … how effective it is on the battlefield," the official said. "It's that information, in coordination with continued consultations with the Ukrainians, that will inform future decisions on additional systems."
Austin echoed that sentiment, noting "a capability" is considered not only the weapon, but also its accompanying "trained crew and munitions."
"As we train those crews up, we're able to provide them with systems and munitions," he said. "Then you have an initial capability and then you build on [it.]"
However, Germany announced at the contact group meeting that it will send three of its similar M270 rocket systems with accompanying munitions to Ukraine. The United Kingdom donated three M270 systems on June 6, as well, Austin said.
Additionally, Slovakia announced it would send "a significant donation" of attack helicopters and "urgently needed rocket ammunition," he said.
"By working together, we can help Ukraine defend itself from Russia's cruel assault, we can strengthen Ukraine's security for the long haul, and we can rally together to show that rules in fact do matter — that might does not make right," the secretary said.
---
---
---
---