Austin and NATO secretary-general agree to push allies to boost military spending ahead of major alliance summit
By
Stars and Stripes
June 3, 2022
---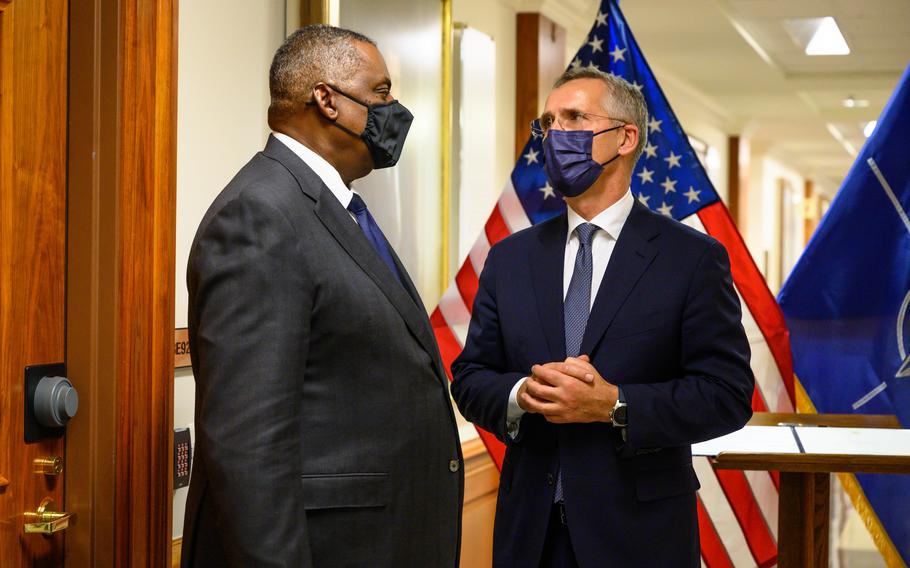 WASHINGTON — Defense Secretary Lloyd Austin and NATO Secretary-General Jens Stoltenberg agreed Thursday to prod NATO member nations to contribute their fair share to the military alliance as it confronts a revanchist Russia.
Austin and Stoltenberg said the recommended defense spending guideline for NATO allies — 2% of a nation's gross domestic product — is a bare minimum that needs to be exceeded. The two met ahead of a consequential NATO summit in Spain later this month that will see the alliance unveil the first major document laying out its priorities since 2010 and consider new membership applications from Finland and Sweden.
"We need to make sure that we continue to ensure that NATO allies are investing more," the secretary general said. "Across Europe and Canada, we have seen now seven consecutive years of increased defense spending and more and more allies are meeting the 2% guideline."
The U.S. remains the top financial contributor in the 30-member alliance, with just eight NATO members meeting the funding threshold in 2021, according to a March report by Stoltenberg.
Stoltenberg praised the significant role the U.S. continues to play in helping Ukraine defend itself against Russian forces. The White House announced a $700 million military aid package on Wednesday that will arm Ukrainians with highly sought-after rocket systems critical for the long-range fight in the eastern Donbas region.
"What has impressed me in not only the magnitude and the scale of the support, but also how swiftly and quickly you were able to act when Ukraine needed our support," Stoltenberg said.
Austin said Russia's full-scale invasion of Ukraine in late February has changed the international calculus and made NATO stronger. The U.S. surged 20,000 service members to reinforce NATO's eastern flank over the last few months and is poised to decide at the NATO summit on the future force posture in Europe.
Russian President Vladimir Putin sought to divide NATO and deter Ukraine from joining the alliance but instead he "galvanized the world by his actions," Austin said.
NATO in March boosted the number of battlegroups in Eastern Europe from four to eight and traditionally neutral Finland and Sweden made the historic decision last month to apply to join the alliance.
Stoltenberg has expressed confidence that NATO will unanimously agree to expansion even as Turkey voices opposition. Senior officials from Sweden, Finland and Turkey are expected to convene in Brussels in the coming days to address Turkey's complaint that the two Nordic countries support Kurdish militants.
The secretary-general's visit to the Pentagon followed a meeting at the White House on Thursday and a joint news conference with Secretary of State Antony Blinken on Wednesday.
With the war in Ukraine set to reach its 100th day on Friday, Stoltenberg warned the West on Thursday to brace for a "war of attrition."
"We just have to be prepared for the long haul," he told reporters after meeting with President Joe Biden, Vice President Kamala Harris and National Security Adviser Jake Sullivan.
Stoltenberg said NATO remains united in backing Ukraine despite the heavy economic toll of isolating and punishing Russia with sanctions and export controls. European countries have taken drastic steps to wean themselves off the Russian oil and gas imports that fund Putin's war machine.
"They have a price also for us," Stoltenberg said Wednesday of the measures. "But the alternative not to support Ukraine, that will actually enable President Putin to win. That would be dangerous for all of us, and the price we'd have to pay will actually be higher than to now invest in the support for Ukraine."
The U.S. imposed its latest round of sanctions against Russia on Thursday, targeting top Russian government officials and elites with close ties to Putin. Topping the list is God Nisanov, an oligarch real estate investor who the State Department called "one of the richest people in Europe."
Other sanctions are aimed at Putin's money-manager, Sergei Roldugin, and Russian Ministry of Foreign Affairs spokeswoman Maria Zakharova. The Treasury Department identified luxury yachts and aircraft linked to Putin or his associates while the Commerce Department targeted 71 Russian and Belarussian entities providing technology and other items for Russia's military.
The U.S. has sanctioned 1,000 individuals and more than 300 entities since Russia's unprovoked invasion of Ukraine, according to the White House.
"The United States will continue to support the people of Ukraine while promoting accountability for President Putin and those enabling Russian aggression," Blinken said Thursday in a statement.
---
---
---
---