20 countries in US-led Ukraine Contact Group offer new military aid packages to help Ukrainians beat back invading Russians
By
Stars and Stripes
May 23, 2022
---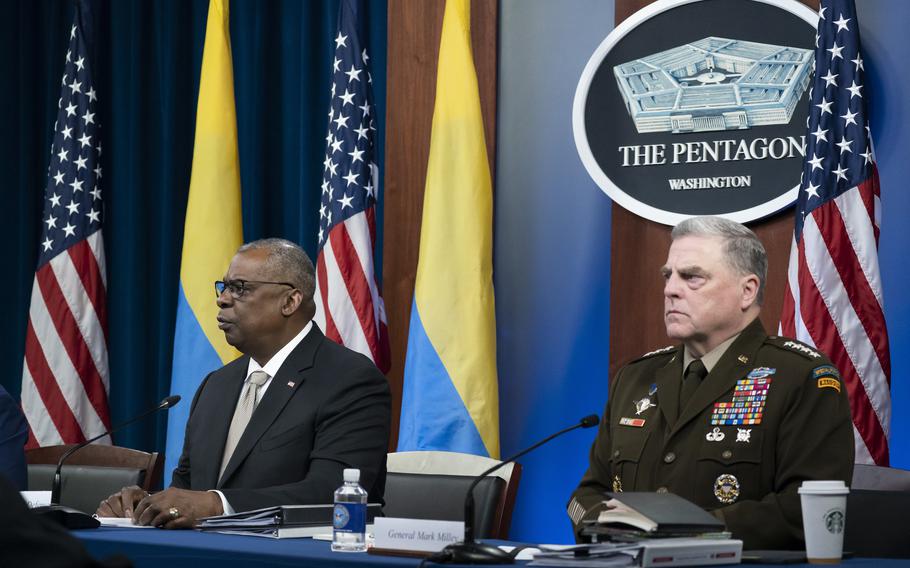 WASHINGTON — Some 20 countries in the U.S.-led Ukraine Contact Group agreed to contribute new military aid packages to help Ukrainian troops fight off the Russian forces that have been attacking their country for the last three months, Defense Secretary Lloyd Austin announced Monday.
Some of the new aid packages from these countries, which include Italy, Greece, Norway and Ireland, will contain "critically needed artillery systems and ammunition, coastal defense systems, tanks and other armored vehicles," he said during a news conference at the Pentagon.
The announcement was the result of a virtual meeting earlier Monday of top defense leaders from 47 nations in the contact group to discuss efforts to assist Ukraine in winning its war against Russia, said Army Gen. Mark Milley, who is chairman of the Joint Chiefs of Staff. It was the group's second meeting.
"Although I regularly speak with all my NATO chiefs of defense counterparts — some very often, some almost daily — this contact group is a unique assembly of voices and resources that span the globe and enhance our collective capability," Milley told reporters during the news conference.
Other nations also pledged to help train Ukraine's troops and "sustain its military systems."
Austin highlighted Denmark, which announced it would provide Harpoon missiles and a launcher to help Ukraine defend its coastline, and the Czech Republic, which recently donated attack helicopters, tanks and rocket systems.
"[I] also recognize the United Kingdom for its leading role and helping to coordinate security assistance for the significant quantities of British equipment that continue to flow into Ukraine," he said.
The United States has already sent Ukraine about $3.9 billion in military aid, ranging from basic ammunition to M777 155mm howitzers, since the start of the war and plans to send an additional $11 billion in the next five months, which is part of $40 billion in Ukraine supplemental funding approved last week by Congress.
The Ukraine Contact Group, which Austin convened for the first time last month at Ramstein Air Base in Germany, was established to discuss what Ukraine needs to defend itself against Russia but also efforts to collaborate, according to the Pentagon.
"In a short four weeks since the contact group convened at Ramstein, the momentum of donations and deliveries has been outstanding," Austin said. "And after today's discussions, I'm pleased to report that we're intensifying our efforts."
Ukraine's Defense Minister Alexei Reznikov, Lt. Gen. Yevhen Moisiuk, deputy commander-in-chief of Ukraine's armed forces, and a representative from the country's defense intelligence community addressed the group, providing "a sharper and shared sense of Ukraine's priority requirements [and] situation on the battlefield," Austin said.
While representatives from about 40 nations joined the first meeting in April, Austin said several new countries joined Monday's meeting, including Austria, Bosnia-Herzegovina, Colombia, Kosovo and Ireland.
The contact group also discussed "de-conflicting security assistance deliveries on the ground" and "how to help Ukraine maintain and sustain the self-defense capabilities that we've all supplied," Austin said.
"Everyone here understands the stakes of this war and [that] they stretch far beyond Europe," he said. "Russia's aggression is an affront to the rules-based international order and a challenge to free people everywhere."
Milley also highlighted how much additional U.S. forces have been sent to Europe since Russia launched its war on Feb. 24.
Since last fall, the U.S. has grown from 78,000 troops on the Continent to about 102,000. America's naval presence has also grown at the same time from six warships in the Mediterranean and Baltic seas to about 24 warships and four submarines.
"These capabilities of the United States augment the tremendous security assistance donated by other countries," Milley said. "The Ukrainian military's capacity to defend their homeland against Russia attack is directly tied to the quality and quantity of the assistance they are receiving."
The group will next meet on June 15 during NATO's defense ministerial meeting in Brussels, though Austin clarified it will not be a NATO-sanctioned event.
"We want to keep up the tempo of these meetings and I wanted to use my travel to Europe to ensure that we're building on our momentum," he said. "The contact group again shows how much we can get done when so many nations of goodwill come together."
---
---
---
---