Milley speaks with top Russian general days after post-Ukraine invasion call between Austin and Russian defense minister
By
Stars and Stripes
May 19, 2022
---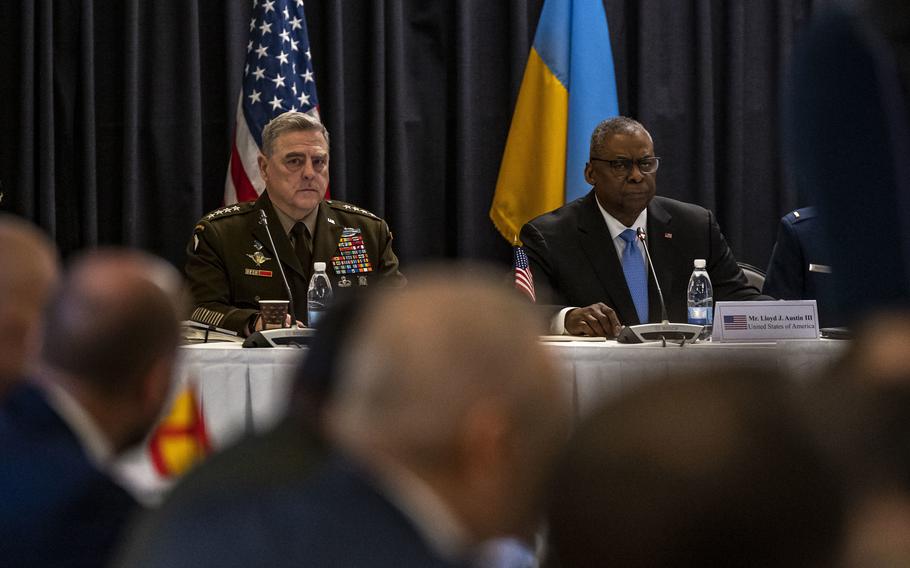 WASHINGTON — The top officers of the U.S. and Russian militaries spoke by phone Thursday, less than a week after Defense Secretary Lloyd Austin and the Russian defense minister talked for the first time since Russia launched its war on Ukraine in February.
Army Gen. Mark Milley, chairman of the Joint Chiefs of Staff, and Gen. Valery Gerasimov, chief of the Russian General Staff, held a conversation that the Pentagon declined to further detail beyond acknowledging it had happened.
"The military leaders discussed several security-related issues of concern and agreed to keep the lines of communication open," the Pentagon said in a statement announcing the call. "In accordance with past practice, the specific details of their conversation will be kept private."
Though few senior-level U.S. and Russian officials acknowledge having direct contact since the war started, the two countries established a communication line in March to reduce the risk of deadly misunderstandings, according to the Pentagon.
"The United States retains a number of channels to discuss critical security issues with the Russians during a contingency or emergency," a senior U.S. defense official had said.
The call came days after Austin on Friday spoke to Russian Defense Minister Sergei Shoigu for the first time since Russian forces invaded Ukraine on Feb. 24, according to the Pentagon.
"Secretary Austin urged an immediate cease-fire in Ukraine and emphasized the importance of maintaining lines of communication," chief Pentagon spokesman John Kirby said at the time.
That call was initiated by the U.S. and occurred after Austin had "consistently" requested one for weeks to no avail, a senior U.S. defense official told reporters at the Pentagon last week.
"What motivated them to change their mind and to be open to it, I don't think we know for sure," the official said.
The Pentagon did not disclose whether Milley reiterated Austin's call for a cease-fire or which country initiated the Milley-Gerasimov conversation Thursday.
---
---
---
---