About 10,700 soldiers based in US will deploy to Europe, replacing other troops
By
Stars and Stripes
May 13, 2022
---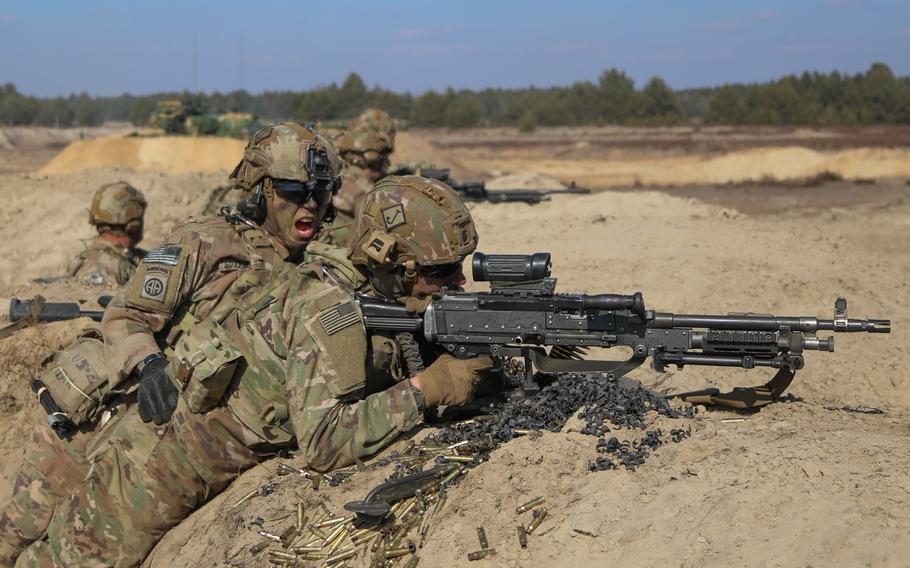 WASHINGTON — About 10,700 troops now in the United States will rotate into Europe in the coming months to relieve other service members deployed there, chief Pentagon spokesman John Kirby said Friday.
"These deployments are one-for-one unit replacements, which will leave our overall force posture in the region — approximately 100,000 [troops] — unchanged," Kirby told reporters at the Pentagon.
About 4,200 soldiers will come from the 3rd Armored Brigade Combat Team of the 1st Cavalry Division at Fort Hood, Texas, and replace the same number of soldiers with 1st Armored Brigade Combat Team of the 3rd Infantry Division now in Germany, he said.
Another 4,200 from the 2nd Infantry Brigade Combat Team of the 101st Airborne Division at Fort Campbell, Ky., will deploy to replace the 3rd Infantry Brigade Combat Team of the 82nd Airborne Division in Poland, Kirby said.
Roughly 500 from the 101st Airborne Division Headquarters also at Fort Campbell will replace soldiers from the 82nd Airborne stationed throughout other areas of Eastern Europe, he said.
"The units being replaced will return to their home station following an appropriate turnover of responsibilities," Kirby said.
Those 8,900 troops had been deployed to Europe since early this year as Russian President Vladimir Putin amassed his forces and eventually invaded Ukraine on Feb. 24.
The remaining 1,800 soldiers will come from the 1st Armored Division's Combat Aviation Brigade at Fort Bliss, Texas, to relieve the 1st Air Cavalry Brigade in the region as part of Atlantic Resolve, a Defense Department rotational effort that began after Russia's last invasion of Ukraine in 2014, Kirby said.
"This was a longstanding replacement – the 1st Air Cavalry Brigade that's there have been there for like nine months or so," he said. "This is the time for them to go. This is something that was pre-scheduled."
The first replacements will deploy in the "coming weeks" and continue into the first months of summer, according to Kirby.
The U.S. has had troops deployed to Eastern Europe to support NATO countries near Ukraine, where Russia now enters its 12th week of war.
"The United States continues its course to stand shoulder to shoulder with our allies to maintain a strong deterrent and defensive posture on NATO's eastern flank," Kirby said.
Before January, there were about 80,000 U.S. troops stationed in Europe on permanently or a rotational basis.
---
---
---
---