US intelligence officials warn of prolonged war in Ukraine as Russia expands territorial goals
By
Stars and Stripes
May 10, 2022
---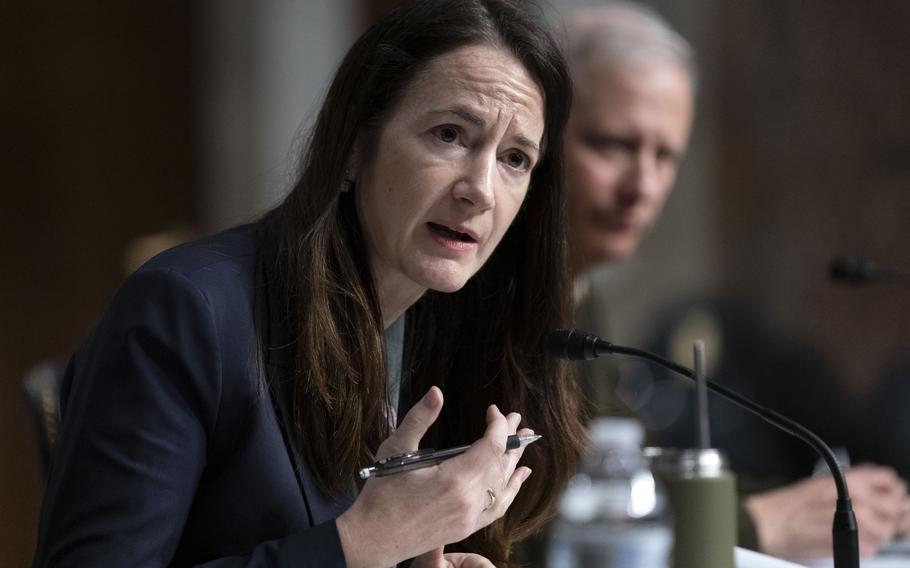 WASHINGTON — U.S. intelligence officials told senators on Tuesday that Russia is planning a prolonged war in Ukraine with large territorial ambitions but achieving its long-term aims will likely require the mobilization of more troops.
Fighting in Ukraine will be "significant" in the coming months as Russian President Vladimir Putin sets his sights beyond conquering the eastern Donbas region to building a land bridge across the entire Ukrainian Black Sea coast, Director of National Intelligence Avril Haines told the Senate Armed Services Committee. It is unlikely Russian forces in their current state will be able to do both, she said.
"Putin faces a mismatch between his ambitions and Russia's current conventional military capabilities," Haines said. "The next few months could see us moving along a more unpredictable and potentially escalatory trajectory."
Capturing the two oblasts of the Donbas, where Russian-backed separatists have held territory since 2014, is not likely to end the war, Haines said. Putin is ultimately looking to establish a "buffer zone" from Russia to possibly Moldova's pro-Russian breakaway region of Transnistria that will allow Russia to control water supplies to Crimea and cut off Ukraine from the Black Sea, she said.
It is unlikely that Putin will be able to accomplish those lofty objectives without declaring war and mobilizing more troops, Haines said. This would allow Russia to bring additional forces and ammunition to the fight even if soldiers are not well-trained or competent, said Army Lt. Gen. Scott Berrier, director of the Defense Intelligence Agency.
The battle in Ukraine is developing into a war of attrition, with neither Russia nor Ukraine making much progress, Berrier said. Russia is attempting to encircle Ukrainian troops from the north and south to crush the most capable and well-equipped Ukrainian forces holding the front line in Donbas, Haines said.
"The Russians aren't winning, and the Ukrainians aren't winning, and we're at a bit of a stalemate here," Berrier said.
As the war drags on, the likelihood of Putin turning to more drastic action increases, Haines said. The Russian leader could impose martial law, reorient industrial production or pursue escalatory military action if he feels Russia is losing in Ukraine, she said.
"But Putin most likely also judges that Russia has a greater ability and willingness to endure challenges than its adversaries," Haines said. "He is probably counting on U.S. and [European Union] resolve to weaken as food shortages, inflation and energy prices get worse."
Russia will continue to use nuclear saber-rattling to deter the U.S. and its allies from sending Ukraine more aid, but Putin would only authorize the use of nuclear weapons if he perceived an existential threat to Russia or his regime, she said.
Support for the war among the Russian people remains high, Haines said in response to questioning by Sen. Jack Reed, D-R.I., chairman of the committee. But economic sanctions, export controls and the flight of foreign companies from Russia will enact an increasingly punishing toll on the country, she said.
Russia is grappling with 20% inflation, and its gross domestic product is expected to fall by 10% during the next year, Haines said. Moreover, export controls on items such as semiconductors are affecting the country's defense industry, she added.
Senators on Tuesday praised officials for correctly predicting Russia's invasion but asked the intelligence community to conduct a thorough review of how it assessed the strength of Russia's military and Ukraine's ability to repel it.
Lawmakers had been told that Russian forces would overwhelm Ukraine's capital city of Kyiv within three days and capture control of the country within weeks, said Sen. Angus King, I-Maine. If intelligence officials had correctly assessed the tremendous will and capacity to fight of the Ukrainians, the U.S. would have done more to assist Ukraine earlier, he said.
"The assessment was Ukraine would be overrun in a matter of weeks," King said. "That was grossly wrong."
Sen. Tim Kaine, D-Va., noted predictions about Afghanistan's ability to hold off the Taliban following the withdrawal of American troops from the country had been similarly off.
Haines said the National Intelligence Council is looking at how it can better assess a country's "will to fight," and Berrier said the Defense Intelligence Agency is reexamining how it evaluates foreign militaries. Analysts failed to foresee Russia had a "hollow force, [with a] lack of a noncommissioned officer corps, lack of leadership training, lack of effective doctrine," Berrier admitted.
"Those are the intangibles that we've got to be able to get our arms around," he said.
The intelligence community believes Russia's military has been set back by years due to its poor performance in Ukraine, Berrier said. Ground combat forces are significantly degraded, and losses of equipment and people are vast, Haines said.
"It's going to take them years to rebuild," she said.
---
---
---
---