Pentagon awards nearly $137M for Ukraine weapon acquisitions as Army, Marines spend about $1.5B to backfill US stockpiles
By
Stars and Stripes
May 6, 2022
---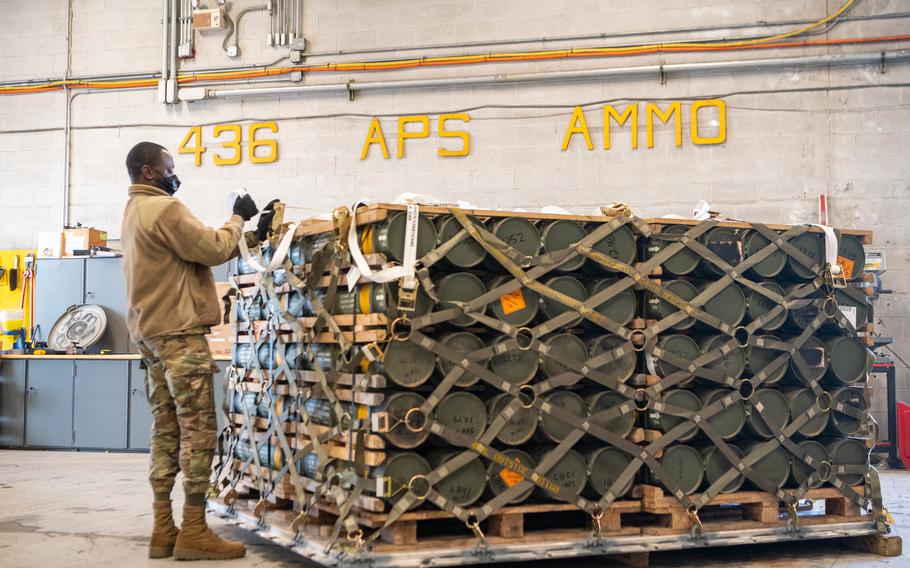 WASHINGTON — The Pentagon has awarded eight contracts totaling $136.8 million to procure weapons and equipment for the war in Ukraine with another $1.45 billion sent to the Army and Marine Corps for the replenishment of U.S. stockpiles, a Defense Department official said Friday.
The majority of the contracts, $61.4 million, are for radios and other communication devices, while another $22.6 million, $19.7 million and $17.8 million will fund rockets, Puma surveillance drones and Switchblade drones that detonate on impact, said William LaPlante, the Pentagon's undersecretary for acquisition and sustainment.
"The last few weeks have really highlighted the intensity of international conflicts in 21st century and the demand for munitions and weapons platforms really outpaces anything we've seen in recent memory," LaPlante said.
The Defense Department is awarding the contracts, which also include deals for medical equipment, binoculars and ready-to-eat meals, under the Ukrainian Security Assistance Initiative, he said. The $300 million program allows the Pentagon to obtain weapons for Ukraine directly from the defense industry, rather than its own stockpiles.
Some of the most effective weapons in Ukraine's defense against Russian forces — the anti-tank Javelin and anti-aircraft Stinger missiles — continue to be pulled from U.S. inventories. The Pentagon notified Congress this week that it is using the first $1.45 billion of a $3.5 billion replenishment fund to backfill the estimated 5,000 Javelins and 1,400 Stingers sent to Ukraine.
Senators said Tuesday that the U.S. had depleted one-third of its Javelin inventory and one-quarter of its Stinger stock. Defense Secretary Lloyd Austin assured them that reserves of the weapons were "in pretty good shape" and said he would not allow stockpiles to fall to critical shortages.
The Army is "actively negotiating" to get more Stingers and expects to have a contract awarded for them at the end of the month, LaPlante said. But officials for Raytheon, the Stinger's manufacturer, told analysts last week that it would not be able to begin restocking the missiles until 2023.
A contract for Javelins is "imminent," LaPlante said, and will likely call for newer models of the weapon that have longer range.
The Pentagon is aiming for a "one-to-one" replacement of the weaponry shipped to Ukraine but outdated components of some systems could make that difficult, he said.
"We're having to go through this calculation and so are the Europeans, our allies," LaPlante said. "For example, the Poles sending Russian-made tanks, what do they want to replace them with? Everybody's going through the same calculation of what is the replacement."
The White House asked Congress last month to allocate an additional $5.4 billion to continue replenishing U.S. stockpiles as part of a $33 billion total assistance package for Ukraine. That request is sending a clear "demand signal" to the defense industry that is helping rally manufacturers and speed up production lines, LaPlante said.
Contractors submitted more than 300 proposals in the last two weeks detailing what weapons and equipment it could provide for Ukraine during the next few months, he said.
"We are in contact with industry every day as requirements evolve and we'll continue to utilize all available tools to support Ukraine's armed forces in the face of Russia's aggression," LaPlante said.
Other parts of the supplemental bill now before Congress are expected to give the Pentagon more of a cushion for future crises. The $550 million Critical Munitions Acquisition Fund and another $50 million requested for a Defense Exportability Transfer Account would enable the Defense Department to continuously maintain stockpiles, LaPlante said.
"We can't predict exactly which weapons are going to be needed, we're not going to predict what the next surprise will be but at least [we'll] find [ourselves] not in the same situation," he said. "It's a way to hopefully build up a little bit of a buffer for the next time."
---
---
---
---