Shrinking Army worries lawmakers as military recruitment, retention woes continue
By
Stars and Stripes
May 5, 2022
---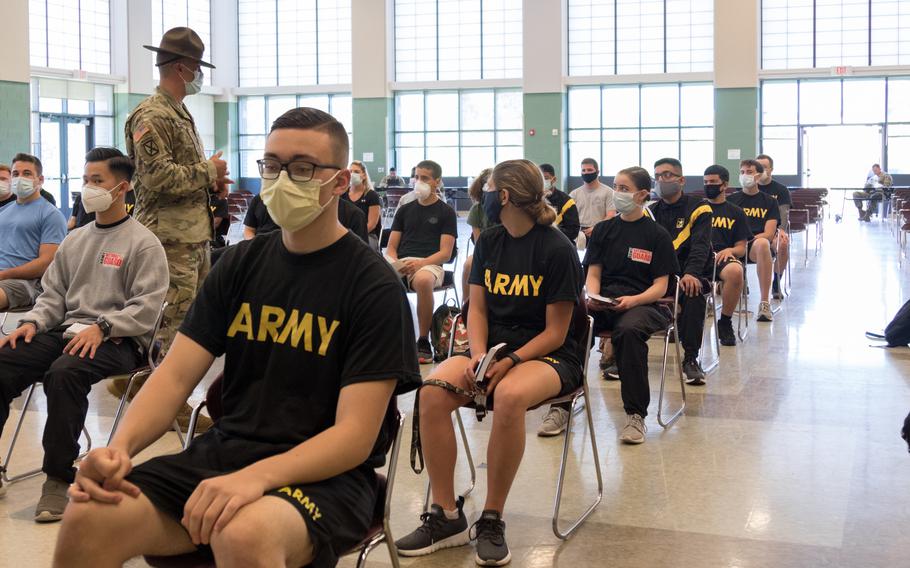 WASHINGTON — Senators voiced concerns about the shrinking size of the Army on Thursday as Pentagon leaders acknowledged struggles with recruiting qualified young people who do not come from military families.
The Army's budget request for fiscal year 2023 seeks to cut the 476,000 force to a cap of 473,000 soldiers despite previous permission from Congress to grow the service branch to 500,000 active-duty troops by 2022. Military officials have blamed the competitive post-pandemic labor market and fewer qualified candidates for the shortfall.
"We are in a war for talent," Gen. James McConville, the Army chief of staff, told the Senate Armed Services Committee on Thursday.
Oklahoma Sen. Jim Inhofe, the panel's ranking Republican and an Army veteran, described the recruiting difficulties as "more serious than any recruiting challenge that I've experienced in the years that I've been here." He noted Army Gen. Mark Milley, now the chairman of the Joint Chiefs of Staff, said in 2018 that he wanted more than 500,000 soldiers to match the National Defense Strategy, a Pentagon document produced every four years that guides U.S. military policy.
McConville told senators last year that the regular Army should be between 540,000 and 550,000 soldiers and stood by that number on Thursday.
"I think we need a bigger Army," he said. "But I also think that quality is more important than quantity."
The Army, like other military branches, is finding a lackluster pool of potential recruits, with only 23% of Americans qualified to serve due to obesity and other issues, McConville said. Of those who do meet recruiting requirements, 83% grew up in families that have served in the military, he said.
"It's nice that it's a military family business, but we need this to be an American family business," McConville said. "We need to attract others, we need to expose others to the benefits of serving their country."
Sen. Jack Reed, D-R.I., chairman of the committee, said he was worried the geographical scope of recruitment was narrowing as well, with most soldiers enlisting from the south and west.
"It's becoming somewhat insular," said Reed, an Army veteran.
Army Secretary Christine Wormuth told senators that the service is exploring a variety of methods to attract candidates, including boosting marketing efforts and possibly expanding the Junior Reserve Officer Training Corps program to expose more children to the Army.
"We've got find a way to help all young Americans understand all of the great opportunities that they can have in the Army and all of the things the Army will enable them to do," she said.
The Pentagon has also focused on improving retention, ensuring access to health care, child care, spousal employment, family housing and other services that will make soldiers more likely to stick around, McConville said. The Army is working on building more child development centers and using bonuses to attract higher quality caretakers for them, he said.
"We recruit soldiers, but we retain families," McConville said.
Sen. Elizabeth Warren, D-Mass., questioned the military's commitment to fixing military housing plagued with black mold and other substandard conditions, pointing out the Army's $1.9 billion request for construction and family housing represented a 40% decrease from the previous year.
She also faulted the Pentagon for including an additional $330 million for housing on its unfunded priorities list — a $5.1 billion wish list of popular initiatives that Warren said forces Congress to "jack up" the Pentagon's budget above its initial submission.
"Military families need this funding, and they should get it. We need to fix our shameful military housing problem, and we need to do it as quickly as possible," she said. "Either have the courage to ask for more money up front or better yet, cut something else from the budget so you've got enough room to be able to keep the promise you've made to military families."
Wormuth said the Army is juggling housing improvements with an unprecedented effort to modernize its force, but she did not explain the two funding requests.
"We are trying to balance a number of competing demands," she said.
The Defense Department's $813 billion budget request is the largest in history but would see the total military reduced by more than 10,000 troops. Congress is expected to release its initial drafts of the 2023 National Defense Authorization Act, which sets annual spending and policy priorities for the Pentagon, in the next few weeks.
---
---
---
---