'How can we get this under control?' Senators confront company reps on military housing woes
By
Stars and Stripes
April 26, 2022
---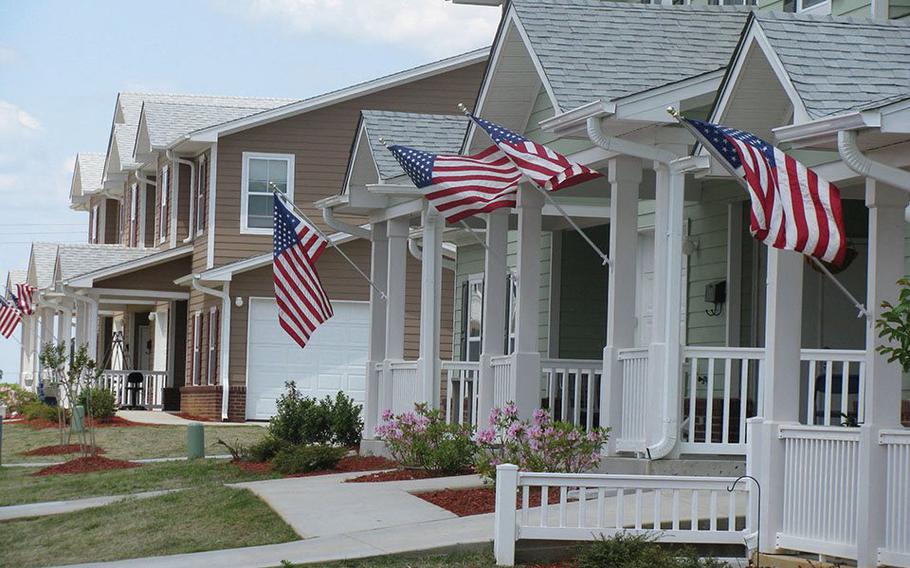 Army Capt. Samuel Choe and his family now live thousands of miles from the home at Fort Gordon, Ga., that he said made his daughter sick. But the scars on her body remind them of her pain.
It inspired Choe to fly the 7,000 miles from South Korea to Washington to testify Tuesday on Capitol Hill and describe exactly what impact privatized military housing had on his only daughter, who he calls "his heart."
In August 2019, the Choe family moved into base housing at Fort Gordon that was managed by the private company Balfour Beatty Communities, which was under a federal criminal investigation for fraud. That was not publicly known at the time.
Choe soon noticed his then 8-year-old daughter's skin breaking out in rashes. She was diagnosed with atopic dermatitis that a doctor eventually linked to mold in the family's on-base residence. Choe said he found mold in the bathrooms, behind the walls, on the ceiling and in his children's bedrooms.
"My daughter, her skin once youthful and supple, is now reptilian in nature," he told senators during a hearing about the problems families have faced living in Balfour Beatty-managed base housing. "There are numerous times she would wake up in the middle of the night, hands covered in blood from her scratching while sleeping in her bed, her bedsheets also covered in her own blood. How do you explain to an 8-year-old child why she should endure something like that?"
Choe sat alongside Air Force Tech. Sgt. Jack Fe Torres, who told senators about his family's experience with mold in a home rented from Balfour Beatty at Sheppard Air Force Base in Texas. The two service members' experiences were documented in a report compiled and released Tuesday by the Permanent Subcommittee on Investigations, which is part of the Senate Committee on Homeland Security and Governmental Affairs.
The hearing was designed to hear their stories and question leaders from the company about the findings of the report titled "Mistreatment of Military Families in Privatized Housing."
Sen. Jon Ossoff, D-Ga., who is the chairman of the subcommittee, initiated the eight-month investigation that led to the report after visiting Fort Gordon and hearing from military families about their troubles with Balfour Beatty.
"I heard stories about maintenance requests that were ignored. Maintenance requests that were never followed up on, and not just routine maintenance, but maintenance that impacted the health and safety of our service members and their families living in their homes," he said. "The results of this investigation are alarming and disturbing."
Richard Taylor, president of facility operations, renovation and construction for Balfour Beatty, told the subcommittee that the testimony of Choe and Torres was "their perception."
"I have substantial empathy for the Choe family. I know that it's hard to deal with any ailment with any child. I have a hard time drawing a conclusion."
The Choe family moved out of Fort Gordon housing in early 2021 and into a nearby community. By December, Balfour Beatty pleaded guilty to defrauding the military in a scheme to alter maintenance records that were tied to financial bonuses. The company paid $65 million in restitution and fines.
Balfour Beatty has continued to provide housing to the military at 55 bases across the country, and Choe's daughter continues to suffer with the severe rashes and has become reticent to engage with new people because of the appearance of her skin.
Doctors have said the skin condition is likely permanent and could be fatal should the girl be exposed to the right circumstances of black mold and mildew, Choe said.
From Balfour Beatty's perspective, the Choe family submitted 28 work orders for their residence at Fort Gordon, and a February 2020 request related to mold was inspected twice, including a joint inspection with base officials, and no evidence of mold was found, Taylor said. The doctor also never visited the home to see the conditions, he said.
But the Senate investigation found neglect and misconduct that has caused "grave risks to the health and safety of service members and their families," Ossoff said.
The subcommittee's investigation focused on issues from 2019 to the present, while the Justice Department focused its charges on housing issues from 2013 and 2019.
"Fool me once, shame on you. Fool me twice, shame on me," said Sen. Ron Johnson of Wisconsin, the ranking Republican of the subcommittee. "How can we get this under control? This seems to be a problem that has just plagued military housing. The military doesn't want to deal with housing, so they contracted outside. Then you don't sit at the controls, so the contractors do the type of job that we all expect."
Taylor argued there is a difference between fraud and human error, and it's unfair to call the problems discussed in the hearing as systemic issues within Balfour Beatty.
"There's human error in business, but to suggest that the error rate is indicative of widespread broken business is totally unfair," he said.
Since the criminal investigation, Taylor said the company has learned there was too much opportunity for employees to be incentivized to manipulate data to receive bonuses. Since then, they've changed their policy so that all bonus payouts are tied to customer satisfaction, which is outsourced to a third-party, he said.
Ossoff closed the two-and-a-half-hour hearing by pledging further review and action for military families living in base housing.
"We will continue to seek remedies for the issues discussed today," he said. "It is of upmost importance that [service members and families] be provided safe housing and that there be accountability within the department and the companies responsible for providing that housing."
---
---
---
---