'This is a mess,' congresswoman tells defense officials, landlords during hearing on military family housing
By
Stars and Stripes
March 31, 2022
---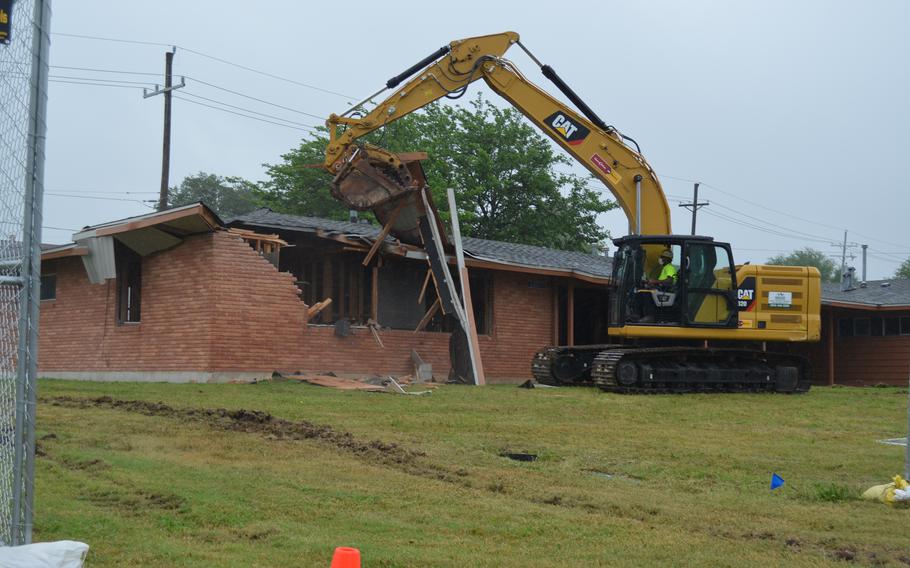 House lawmakers from both parties called on the Defense Department and its private landlords to move faster and improve at implementing congressional reforms for military family housing after noting there's not been enough progress made since efforts began three years ago to address the crisis.
"We shouldn't need any of these accountability measures. You should already be doing what it is we're trying to hold you accountable to be responsible for," Rep. Debbie Wasserman Schultz, D-Fla., said to a panel of military base landlords during a hearing Thursday of the House Appropriations Committee subpanel on military construction, veterans affairs and related agencies. "That's what you agreed to when the government entered into these contracts with you to take over our military housing and privatize it, from which you profit richly."
Wasserman Schultz and Rep. Tony Gonzales, R-Texas, discussed what it would take for the military to end the contracts with the private companies, many of which are 50-year agreements.
"It would cost more than $40 billion up front," just for the military to buy back the houses, Wasserman Schultz said. That does not include the cost of the Defense Department hiring "thousands of personnel to perform management and support duties," or legal fees.
"This is a real mess that no entity should want to find themselves in where there is very little accountability," she said.
The more than three-hour hearing focused on the oversight of privatized military family housing, with three separate panels testifying before the subpanel. First, a military spouse, a former military spouse and an active-duty soldier described the challenges they've faced with their housing. Then representatives from the Defense Department and Government Accountability Office provided updates on reform implementation. Last, leadership from private companies Corvias Military Living, Liberty Military Housing, Hunt Military Communities, Balfour Beatty Communities and Lendlease Communities testified on their efforts.
In 2018, Reuters reported on the dangerous conditions that military families have faced in base housing, including mold growth, toxic exposure, lead-based paint and asbestos, pest and rodent infestations, and water and sewage issues. Many conditions were exacerbated by poor or slow response to maintenance requests. Congress has since stepped in issuing reforms.
However, the three residents of military housing told the subpanel that many of the issues meant to be corrected by the reforms persist throughout the system. Army Pfc. Cody Calderon, 32, who is stationed at Fort Polk, La., said the problems that he has had with his housing have had a "tremendous impact" on whether he will reenlist.
Before signing up one year ago, he faced an eviction that damaged his and his wife's credit and has limited their ability to lease a house off base.
"I really wanted to do 20 years. I don't think I could do 20 years of this. I don't think I could put my wife through 20 years of this just for a retirement," Calderon said.
Defense Department officials and representatives of the housing companies offered several reasons why there are still issues in base housing, such as difficulty hiring personnel, delays in routine maintenance caused by the coronavirus pandemic and the time it takes to implement changes and systems.
"We seem to have various numbers of catch-22s in this issue," said Rep. John Carter of Texas, the subpanel's ranking Republican. "But seriously, somebody's got to get down to doing the work and somebody's got to be punished for not doing the work. It's just that simple."
Two of the four companies that testified recently paid out settlements regarding allegations of fraud that allowed for the companies to receive performance incentive fees from the government. Balfour Beatty pleaded guilty to the charges and paid $32 million in restitution to the Air Force and $33.6 million in criminal fines. Hunt did not admit fault, but paid $500,000 to resolve the allegations.
"[The Defense Department] continues to partner with these companies that clearly put profits over service members and their families. Earlier you said it was too expensive to terminate these partnerships with these companies," Gonzales said when questioning Patricia Coury, deputy assistant secretary of defense for housing. "What would these companies have to do in order to cause enough damage in order for you to consider terminating their contracts?"
Coury described the process as "very complicated" because the companies own the houses that sit on government land.
"It's not that it can't happen," she said. "We are not focused on that, as we feel that's an extreme measure. … We feel that we're comfortable moving ahead and holding these project companies accountable. We're watching how they respond, and we will be monitoring their performance and how they enter work order data and anything else that would be indicative of a problem in terms of them having potential future fraud."
The Defense Department is aware that one other company is under investigation by the Justice Department at one base, Coury said. She could not be more specific, she said.
The Department of the Air Force also received an anonymous complaint this week regarding a separate company at a separate base, which has been referred to the Air Force Office of Special Investigations, Coury said.
Carter closed out questioning by asking what the subpanel could do to help improve conditions. Each company said their costs were straining their efforts. Carolyn Tregarthen, managing director for Lendlease, said an accurate calculation of the basic allowance for housing provided to service members would be a great start.
The allowance, which is calculated annually by the Defense Department, depends on a service member's rank and location. When a service member chooses to live on base with his or her family, the allowance is directly paid to the private landlords in the form of monthly rent.
When the contracts were signed and business models developed, it was believed the allowance would grow about 3% annually, said Brian Stann, president and CEO of Hunt. Instead, it has been drastically less, he said.
Better calculations of the allowance "will be extremely helpful in terms of providing reserves so we can continue developing homes and improving homes in on-base housing," Tregarthen said. "It will also support the military families who choose to live on the economy and make sure that they actually have sufficient funding to be able to pay their rent and not be out of pocket."
---
---
---
---