US officials believe NATO will admit Finland and Sweden into alliance as Russia wages war in Ukraine
By
Stars and Stripes
June 16, 2022
---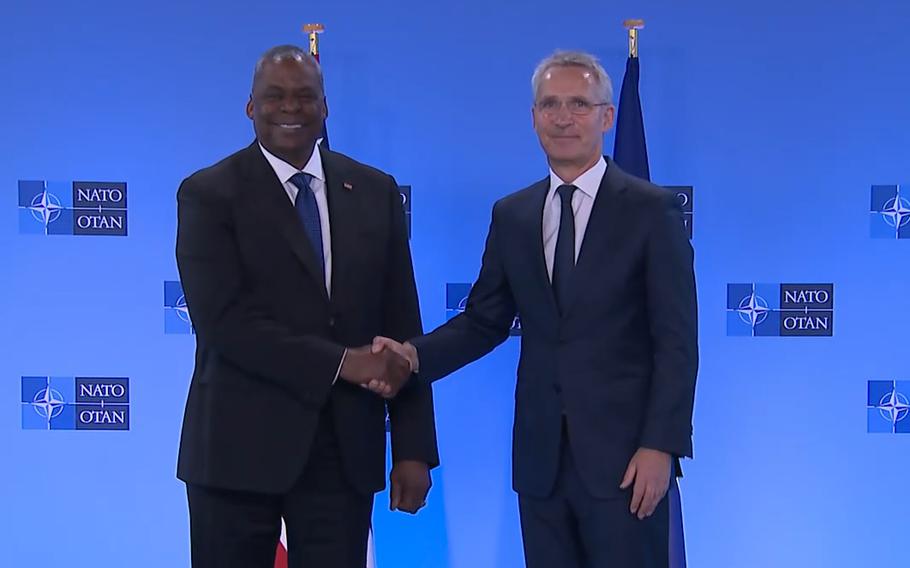 WASHINGTON — The historically neutral countries of Finland and Sweden are close to becoming members of NATO as Russia wages war in Ukraine and the alliance looks to bolster its defenses, Defense Secretary Lloyd Austin said Thursday.
Austin applauded both countries for requesting NATO membership and expressed optimism about their chances of acceptance to the group of 30 nations committed to each other's collective defense.
"The historic decisions to apply for membership … reflects the appeal of NATO's core values," he said following a meeting of NATO defense leaders in Brussels. "The values that unite us as an alliance remain strong and timeless, and so does our shared vision of a stronger rules-based international order and a more peaceful world."
NATO requires unanimous agreement among its members before allowing new countries to join the alliance, which has not yet been secured for Finland and Sweden. Turkish President Recep Tayyip Erdogan stands in the way, demanding the two northern European countries develop concrete stances against the Kurdistan Workers' Party, which Turkey considers a terrorist group.
The proposed membership of Finland and Sweden and Turkey's concerns were discussed during the two-day ministerial meeting that began Wednesday, Austin said.
"I have confidence that in every case, we'll be able to reach consensus and move forward. We've done that in the past. I certainly saw evidence of that here in this meeting and in other meetings," he said. "But that's why we have these meetings — that's why we come together."
U.S. National Security Advisor Jake Sullivan said Thursday that he "expect[s] Finland and Sweden to become members of NATO" despite the Turkish concern.
"Both indicated they are prepared to address Turkey's concerns," he said during a lecture at the Center for a New American Security, a Washington think tank. "There have been high-level engagements between the Swedes and Finns and the Turkish president and his team."
Sullivan said he met earlier this week with Turkish leaders to "talk through the way ahead on this."
"I can't give you an exact timeline on the resolution of these issues, but what I can tell you is there is a commitment on all sides to figure out a way forward to ultimately produce this historic outcome where the two countries with a long history of neutrality join the NATO alliance," he said.
Ushering in a resolution is key because bringing on Sweden and Finland — the only two Baltic states not in NATO, aside from Russia — will bring more solidarity as Russia continues to threaten European security as its forces make ground gains in eastern Ukraine, Sullivan said.
"Doing so [will] massively enhance the overall capacity of the alliance because these are two strong security partners with critical geographical realities that will help us be able to deal with a Russian threat that is going to remain acute for the foreseeable future," he said.
But Erdogan on Wednesday reiterated his concerns to NATO Secretary General Jens Stoltenberg in a phone call before the ministerial meeting Thursday, demanding written assurances from Sweden and Finland, according to the Turkish office of the president.
"President Erdogan stressed that there would be no progress on the issue until both of the countries took concrete steps meeting Turkey's rightful expectations and written commitments were made assuring that there would be a change of paradigm in anti-terror and defense industry cooperation," Turkey said in the statement.
Aside from the proposed NATO membership of Sweden and Finland, Austin said alliance defense leaders discussed bolstering their defense of NATO eastern European nations that border Ukraine. But he noted most ideas were "still a work in progress."
"We're really focused on, not just numbers of boots on the ground, we're really focused on total capability, so capability in air, land, sea and cyber and space," Austin said. "We're also looking at … pre-positioning of equipment, streamlining command-and-control, making sure that we have our balance and footprint about right."
---
---
---
---