Russian fuel and supply challenges in Ukraine cause Pentagon to consider at-sea delivery needs in potential US conflict with China
By
Stars and Stripes
June 13, 2022
---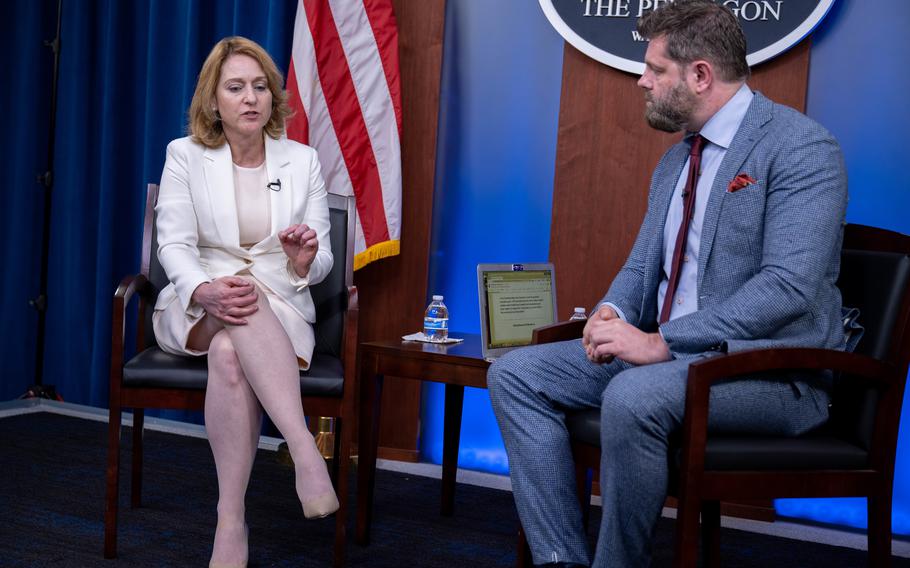 WASHINGTON — Russia's struggles to supply its forces with fuel as it wages a war in Ukraine have caused the U.S. to reflect on the importance of ensuring it can deliver essential goods to its fleet should conflict erupt in the Indo-Pacific region, Deputy Defense Secretary Kathleen Hicks said Monday.
"Making sure we understand how to go after that logistics challenge — that, I think, is one lesson that we can extrapolate from what we see today," Hicks said at Defense One Tech Summit, an annual virtual defense symposium.
Russia's failures to keep its forces properly supplied in its battle have plagued their advances since the first days of its invasion into Ukraine on Feb. 24, senior U.S. defense officials have said. For example, a 40-mile-long convoy that moved from Belarus toward Ukraine's capital of Kyiv stalled for more than a month without fuel. Ultimately, they retreated.
Hicks said the Defense Department has taken Russia's failures as a reminder of the consequential nature of proper logistics, especially if conflict erupts between the U.S. and China in the Indo-Pacific region where tensions mount over the sovereignty of Taiwan and access to the shipping lanes of the South China Sea.
"The Russians are operating on their own border and yet we saw substantial logistics challenges," she said. "For the United States to be effective in the Pacific, we already know we have a significant logistics challenge, worsened by the reliance that we have on fuel."
The Navy's surface combatant ships, such as guided-missile destroyers and cruisers, require fuel. While aircraft carriers use nuclear power, a lack of fuel would ground the aircraft on board.
Hicks did not provide specific ways the U.S. can help ensure its air and sea fleets are properly fueled, but distance has long been a challenge in delivering supplies and fuel in the Western Pacific.
The Navy's nearest fuel depots on U.S. soil are about 2,000 miles away from the South China Sea on Guam, according to the service. A challenge that China would not face.
Further, the Navy is shuttering its Red Hill Bulk Fuel Storage Facility in Hawaii, which could hold roughly 150 million gallons of fuel. The facility is shutting down following a leak that contaminated drinking water. The Red Hill closure will leave the U.S. without one of its main sources of fuel in the Pacific.
Hicks said ensuring proper communications is one way the Pentagon can avoid the issue, as the Ukraine crisis has taught the U.S. "the value and importance of information."
"Down at the operational level, for instance, how we flow our logistics working alongside allies and partners, how we coordinate those logistics — that's about information sharing," she said.
Hicks cited Defense Secretary Lloyd Austin's newly formed Ukraine Defense Contact Group as an example of using communication with allies and partners to better empower logistics.
The group, which meets for the third time on Wednesday, gathers defense officials from more than 40 nations monthly to discuss and coordinate efforts to send Ukraine what it needs to defend itself.
Further, Hicks said the Pentagon's efforts to move toward sustainable energy where possible might help move the Defense Department closer to overcoming fuel dependency.
"I think we are motivated at a more strategic level to make sure that we can free that tether on fossil fuel to the extent that we can," she said. "When we do that, we're going to help ourselves with that combat credibility, particularly in places like the Pacific where the logistics lines are very long."
---
---
---
---