Another Navy ship sent to Mediterranean to boost NATO in challenging Russia
By
Stars and Stripes
June 13, 2022
---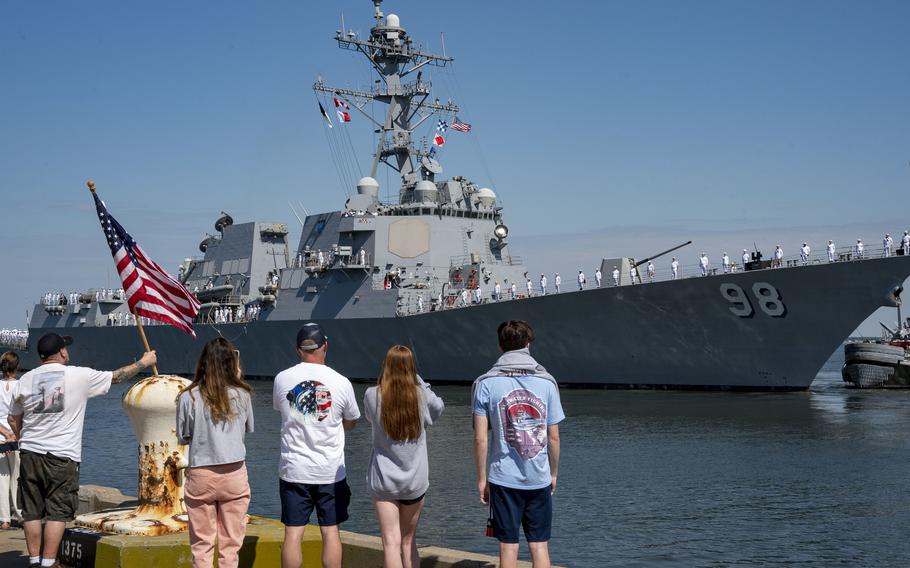 A U.S.-based Navy destroyer is headed to the Mediterranean Sea, making it the latest U.S. ship deployed to that theater in the past several months as NATO steps up to deter Russian aggression.
USS Forrest Sherman left its homeport in Norfolk, Va., on Saturday to serve as the flagship of Standing NATO Maritime Group 2, the Navy said in a statement Saturday.
The deployment includes presence operations and participation in exercises, according to the statement.
Standing Naval Forces make up the maritime component of the Very High Readiness Joint Task Force, part of the NATO Response Force. This is the second deployment for Forrest Sherman since February. In April, it returned to Norfolk after a three-month surge deployment in the eastern Atlantic Ocean and the North and Baltic seas under the commander of U.S. 2nd Fleet, according to the statement.
As part of Standing NATO Maritime Group 2, Forrest Sherman will operate with allied navies including those of Canada, France, Germany, Greece, Italy, Romania, Spain and the United Kingdom.
The Mediterranean is in the U.S. 6th Fleet's area of operations. The USS Harry S. Truman carrier strike group, which includes Destroyer Squadron 28, has been operating in the Mediterranean since December.
It originally was slated to deploy to the Middle East but amid a Russian military buildup and the subsequent war in Ukraine that the Kremlin started Feb. 24, the carrier was ordered to remain in the Mediterranean.
In January, the Navy surge-deployed four destroyers ⁠— USS Mitscher, USS The Sullivans, USS Donald Cook and USS Gonzalez ⁠— to U.S. 6th Fleet. At the time, analysts said the action was unusual over the past 30 years.
Since then, Mitscher, The Sullivans and Donald Cook have returned to their homeports, but Gonzalez remains part of the Truman carrier strike group.
---
---
---
---