Navy destroyer 'bringing a lot of capability' to US 6th Fleet
By
Stars and Stripes
May 2, 2022
---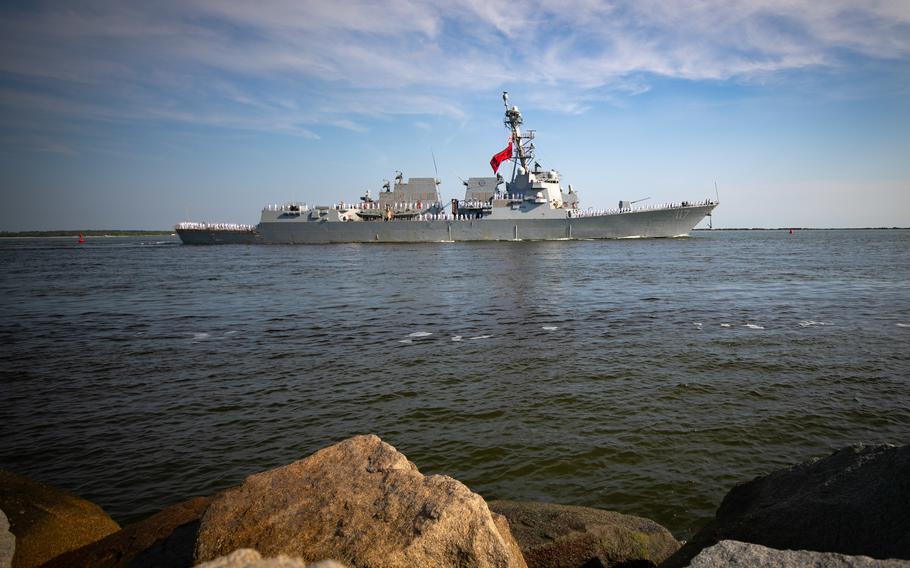 One of the Navy's newest and most advanced destroyers is moving to Spain, where it will join four others based at Naval Station Rota.
The USS Paul Ignatius left its homeport in Mayport, Fla., on Wednesday for an inaugural patrol in the U.S. 6th Fleet area of responsibility, which includes Europe and Africa, the Navy announced in a statement.
After its patrol, the Paul Ignatius will be homeported at Rota in Spain's south, alongside USS Arleigh Burke, USS Roosevelt, USS Porter and USS Ross.
The move is one of several planned homeport shifts in a long-term strategy to rotate the Rota-based destroyers gradually, the Navy said.
The Paul Ignatius is the second of eight planned Flight IIA "technology insertion" ships, which contain planned elements of the next-generation Flight III ships.
The technology upgrade adds air and missile defense capability, enabling the ships to simultaneously perform anti-air warfare and ballistic missile defense, according to the statement. The improvement addresses a critical need, the Navy said.
"Together with our embarked helicopter detachment, we are bringing a lot of capability to the U.S. 6th Fleet area of operations," said Cmdr. Aaron Arky, the ship's commanding officer.
Deployment of the Paul Ignatius follows the return April 24 of the destroyer USS Donald Cook to its homeport in Mayport after a three-month rapid deployment to 6th Fleet.
The Donald Cook was one of four destroyers hurriedly deployed in January after Defense Secretary Lloyd Austin ordered the USS Harry S. Truman carrier strike group to remain in the Mediterranean Sea amid rising tensions in central and Eastern Europe.
The tensions were sparked by the vast military buildup by Russia that preceded a full-scale invasion of Ukraine on Feb. 24.
Officials have said that the increased Navy presence is meant as a sign of U.S. commitment to NATO defense and as reassurance to allies and partners.
Two ships that were in the strike group, USS The Sullivans and USS Mitscher, returned to their homeports in mid-April. The USS Gonzalez remains in the Mediterranean as part of the Truman carrier strike group.
---
---
---
---