US destroyer makes Navy's second trip through Taiwan Strait this year 
By
Stars and Stripes
February 26, 2022
---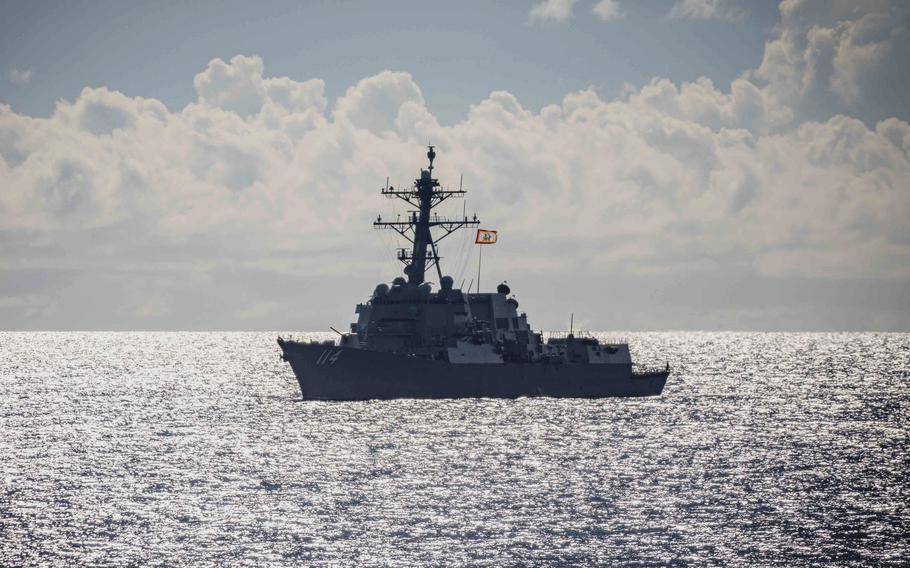 YOKOSUKA NAVAL BASE, Japan — China denounced as "provocative" a U.S. Navy warship's trip through the Taiwan Strait on Saturday, at least the second visit to the area by the Navy this year.
The guided-missile destroyer USS Ralph Johnson, homeported at Yokosuka, steamed through the contested waterway on Saturday, according to a news release that day from the 7th Fleet. 
"The ship is transiting through a corridor in the Strait that is beyond the territorial sea of any coastal state," 7th Fleet spokesman Lt. Nicholas Lingo said in the release. "The ship's transit through the Taiwan Strait demonstrates the United States' commitment to a free and open Indo-Pacific. The United States military flies, sails and operates anywhere international law allows."
Navy warships regularly steam through the approximately 110-mile-wide strait that separates China and Taiwan. The Chinese government routinely condemns those operations as provocative.
Beijing considers Taiwan, a functioning democracy, a breakaway province that must be reunited with the mainland, possibly by force.
Saturday's transit elicited a response from Beijing, with a spokesperson for China's Eastern Theater Command calling the Ralph Johnson's passage a "provocative act," according to a report from Reuters on the same day. 
Taiwan's Ministry of National Defense monitored the transit and said the ship sailed from south to north toward the East China Sea, according to Taiwan's Military News Agency. 
The Ralph Johnson's trip is at least the second by a Navy warship this year, following another transit by guided-missile destroyer USS Dewey on Jan. 22.
Last year, the 7th Fleet conducted almost monthly trips through the strait.
The transits are considered routine, but the Ralph Johnson's trip came two days after Russia began an invasion of Ukraine and amid concern over China's ambitions toward reunifying Taiwan.
Russia spent months gathering troops and military equipment along its border with Ukraine, and global leaders such as U.K. Prime Minister Boris Johnson warned that failure to correctly respond to the crisis could impact Taiwan as well. 
"If Ukraine is invaded the shock will echo around the world and those echoes will be heard in East Asia and they will be heard in Taiwan," Johnson said during the Munich Security Conference on Feb. 19. 
Taiwan scrambled fighter jets Thursday in response to nine Chinese aircraft entering its air defense identification zone, the Taiwan Ministry of National Defense said on its website.
---
---
---
---