Navy destroyers return to US after European deployment prompted by Russian actions
By
Stars and Stripes
April 19, 2022
---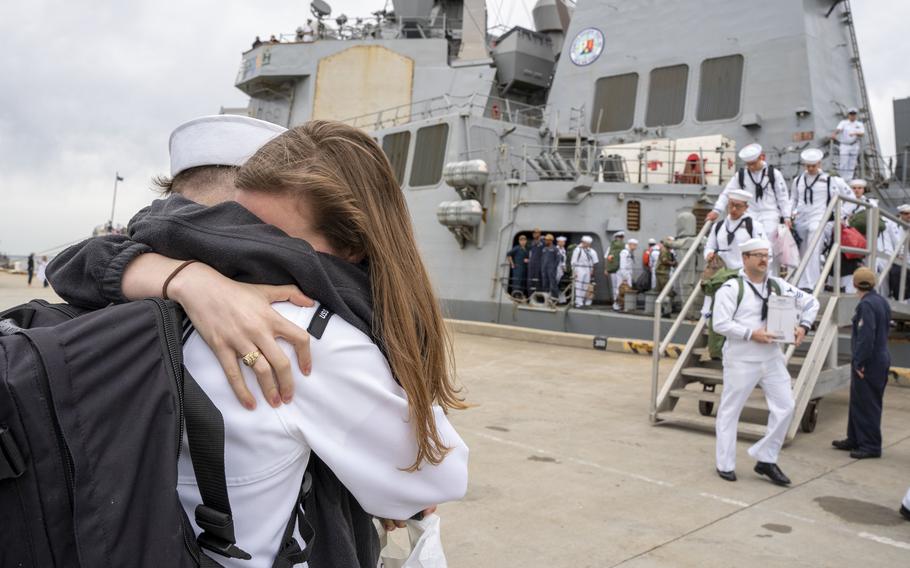 Two Navy destroyers that were hurriedly deployed to Europe earlier this year as tensions rose in Ukraine are back in their U.S.-based homeports, naval officials said in separate recent announcements.
USS The Sullivans and USS Mitscher returned from January deployments to U.S. 6th Fleet on Monday and Saturday, respectively, the Navy said.
The ships' return comes about three months after they and two other destroyers, USS Donald Cook and USS Gonzalez, were deployed following the December order to the USS Harry S. Truman carrier strike group to remain in the Mediterranean Sea.
At the time, analysts called the rapid deployment of the four destroyers from their homeports unusual over the past 30 years.
U.S. officials said the deployments and the presence of the Truman along with other NATO ships in the Mediterranean was a signal to allies and partners of the American commitment to defend the alliance amid growing Russian aggression.
Late last year, Russia began amassing troops and heavy weaponry near Ukraine's borders. On Feb. 24, the Kremlin launched its ongoing full-scale invasion.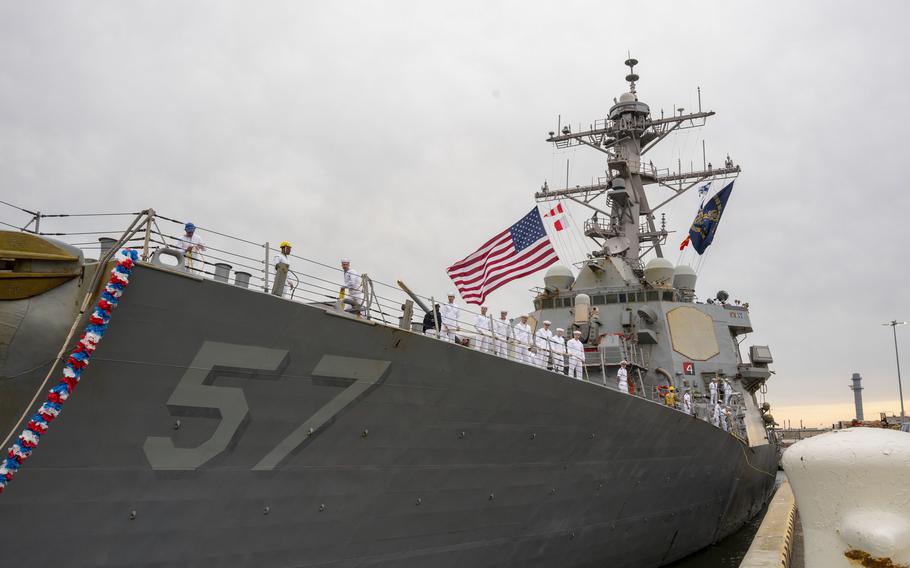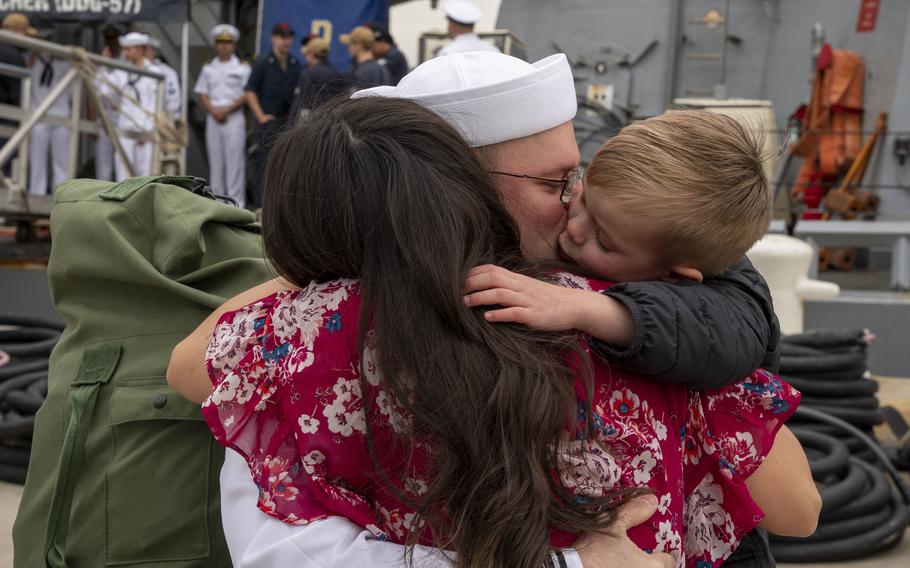 It was unclear Tuesday whether the Navy will send other destroyers to Europe, but four are forward-deployed to Rota, Spain, and five, including USS Gonzalez, are attached to the Truman.
The Pentagon has since ordered the Truman strike group, which is operating in the Mediterranean Sea and nearby waters, to remain there for the foreseeable future. The Donald Cook was last reported in late March making a port call in Copenhagen.
USS The Sullivans, homeported at Naval Station Mayport in Jacksonville, Fla., sailed more than 20,000 nautical miles to operate in the Irish, North and Baltic seas during its deployment, the Navy said Monday. The ship made port calls in Copenhagen; Rotterdam, Netherlands; Ponta Delgada, Portugal; and Rota.
It also participated in NATO Exercise Dynamic Guard in the North Sea and continued operating in Standing NATO Maritime Group 1, which included ships from the German, Dutch and Danish navies, according to the statement.
"Despite the dynamic schedule and demanding operational tasking, The Sullivans crew displayed resiliency, grit and determined self-sufficiency to accomplish all missions," said Cmdr. James Diefenderfer Jr., the ship's commanding officer.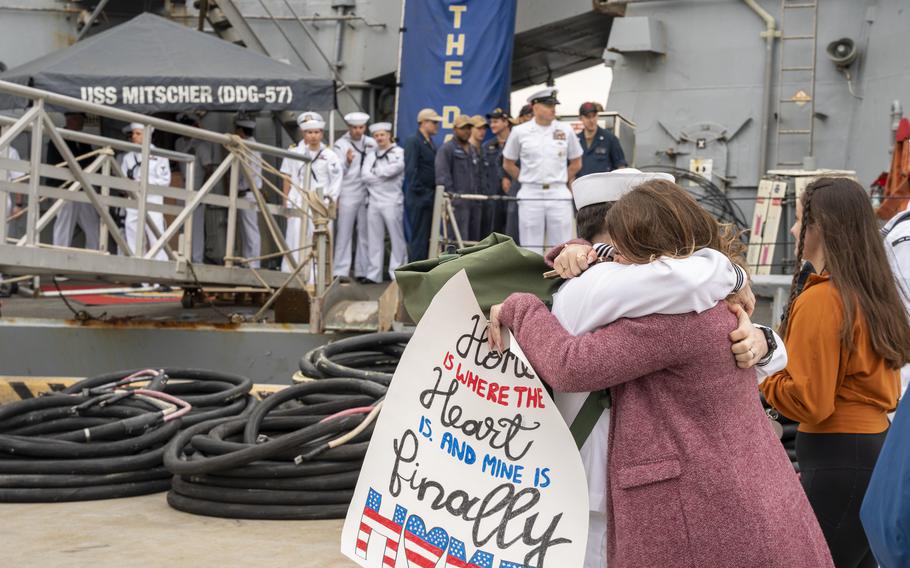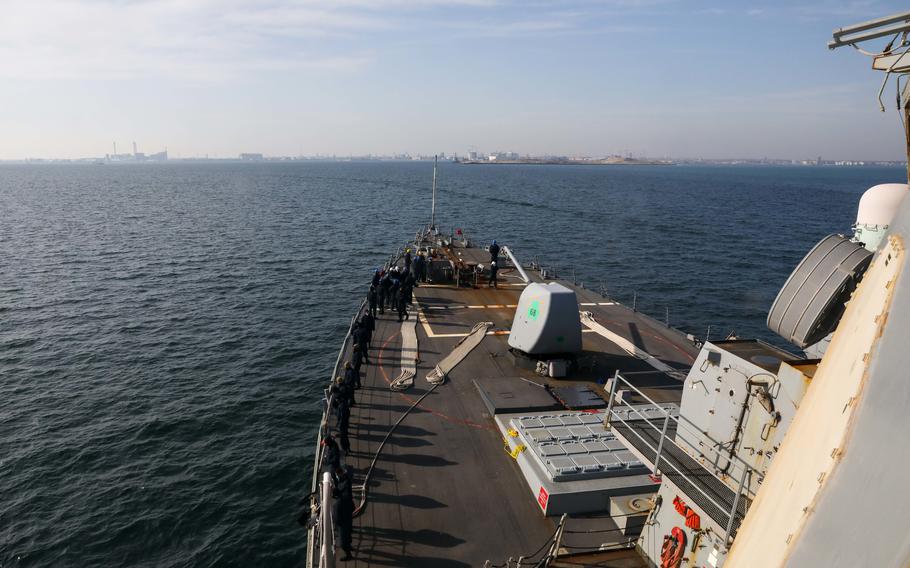 The Mitscher, homeported in Norfolk, Va., joined the Truman in the Mediterranean during its deployment, performing operations and defense of the carrier with the Greek, Italian, Norwegian and Turkish navies, officials said in a Saturday statement.
"We arrived in theater and seamlessly integrated with forces who were already on station," said Cmdr. Thomas McCandless, commanding officer of USS Mitscher.
It was the second deployment within a year for each ship. USS Mitscher returned from an extended deployment with the Dwight D. Eisenhower carrier strike group in September.
The Sullivans has spent 10 months of the past year on deployment, previously returning just before Thanksgiving after serving with Britain's HMS Queen Elizabeth carrier strike group, the Navy said.
---
---
---
---