Navy brings new software online in time for sailors' fitness testing season
By
Stars and Stripes
April 18, 2022
---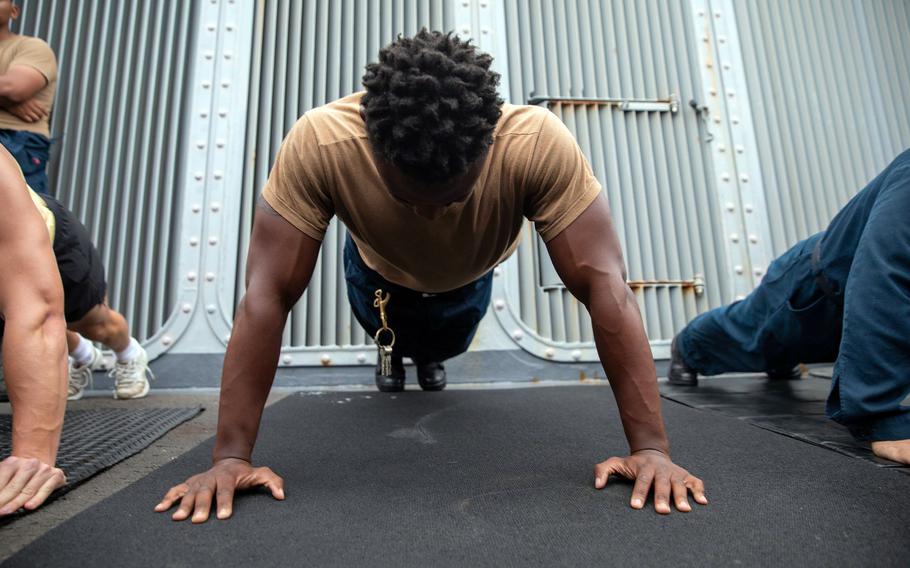 A new software program that tracks Navy sailors' physical fitness tests arrived just in time for this year's testing season, according to the Navy.
A delayed software delivery pushed the Physical Readiness Information Management System 2, or PRIMS-2, rollout into April, the month the new physical fitness testing season began, according to a spokeswoman for the Navy Personnel Command.
PRIMS-2 allows fitness leaders to record physical fitness data and sailors to see their fitness scores.
The Navy in November said the software was originally scheduled to be available in summer 2021, according to a report in Military.com on Dec. 3.
"The Physical Readiness Information Management System 2 is a success story of what a true transformative system should look like," Lt. Sarah Niles, a spokeswoman for the personnel command, told Stars and Stripes by email Tuesday. "Implementing PRIMS-2 is a process and as we move forward, more and more system requirements will be built into this product in an agile manner."
A push by the software provider, Katmai Government Services, a subsidiary of the Ouzinkie Native Corp. in Anchorage, Alaska, and MyNavy, the service's online human resources portal, brought the system online in time, Niles said.
Sailors may access their physical fitness information through MyNavy, a web portal that combines many of the service's human resources and other career information.
Along with the new software, the Official Navy Physical Fitness Assessment application was released with an updated fitness assessment calculator and physical readiness operating for updated policies, requirements and training cycles, Niles said in the email.
A Navy fitness leader in Japan said he looks forward to seeing how PRIMS-2 works.
"[I'm] very excited and to see what the new system is all about," Petty Officer 1st Class Reymer Agojo, 36, a Navy fitness leader at Yokota Air Base, Japan, said in an email to Stars and Stripes on Feb. 24. "Once I get to use and experience the new system, I am pretty sure that there will be a big difference."
Last year, the Navy required one annual physical fitness assessment to cut down on the risk of spreading COVID-19. One test is required this year, too. Testing season ends Sept. 30.
The Navy also did away with curl-ups and introduced the forearm plank, and a 2,000-meter row as optional cardio.
---
---
---
---