USS Harry S Truman makes rare visit to Naples as tensions continue in Europe
By
Stars and Stripes
May 11, 2022
---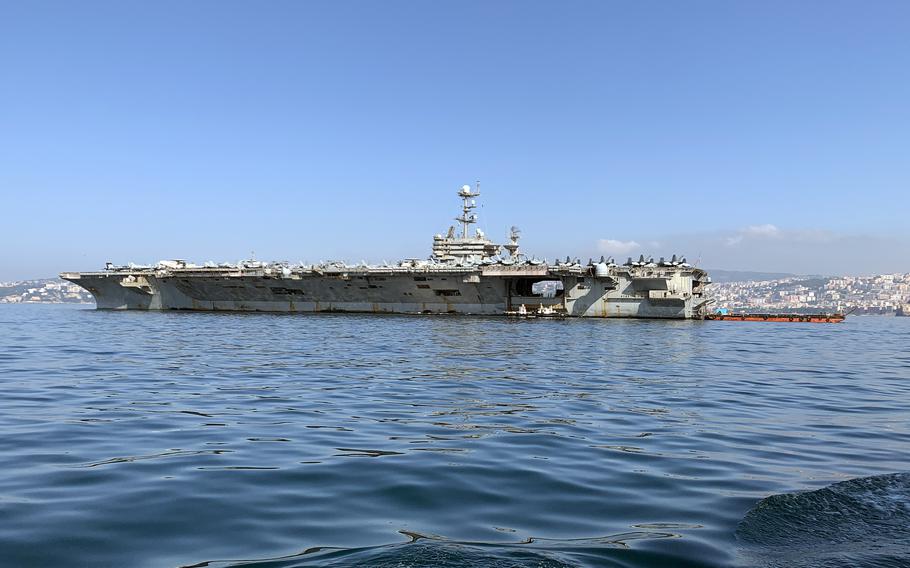 ABOARD THE USS HARRY S. TRUMAN — A U.S. aircraft carrier visited the southern Italian city of Naples for only the second time in six years as the military continues its mission of reassuring allies and partners in the face of Russia's war with Ukraine.
USS Harry S. Truman sailed into the Bay of Naples this week for its second port call in Italy and its fifth overall since deploying to the U.S. 6th Fleet area of operations in December.
The visit, which began Tuesday, includes the destroyer USS Cole and others among the carrier strike group, said Capt. Gavin Duff, Truman's commanding officer.
Naples is home to U.S. 6th Fleet, Naval Support Activity Naples and Allied Joint Force Command Naples.
Duff on Wednesday characterized Truman's deployment in the Mediterranean as focused on relationship building. For example, Truman has operated with the French Charles de Gaulle and Italian Cavour carrier strike groups during its deployment.
It also has served as the base for training and air policing flights as part of NATO's efforts to check Russian aggression.
"With not just our Italian counterparts but with counterparts throughout the region, really focusing on bringing them into the strike group, putting them in very specific roles, testing them," Duff told reporters Wednesday. "As we test them, we're really learning a lot about ourselves, and we are seeing what the true advantage is in every interaction with the professionalism of those other navies."
In December, Defense Secretary Lloyd Austin ordered Truman to stay in the Mediterranean as fears of Russian aggression mounted in southeastern Europe. The carrier had been slated for deployment to the U.S. 5th Fleet area of operations in the Middle East.
Shortly afterward, the Navy sent four additional destroyers to 6th Fleet, part of a sizable NATO naval presence in the Mediterranean not seen since the Cold War. All but one of those destroyers, USS Gonzalez, have since returned to their U.S.-based homeports.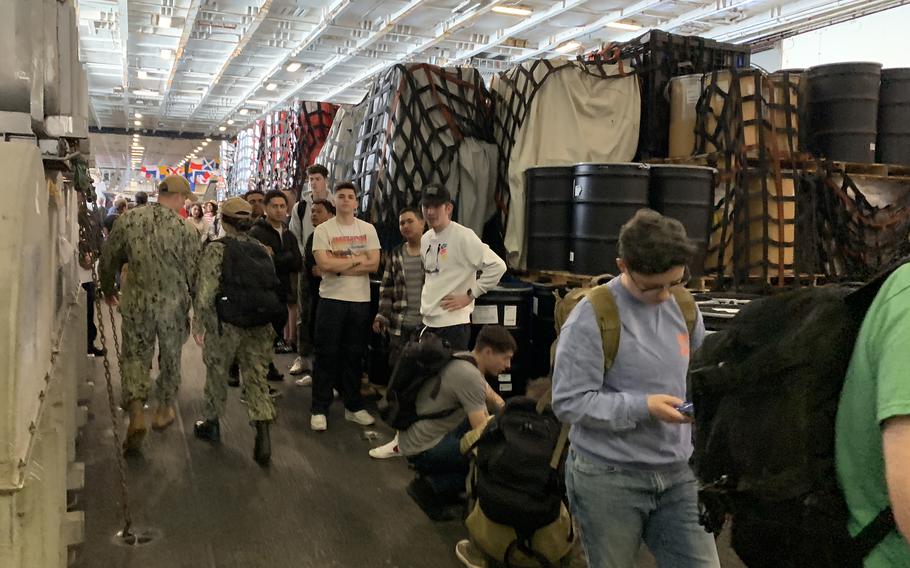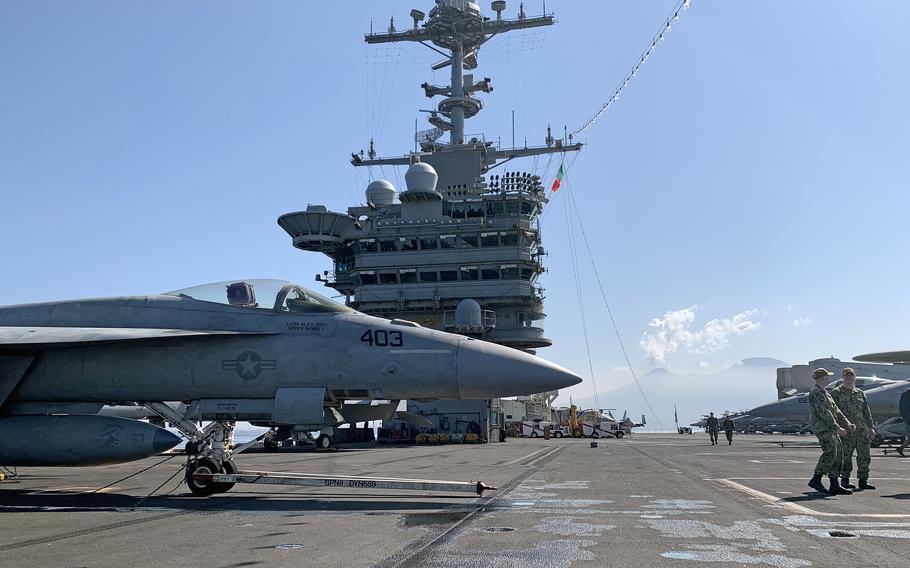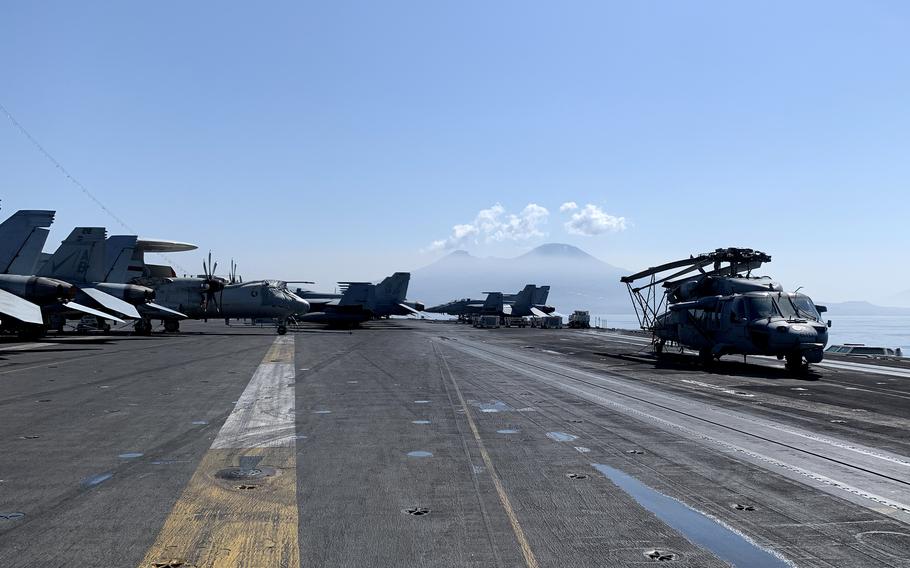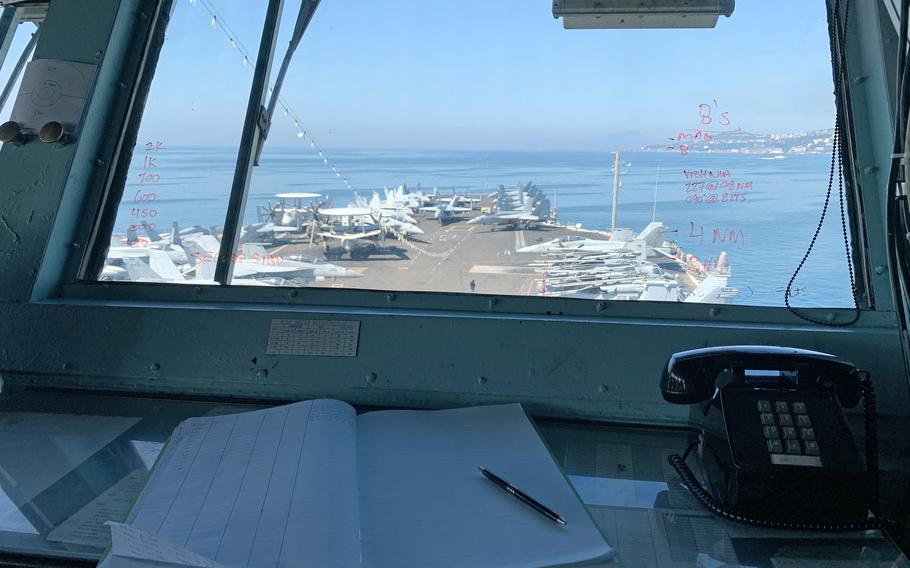 Russia launched its full-scale invasion into Ukraine on Feb. 24.
Several Russian warships and submarines have been reported in the eastern Mediterranean as well as at port in Tartus, Syria, a posture likely designed to warn away NATO ships from the Black Sea region, analysts have said.
On Wednesday, sailors aboard Truman were eager to put the daily grind of life at sea and the need for constant vigilance aside for a few hours to eat Italian food and visit sights such as Pompeii or Rome. A line of sailors waiting to take a ferry to shore stretched into the ship's hangar bay.
Petty Officer 1st Class Ivan Reyna, who has been assigned to Truman since 2018, said this deployment was better than others, in that sailors were able to count on port calls about every 30 days.
Sometimes, the time without shore leave can be 50 days or longer, depending on circumstances, such as the COVID-19 pandemic, he said.
Truman has made two port calls to Souda Bay in Greece and one each to Split, Croatia, and Trieste, Italy, he said.
"The best part of coming into port is the stress relief (from) doing that everyday hustling and bustling," Reyna said. "In a sense, you're at work 24/7, so port calls, for myself, are being able to forget a little bit (about missing) the lifestyle we were in before deployment."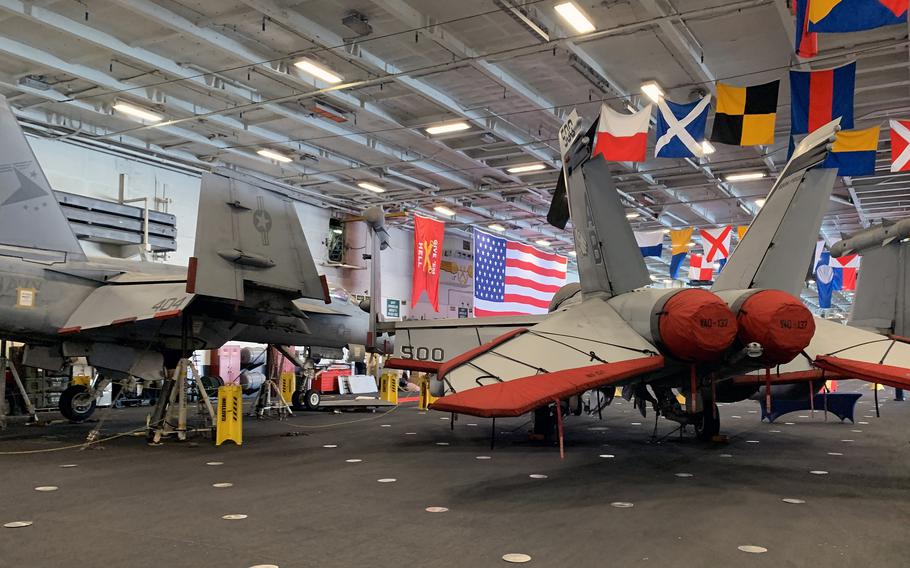 ---
---
---
---