'Warthogs' return to Europe for large military drills
By
Stars and Stripes
May 6, 2022
---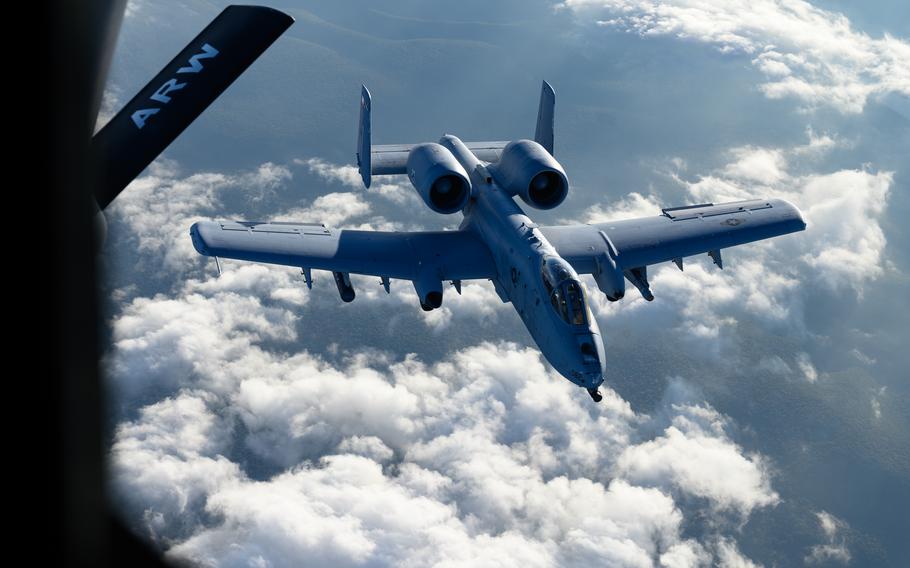 KAISERSLAUTERN, Germany — The "Warthogs" are back in Europe.
Ten Maryland Air National Guard A-10C Thunderbolt II jets arrived in Iceland on Thursday, U.S. Air Forces in Europe and Air Forces Africa said in a statement Friday.
Designed to destroy Soviet tanks during the Cold War, the iconic attack plane nicknamed for the guttural sound its cannon makes is expected to train over various parts of Europe.
They will support the U.S. Army's Swift Response, an exercise involving some 9,000 allied troops slated to last until May 20.
The training kicked off this week along with other exercises involving the U.S. military and its partners across Europe, with large concentrations of forces in the Baltic and Black Sea regions. The drills are intended to showcase rapid mobilization.
Four of the A-10s will head from Iceland to Norway on Friday while the other six are due to fly to North Macedonia on Saturday to support exercise operations, USAFE-AFAFRICA said.
The planes are also scheduled to make stops in Latvia, Lithuania, Estonia and Poland to conduct what the Air Force calls agile combat employment. It entails the rapid dispersion and operation of aircraft from forward locations.
The Air Force did not say how long the A-10s, which are assigned to the 104th Fighter Squadron, are expected to remain in Europe.
The squadron is the second Air National Guard fighter unit to deploy to Europe this week.
Eight F-35 Lightning II jets from the Vermont National Guard arrived Monday at Spangdahlem Air Base along with Guard personnel from the Green Mountain State to bolster NATO and support its air policing mission, USAFE-AFAFRICA announced earlier this week.
The deployments coincide with Russia's ongoing war on Ukraine, which has prompted the U.S. to fortify NATO countries along the alliance's eastern borders.
A-10s were based in Europe for about 30 years during the Cold War. They had a permanent home at Spangdahlem for nearly 20 years before reduced defense funding and shifting priorities brought them stateside.
Warthogs have been the target of budget cuts over the years but have remained active in the Air Force fleet. They can fly lower and slower than other Air Force combat aircraft, a capability that allows them to take out tanks and other ground targets.
---
---
---
---