NATO chief underscores the importance of Arctic security amid renewed Russian aggression
By
Stars and Stripes
March 25, 2022
---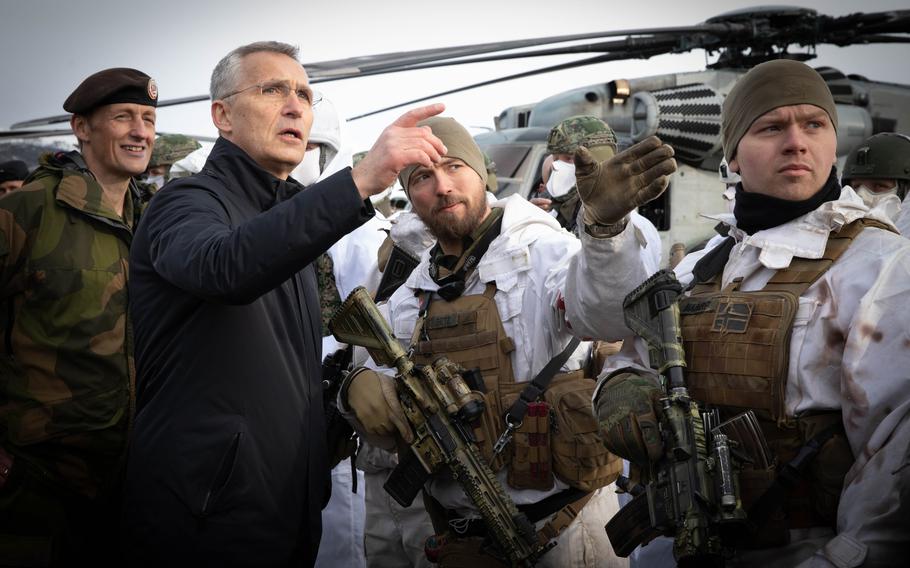 EVENES, Norway — A failure by NATO to keep a robust Arctic presence could leave it vulnerable as Russia reclaims old Soviet bases and uses the far north as a testing ground for new weapons systems, the alliance's top official said Friday.
Secretary-General Jens Stoltenberg's wide-ranging remarks were delivered in the midst of Cold Response, a biennial military exercise hosted by NATO member Norway.
This year's record turnout of roughly 30,000 participants from 27 countries includes about 3,000 U.S. Marines and sailors. Russia's full-scale invasion of Ukraine has intensified the realism of the mammoth exercise, and Stoltenberg made Moscow a recurrent theme.
"We cannot afford a security vacuum in the High North," he said. "It could fuel Russian ambitions, expose NATO, and risk miscalculation and misunderstandings."
Calling the invasion of Ukraine launched on Feb. 24 a "watershed moment," Stoltenberg outlined the reasons the high north is an "area of critical importance" for all NATO countries, and said allies had already begun to boost their presence there.
"This exercise is an example of that. More will be required in the future." he said.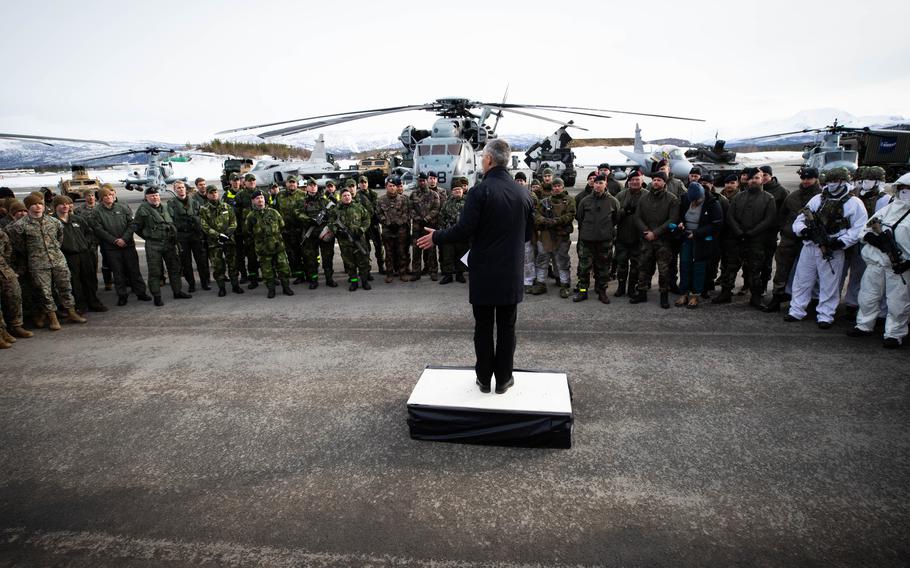 In addition, Stoltenberg said the number of U.S. and other NATO forces in Europe now is sufficient to protect members from any immediate aggression by Russia. Thousands of U.S. troops have been sent to the Continent in recent weeks to support NATO's eastern flank.
The full-scale war in Ukraine has exacerbated worries that Russia might also try to advance on NATO members in the region, like Romania or the Baltic countries.
"We have enough forces now to be able to defend and protect all allies," Stoltenberg told reporters.
On Wednesday, the Marine Corps' top officer, Gen. David Berger, said it was still too early to tell whether more Marines would be sent to Europe to respond to the growing security concerns.
Meanwhile, on Thursday, Norwegian Prime Minster Jonas Gahr Stoere shot down the notion of foreign bases being built in the country, citing a law that prevents it, Norwegian News Agency reported.
Norway's historically neutral neighbors Sweden and Finland have announced that they are considering NATO membership after Russia's invasion of Ukraine. Moscow threatened to retaliate if they did.
The two Nordic countries already have a close relationship with the alliance and are participating in the Cold Response exercise. However, Stoltenberg declined to say whether NATO would come to their defense in any future attack.
---
---
---
---