Austin calls out China for increasingly aggressive policy toward Taiwan
By
Stars and Stripes
June 11, 2022
---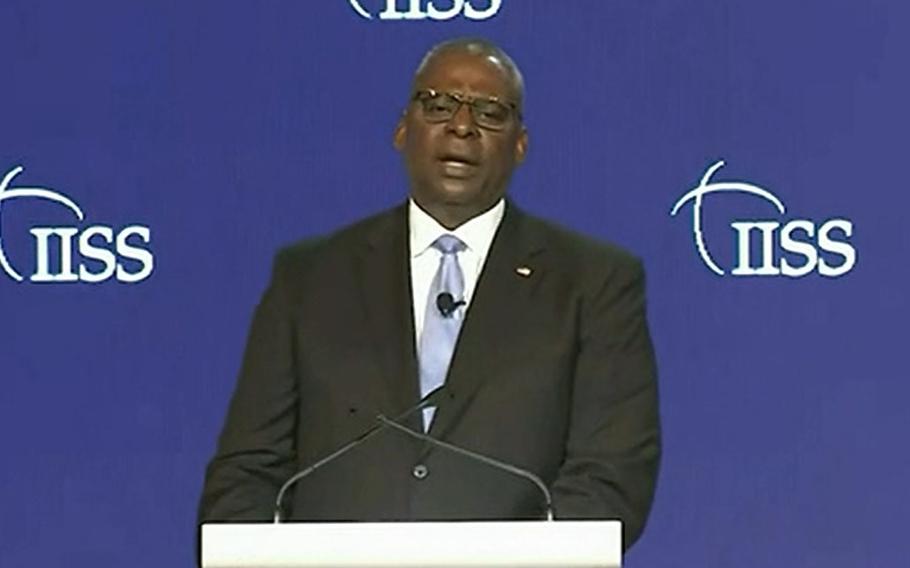 America's policy toward Taiwan remains unchanged, but China's relations toward that island have grown ever more aggressive and coercive, U.S. Defense Secretary Lloyd Austin said Saturday in Singapore.
America's "One China" policy regarding Taiwan remains "unchanged and unwavering," Austin said during the opening speech at the Shangri-La Dialogue, a defense summit held each summer in the Asian city-state. "But unfortunately, that doesn't seem to be true for [China]," he said.
Under the "One China" policy, the U.S. acknowledges Beijing's view that it has sovereignty over Taiwan, which split from the mainland in 1949, but considers Taiwan's status as unsettled.
"We've witnessed a steady increase in provocative and destabilizing military activity near Taiwan," Austin said, referring to China's military, the People's Liberation Army. He said Chinese aircraft in recent months flew in record numbers near Taiwan, and nearly every day.
"We remain focused on maintaining peace, stability and the status quo across the Taiwan Strait," he said.
China regards Taiwan, which lies just off its southeast coast, as a renegade province that, at some point, must be unified under Beijing's control.
The United States formally switched diplomatic recognition from Taipei to Beijing in 1979. The U.S., however, has continued to supply arms to Taiwan under the provisions of the Taiwan Relations Act.
The U.S. has maintained "strategic ambiguity" about what military actions it would take in the event China moved to take the self-governing island by force.
President Joe Biden, in Tokyo on May 23 during his first presidential visit to Japan, signaled an apparent end to that policy by saying the U.S. would defend Taiwan against a Chinese invasion.
The U.S. "One China policy" acknowledges Beijing's claim over Taiwan but doesn't give China the right to take Taiwan by force, Biden said.
"We agree with the One China policy and all the attendant agreements we made, but the idea that it can be taken by force, just taken by force, would just not be appropriate," Biden said.
On Friday in Singapore, Austin met with Chinese Defense Minister Gen. Wei Fenghe for an hour, most of which they spent discussing Taiwan, the Pentagon said in a news release later that day.
Austin told his Singapore audience that Chinese aircraft and vessels have made "an alarming increase" in unsafe aerial intercepts and confrontations at sea.
"In February, a PLA Navy ship directed a laser at an Australian P-8 maritime patrol aircraft, seriously endangering everyone on board," he said.
In recent weeks, Chinese fighters have dangerously intercepted allied aircraft operating lawfully in the East China and South China seas, Austin said.
"This should worry us all," he said.
The stakes, Austin said, are especially high in the Taiwan Strait.
"Maintaining stability across the Taiwan Strait isn't just a U.S. interest," he said. "It's a matter of international concern.
"So let me be clear: We do not seek confrontation or conflict, and we do not seek a new Cold War, an Asian NATO or a region split into hostile blocks," he said.
"We will defend our interests without flinching, but we'll also work toward our vision for this region, one of expanding security, one of increased cooperation and not one of growing division," he said.
---
---
---
---