Austin calls for permanent closure of fuel tanks in Hawaii at center of tap-water contamination
By
Stars and Stripes
March 7, 2022
---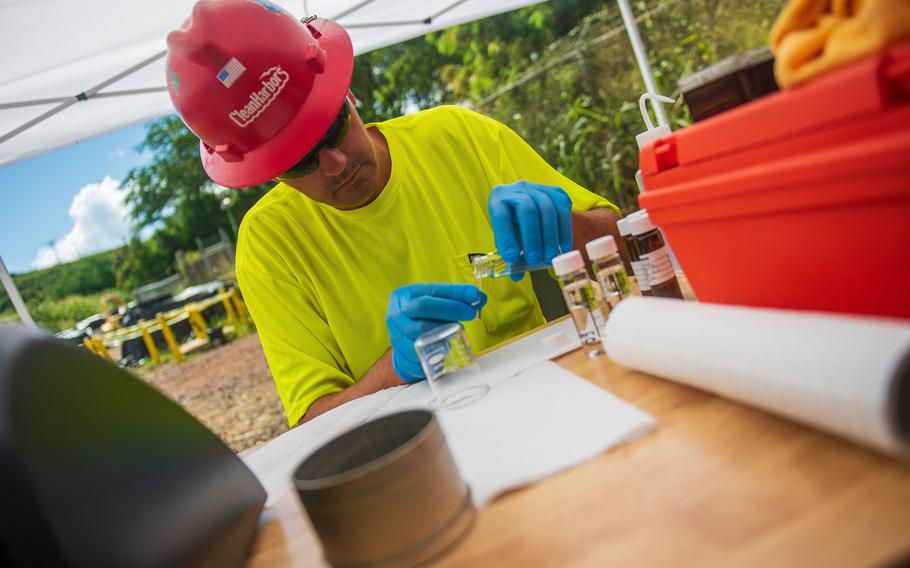 FORT SHAFTER, Hawaii — The Navy's massive underground fuel storage facility in Honolulu at the center of widespread well-water contamination will be permanently shut down, Defense Secretary Lloyd Austin announced Monday.
"After close consultation with senior civilian and military leaders, I have decided to defuel and permanently close the Red Hill bulk fuel storage facility in Hawaii," Lloyd Austin said in a statement. "This is the right thing to do."
Jet fuel from the World War II-era tanks seeped into one of three wells that the Navy uses to provide water to military housing communities on and near Joint Base Pearl Harbor-Hickam.
The contamination became acute following a spill in November, displacing thousands of residents from their homes due to oily and stinky tap water that sickened many people. Most of those displaced have been living in Waikiki Beach hotels for more than three months.
There has long been local opposition to the continued use of the tanks, which have had numerous leaks for past decades. But the current crisis has led to a widespread backlash toward the Navy and the facility, which sits just 100 feet above Oahu's main aquifer.
News of the permanent shutdown was welcomed by Sen. Brian Schatz, D-Hawaii, who early in the crisis had joined the state's congressional delegation in calling for its closure.
"In order to implement this decision, we're going to have to provide additional resources and hold DoD's feet to the fire through congressional oversight," Schatz said in a statement Monday. "I will continue to work with our federal and state partners to see this through."
The multistep process for closing the facility will begin with the formulation of an action plan no later than May 21 by the Navy and Defense Logistics Agency to defuel the tanks, Austin said.
They now hold roughly 150 million gallons of fuel. The Navy suspended operations at the facility in late November.
The goal is to have the tanks emptied within 12 months, Austin said.
In explaining his decision to shut down Red Hill, the defense secretary said centrally located bulk fuel storage of this size was logical during World War II, but "it makes a lot less sense now."
"The distributed and dynamic nature of our force posture in the Indo-Pacific, the sophisticated threats we face, and the technology available to us demand an equally advanced and resilient fueling capability," Austin said. "To a large degree, we already avail ourselves of dispersed fueling at sea and ashore, permanent and rotational. We will now expand and accelerate that strategic distribution."
The Hawaii Department of Health had already ordered the facility's closure in January, but the Department of Justice appealed that order in federal and state court on Feb. 2.
Austin said the Defense Department "remains committed to mitigating the impacts" of the well-water contamination for the thousands who consumed the tainted water and were forced out of their homes.
"We will restore safe drinking water to all affected residents and provide best-in-class sampling and testing to ensure the continued safety of drinking water," Austin wrote in a memo Monday to defense officials. "And we will care for our military families by addressing any health impacts from this incident and by using available authorities to provide assistance to address displacement from homes or damage to household goods."
---
---
---
---