US to send four more rocket systems to Ukraine to help fight off Russian forces
By
Stars and Stripes
July 20, 2022
---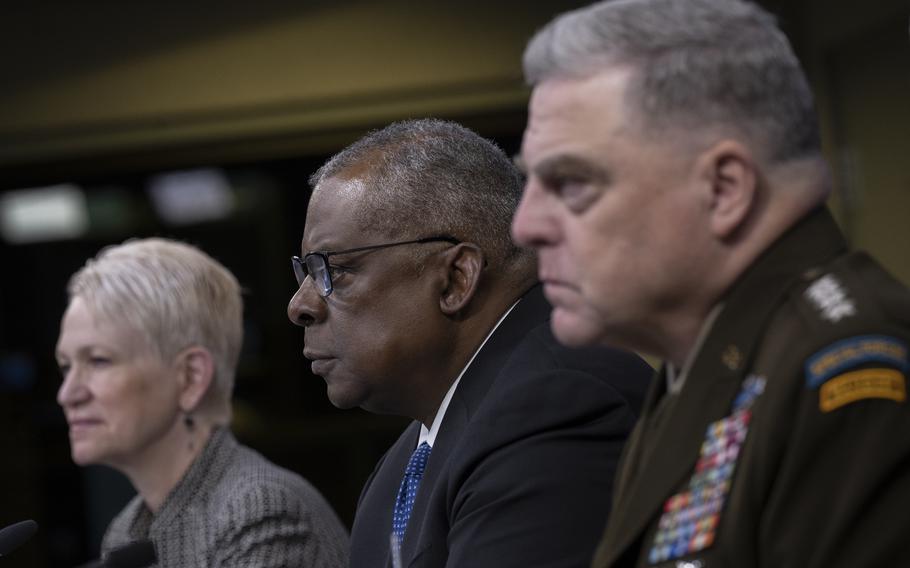 WASHINGTON — The United States will send four additional advanced rocket systems to Ukraine as Russia's war on the country enters its sixth month, Defense Secretary Lloyd Austin said Wednesday.
"Later this week, we'll roll out our next [military aid] package of weapons and ammunition and equipment for Ukraine," he said. "It will include four [High Mobility Artillery Rocket Systems], which the Ukrainians have been using so effectively and have made such a difference on the battlefield."
The latest military aid will also include additional ammunition for the rocket systems and howitzers, the secretary said. Including this aid package, the U.S. has now pledged 16 advanced rocket systems for Ukraine's war against invading Russian forces.
Austin made the announcement during the fourth meeting of the Ukraine Defense Contact Group, which was held virtually from the Pentagon. The group meets monthly bringing together some 50 nations to discuss what Ukraine needs to defend itself against Russia but also efforts to collaborate in their assistance.
The defense secretary called the meeting "very productive," noting Ukraine Defense Minister Oleksii Reznikov "described how Russia is using … artillery and rocket fire and its desperate aggressive push to seize sovereign Ukrainian territory in the Donbas" in eastern Ukraine.
"Ukrainian forces are now using long-range rocket systems to great effect, including HIMARS provided by the United States and other systems from our allies and partners," Austin told reporters during a briefing at the Pentagon after the meeting. "But Russia is keeping up its relentless shelling — that's a cruel tactic that harkens back to the horrors of WWI."
The U.S. has previously sent Ukraine 12 of the rocket systems, which Austin said has "further strengthen[ed] Ukraine's long-range fires capability." The systems can strike targets up to 43 miles away with 500-pound, precision-guided ammunition, Undersecretary of Defense for Policy Colin Kahl said last month.
Long-range fires have been particularly important since Russia shifted its focus three months ago to the Donbas region, where the landscape resembles the flat, rolling plains of Kansas, the Pentagon has said.
The ammunition for the rocket systems brings the additional benefit of precision, allowing Ukraine greater ability to strike key targets accurately, such as Russian arsenals, a senior defense official said last week.
"If you think about the fact that the Ukrainians have been talking about the number of the targets [they] are hitting … like ammunition, supplies, other logistical supplies, command and control [centers,] all those things have a direct impact on [Russia's] ability to conduct operations on the front line," said the defense official, who spoke on condition of anonymity.
So far, about 200 Ukrainian troops have been trained to use the truck-mounted rocket systems, which their military previously did not use, Army Gen. Mark Milley, chairman of the Joint Chiefs of Staff, said during the briefing with Austin. Additional troops are now undergoing the weekslong training.
"Today the Ukrainians are effectively employing these HIMARS with strikes against Russian command and control nodes, their logistical networks, their field artillery and air defense sites and many other targets," he said. "These strikes are steadily degrading the Russian ability to supply their troops, command and control their forces and carry out their illegal war of aggression."
The rocket systems and ammunition announced Wednesday will come from U.S. stocks, Austin said. He did not mention the cost of the aid, but a similar package of four HIMARS and artillery rounds approved July 8 cost about $400 million.
The package announcement comes as Russia begins "laying the groundwork to annex Ukrainian territory that it controls in direct violation of Ukraine's sovereignty," National Security Council spokesman John Kirby told reporters Tuesday at the White House. "Russia is beginning to roll out a version of what you could call an 'annexation playbook' very similar to the one we saw in 2014."
Russia has controlled the Crimean Peninsula in southern Ukraine since its last invasion of the country eight years ago. Now, Russian President Vladimir Putin is plotting to "annex a number of regions in Ukraine, including Kherson, Zaporizhzhia, all of Donetsk and Luhansk Oblasts," all of which are in eastern Ukraine, Kirby said.
"Already, Russia is installing illegitimate proxy officials in areas of Ukraine that are under its control, and we know their next moves," he said. "First, these proxy officials will arrange sham referenda on joining Russia. Then, Russia will use those sham referenda as a basis to try to claim annexation of sovereign Ukrainian territory."
As part of their plan, Russia is attempting to establish Russian bank branches in the Donbas region "to establish the [Russian] ruble as the default currency in these areas," Kirby said.
While an annexation has not been announced, Kirby said "Russian proxies in these territories claim they will take place later this year, possibly in conjunction with Russia's September regional elections."
In response, the U.S. will "continue to provide Ukraine with historic levels of security assistance," and the global community will levee additional sanctions on Russia, he said.
The latest military aid is the 16th time that the United States has sent weapons and equipment from its own stocks to supply Ukraine since August — the vast majority of which has been sent since Russia's Feb. 24 invasion, according to the Pentagon.
Not included in the upcoming aid package are air defense systems, which Ukraine's first lady Olena Zelenska pleaded with Congress on Wednesday to send them.
"I'm asking for weapons that would not be used to wage a war on somebody else's land, but to protect one's home and the right to wake up alive in that home," Zelenska said, becoming the first wife of a foreign president to address the full Congress in the Capitol. "I'm asking for air defense systems in order for rockets not to kill children in their strollers."
The United States has provided about $7.3 billion in military aid since the start of the war, according to the Pentagon.
---
---
---
---