US sends more rocket systems and tactical drones to Ukraine in new $270 million military aid package
By
Stars and Stripes
July 22, 2022
---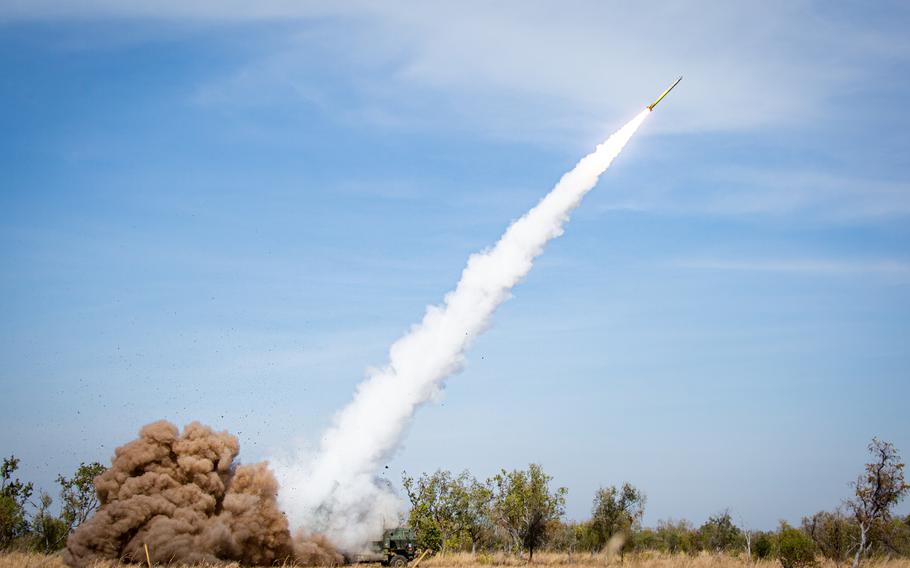 WASHINGTON: President Joe Biden on Friday approved a new $270 million military aid package that will send Ukraine additional rocket systems, ammunition and tactical drones to help that country's troops combat invading Russian forces, defense officials said Friday.
The aid will include four High Mobility Artillery Rocket Systems and accompanying ammunition, 36,000 rounds of howitzer ammunition, 580 Phoenix Ghost tactical drones and an undisclosed amount of additional anti-armor systems and vehicles, National Security Council spokesman John Kirby said.
"Russia continues … launch[ing] strikes across the country, striking malls, apartment buildings [and] killing innocent Ukrainian civilians," Kirby said. "In the face of these atrocities, the president has been clear that we're going to continue to support the government and its people for as long as it takes."
About $100 million will be used to purchase the Phoenix Ghosts from the defense industry, he said. Phoenix Ghosts are dubbed "kamikaze drones" for their ability to crash into a target and explode. The rest of the weapons and equipment will come from U.S. stockpiles, he said.
With the new aid package, the U.S. has provided $8.2 billion in security assistance to Ukraine since Biden took office in January 2021. Most of the aid has been sent since Russia invaded Ukraine on Feb. 24, Kirby said.
Including the new military aid, the U.S. has now pledged 16 rocket systems to Ukraine, the initial 12 of which are already being used "effectively" in Ukraine, Army Gen. Mark Milley, chairman of the Joint Chiefs of Staff, told reporters at the Pentagon on Thursday.
"Today, the Ukrainians are effectively employing these HIMARS with strikes against Russian command and control nodes, their logistical networks, their field artillery and air defense sites and many other targets," he said. "These strikes are steadily degrading the Russian ability to supply their troops, command and control their forces and carry out their illegal war of aggression."
The rocket systems can strike targets up to 43 miles away with 500-pound, precision-guided ammunition, Undersecretary of Defense for Policy Colin Kahl said last month.
The Russian Defense Ministry on Friday claimed its forces had destroyed four U.S.-supplied rocket systems in Ukraine this month, but a senior U.S. military denied that was true as of Friday morning.
"All of the HIMARS continue to really to be a thorn in the Russian side," said the official, who spoke on condition of anonymity. "Over the past week, [Ukrainians] continue to prosecute targets related to command and control, ammunition, logistics support areas –¬ all of those having a very significant effect on the Russians' ability to mount offensive operations and continue anything that they're intending to do."
While there is evidence that Russia is trying to target the rocket systems on the battlefield, they have not been able to do so – likely because Ukrainian forces understand the terrain better and know where to hide them, the official said.
"I'd love to say [HIMARS] can, like Star Trek, beam themselves around the battlefield, but they can't," the official said. "It just comes down to [the fact that] Ukrainians understand the ground, they understand how to employ them [and] they understand the places they can move them to."
Long-range fires such as rockets, artillery and tactical drones have been important since Russia shifted its focus three months ago to the eastern Donbas region, where the landscape resembles the flat, rolling plains of Kansas, the Defense Department has said.
The U.S. is also considering fighter jets for Ukraine – something it has yet to provide the Ukrainians since the start of the war, Kirby said. Though he did not mention the type of aircraft being considered, he said it would not be Soviet-era jets that the Ukrainians are used to flying.
"[The Defense Department] is making some preliminary exploration into the feasibility of potentially providing fighter aircraft to the Ukrainians," he said. "But it's not going to be something that they're going to be able to execute immediately or even in the short term because integrating and operating any kind of aircraft – especially advanced player aircraft with complex sensors and systems weapons capabilities – that's a difficult endeavor."
Under consideration is the depth of training that it would take to ensure Ukrainians can operate and maintain the American systems, and how to keep the country in supply of spare parts, Kirby said.
"There's a whole supply chain that goes with keeping an airframe in the air and all that has to be factored in," he said.
The U.S. in early March rejected calls to send Soviet-era jets to Ukraine after Poland publicly stated it was willing to donate its fleet of MiG-29 fighter jets to the U.S. for the war if the American military would deliver them to Ukraine.
"The intelligence community has assessed the transfer of MiG-29s to Ukraine may be mistaken as escalatory and could result in significant Russian reaction that might increase the prospects of a military escalation with NATO," Kirby said at the time as the then-chief Pentagon spokesman.
---
---
---
---