US to send another $550M in ammunition for rocket systems, howitzers to Ukraine
By
Stars and Stripes
August 1, 2022
---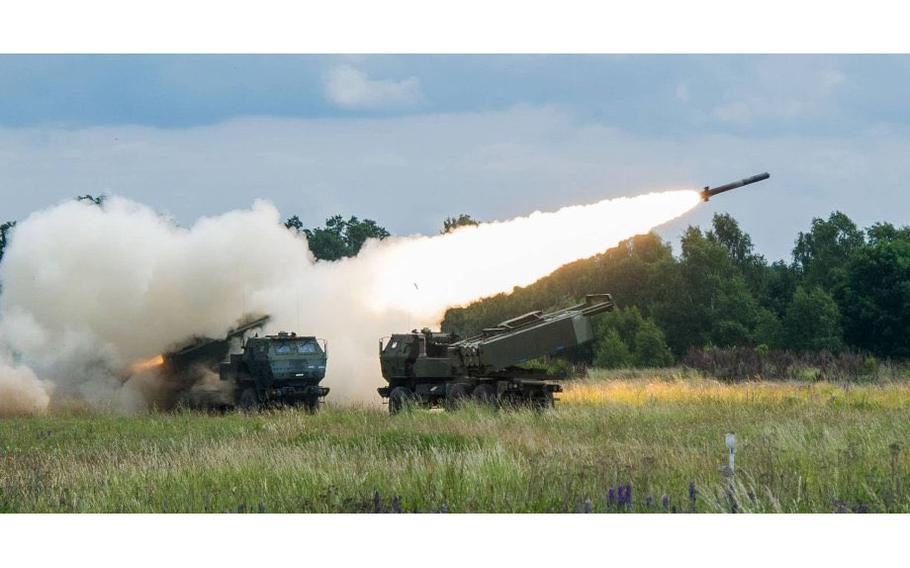 WASHINGTON — President Joe Biden on Monday authorized another $550 million in military aid including rocket system and artillery ammunition for Ukraine, National Security Council spokesman John Kirby told reporters at the White House.
The aid will include 75,000 rounds of ammunition for 155mm howitzers and an unspecified number of additional ammunition for High Mobility Artillery Rocket Systems, also known as HIMARS, the U.S. has recently sent Ukraine, according to the Pentagon.
Long-range weapons such as rockets, artillery and tactical drones have been important since Russia shifted the focus of its invasion of Ukraine four months ago to the country's eastern Donbas region, where the landscape resembles the flat, rolling plains of Kansas, the Defense Department has said.
HIMARS are truck-mounted rocket systems that can strike targets up to 43 miles away with 500-pound, precision-guided ammunition. The U.S.-supplied M777 howitzers can reach distances of up to 18 miles, the Pentagon has said.
So far, the U.S. has sent Ukraine about 90 M777 howitzers and 16 HIMARS rocket systems, all of which had arrived in Ukraine as of Monday, Ukraine Defense Minister Oleksii Reznikov said on Twitter.
"I'm grateful to [Biden] and [Defense Secretary] Lloyd Austin III and U.S. people for strengthening of [the Ukrainian armed forces]," he said in the tweet. "We have proven to be smart operators of this weapon. The sound of the #HIMARS volley has become a top hit of this summer at the front lines!"
Biden's approval of the package comes after Austin told Reznikov of it during a Friday phone call, Kirby said. National Security Adviser Jake Sullivan, Secretary of State Tony Blinken and Army Gen. Mark Milley, chairman of the Joint Chiefs of Staff, spoke with Ukraine officials Monday about the aid and affirmed "the enduring U.S. support to Ukraine as the Ukrainian people continue to stand up the Russian aggression."
The military aid is the 17th time that Biden has authorized weapons and equipment for Ukraine to come from U.S. stocks since taking office in January 2021, Kirby said.
"It brings to the total to more than $8 billion [in military aid] ... sent to Ukraine just since the invasion began in late February," he said.
---
---
---
---