Japan-based F-35Bs hone long-range strike skills on USS Tripoli deployment
By
Stars and Stripes
August 4, 2022
---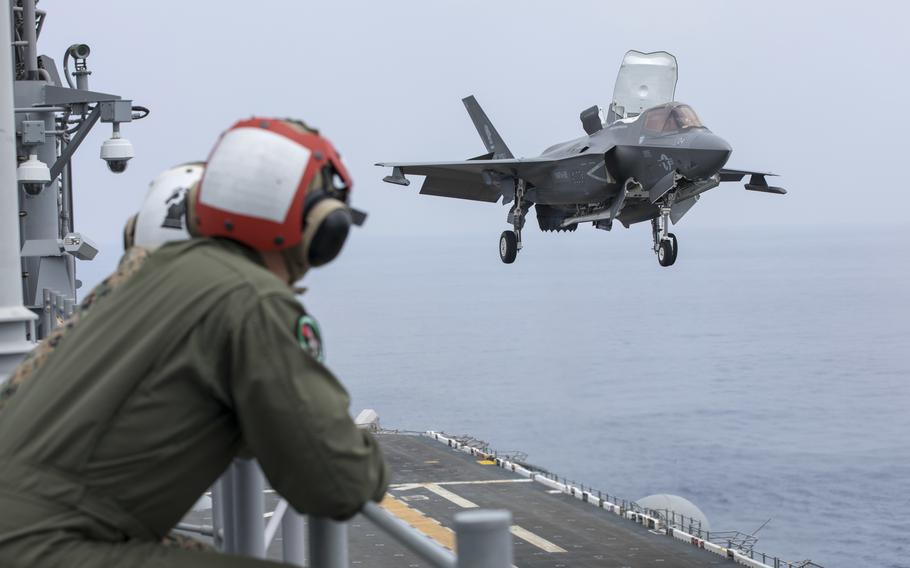 A squadron of F-35B Lightning II stealth fighters practiced skills needed to strike distant targets during a six-week Pacific Ocean deployment aboard America's newest amphibious assault ship.
The USS Tripoli left its San Diego homeport for its maiden deployment on May 2, just under two years after its July 2020 commissioning, according to the Navy.
The 855-foot America-class amphibious assault ship stopped at Marine Corps Air Station Iwakuni, Japan, and on May 22 loaded 200 members of Marine Fighter Attack Squadron 121, the Green Knights. Fourteen F-35Bs from the squadron flew aboard the next day, the unit's commander, Lt. Col. Timothy Farag, told Stars and Stripes by phone Monday.
Over the next six weeks the Marines exercised skills they'd need to support advanced basing operations, he said.
Advanced basing involves small contingents of Marines operating within range of an adversary's weapons. Members of the newly formed 3rd Marine Littoral Regiment practiced tactics needed for such operations during the annual Balikatan drills in the Philippines in April.
The Green Knights used their Tripoli deployment to figure out how they could employ their aircraft in advanced basing operations, Farag said.
"We can put airplanes in those places, too," he added.
The squadron used the Tripoli to move its aircraft forward and conduct long-range missions into advanced basing locations, he said.
"It's the ability to be expeditionary and rapidly deploy to these locations and operate," he said. "It's significant to be able to get 14 airplanes wherever I need to get them at a range where I can launch."
Ahead of the Tripoli deployment the squadron sent Marines to Okinawa to practice forward arming and refueling, he said.
"Now we are doing that from a ship to get to these expeditionary airfields," he said. "The ship can be used as a lily pad for arming and refueling"
The Tripoli has an expanded hangar bay instead of a well deck, to accommodate the F-35Bs' short takeoffs and vertical landings.
Dubbed a "Lightning carrier," the Tripoli in April loaded 16 F-35s, breaking a record for the number of fighters aboard an amphibious assault vessel, according to USNI News. The ship can also carry MV-22 Osprey tiltrotors and a variety of helicopters such as the MH-60S Seahawk.
The Tripoli is the second America-class ship, preceded by the USS America, which is homeported at Sasebo Naval Base, Japan.
Construction began on a third ship, the USS Bougainville, in 2018 that is expected to launch in 2023. Unlike the Tripoli and America, the Bougainville will reincorporate a well deck to "increase operational flexibility without sacrificing aviation capability," according to Naval Sea Systems Command.
The Tripoli's large hangar provided plenty of space for the F-35Bs, which could be moved inside to free up the deck for MV-22 Ospreys at times during the deployment, Farag said.
Six more F-35Bs are deployed with the 31st Marine Expeditionary Unit aboard the Tripoli, which continues its deployment, he said.
The Tripoli and the America on Monday were steaming through the Philippine Sea, according to the U.S. Naval Institute's Fleet and Marine Tracker. The aircraft carrier USS Ronald Reagan is also on patrol in the region this week with tensions rising between the U.S. and China over U.S. House Speaker Nancy Pelosi's planned trip to Taiwan.
Later this month 12 F-35Bs from the 121st head to Australia's Northern Territory to train alongside Royal Australian Air Force F-35A conventional takeoff and landing fighters during Exercise Pitch Black, Farag said.
---
---
---
---