Paratroopers 'get down and dirty' on multinational airborne mission from Guam to Borneo
By
Stars and Stripes
August 16, 2022
---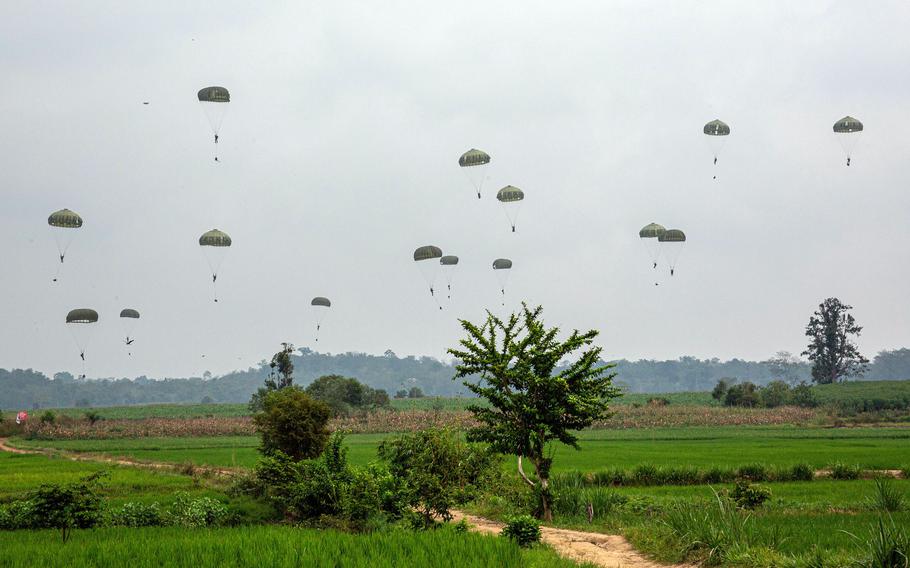 PALENMBANG, Indonesia — U.S. airlifters from Japan for the first time dropped airborne troops of three armies into drop zones during an exercise this month in Indonesia.
Five C-130J Super Hercules and an MC-130J Commando II flew missions in support of regular Army and Special Forces troops from the United States, Indonesia and Japan during Super Garuda Shield.
The largest installment yet of an exercise held annually for 16 years involved 2,000 U.S. and 2,000 Indonesian troops and a handful from other nations and ran from Aug. 1 until Sunday.
Four of the C-130Js, from Yokota Air Base's 36th Airlift Squadron, were involved in an airborne operation at the start of the drills, the squadron chief of tactics, Capt. Zebulon Kimball, 30, of Denver, said Tuesday after returning to Japan.
The planes collected 200 paratroopers from the U.S. Army, Japan Ground Self-Defense Force and Indonesian army on Guam and flew them to Borneo to stage for the Aug. 3 mission, Kimball told Stars and Stripes by phone.
The paratroopers, including members of the Army's 11th Airborne Division, jumped into Baturaja Training Area on the island of Sumatra. The training area is covered in dense jungle inhabited by snakes and tigers. However, the paratroopers landed in a designated drop zone, Kimball said.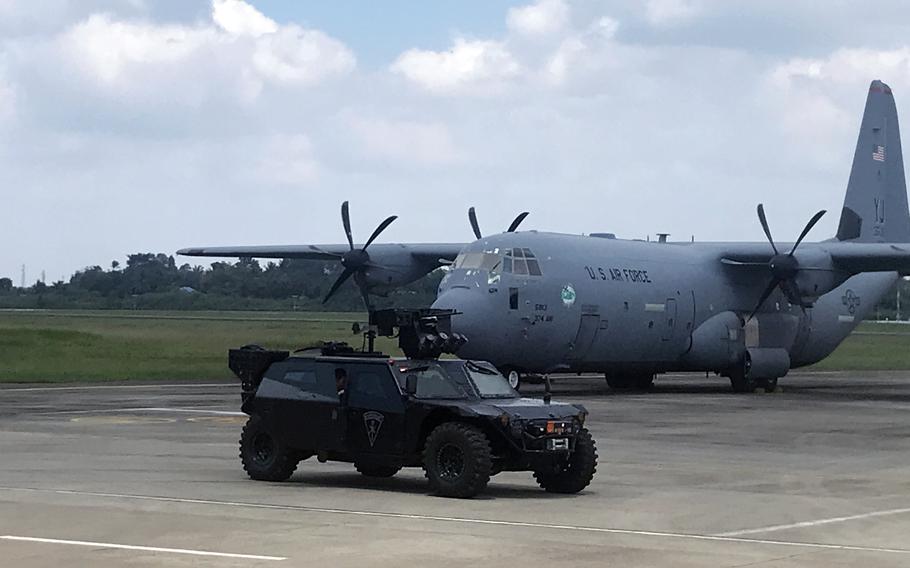 U.S. Army Pacific commander Gen. Charles Flynn observed the jump from the ground, according to an Aug. 3 Army news release.
"It's the first time I've been involved in a jump with troops from three countries," Kimball said.
The 36th Airlift Squadron works regularly with U.S. and Japanese troops but rarely interacts with Indonesian counterparts, he said.
The Indonesians approached the airborne mission with "enthusiastic aggression," Kimball said.
"Garuda Shield was an excellent opportunity for us to get down and dirty and work together," he said.
Four of the Yokota C-130Js returned to Japan after the jump while the fifth stayed behind in Indonesia, Kimball said.
The Super Hercules was parked Wednesday next to the MC-130J Commando II at Sultan Mahmud Badaruddin II International Airport in the Sumatran city of Palembang.
The Commando II pilot, Maj. Jacob McCauley, 33, of Mechanicsville, Va., said that day that 25 members of the 353rd Special Operations Wing out of Kadena Air Base, Okinawa, traveled to Indonesia for the exercise.
"We did HALO (high altitude, low opening) and HAHO (high altitude, high opening) training with Special Forces from the U.S. and Indonesia" on the island of Java, he said. "We've been working with their pilots and JTACs."
A JTAC, or joint terminal attack controller, directs aircraft providing close support to ground troops from a forward position.
At Palembang, the special operations airmen practiced transporting an Army High Mobility Artillery Rocket System, or HIMARS, inside the aircraft.
"We are demonstrating agile combat employment," McCauley said.
Agile combat employment focuses on the ability to move aircraft rapidly to a network of smaller airfields in the Western Pacific to avoid being targeted by Chinese missiles in the event of war.
Another member of the special operations squadron at Palembang, Senior Master Sgt. Michael Hoffmaster, 43, of Port Charlotte, Fla., said the 37,000-pound HIMARS is one of the heaviest objects a C-130J can carry.
Only the 21,600-pound GBU-43B Massive Ordnance Air Blast munition, or MOAB, also known as the "mother of all bombs," may be heavier, he said.
The MOAB, which was dropped on a network of Islamic State caves in eastern Afghanistan in April 2017, may be the most powerful conventional weapon ever used in combat.
---
---
---
---