Multinational drills in Indonesia should strike fear in region's 'pacing threat,' US commander says
By
Stars and Stripes
August 11, 2022
---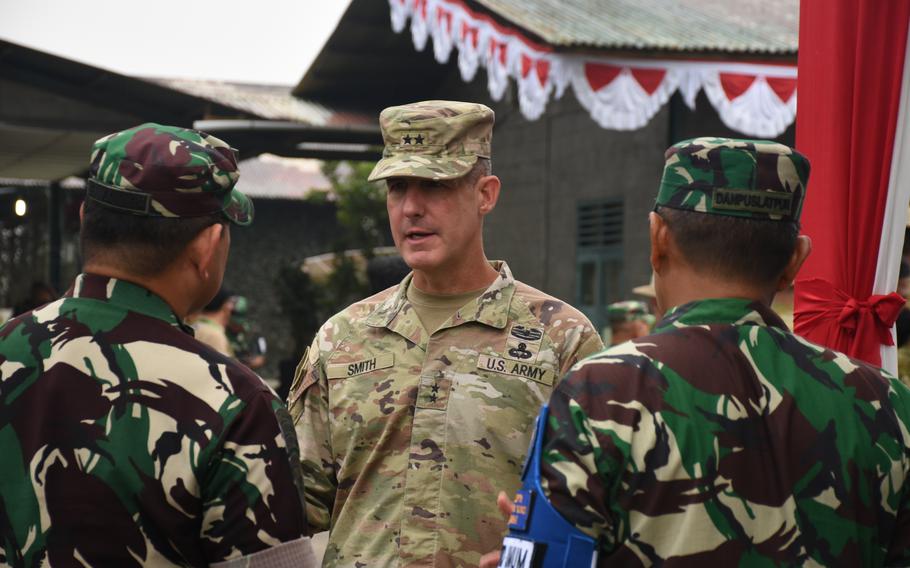 Teamwork displayed this week by the United States, Indonesia and a dozen other armed forces should instill fear in the U.S. military's "pacing threat," the general leading multinational drills in Indonesia said Thursday.
Super Garuda Shield, a two-week exercise concluding Sunday, took place while China exercised its navy and air force around Taiwan for a week following U.S. House Speaker Nancy Pelosi's visit there Aug. 3.
Beijing on Wednesday concluded the drills that Taipei saw as a rehearsal for invasion. China underlined its ballistic missiles and artillery with a white paper Wednesday that justifies using force to unite Taiwan, a self-governing democracy, with the mainland.
U.S. military leaders regard China as the "pacing threat" in the Indo-Pacific, the term Maj. Gen. Stephen Smith, commander of the Army's 7th Infantry Division, used in remarks to Stars and Stripes on Thursday at Baturaja Training Area on Sumatra.
"That should put fear in their hearts – how we can come together as a joint, multinational force," Smith said.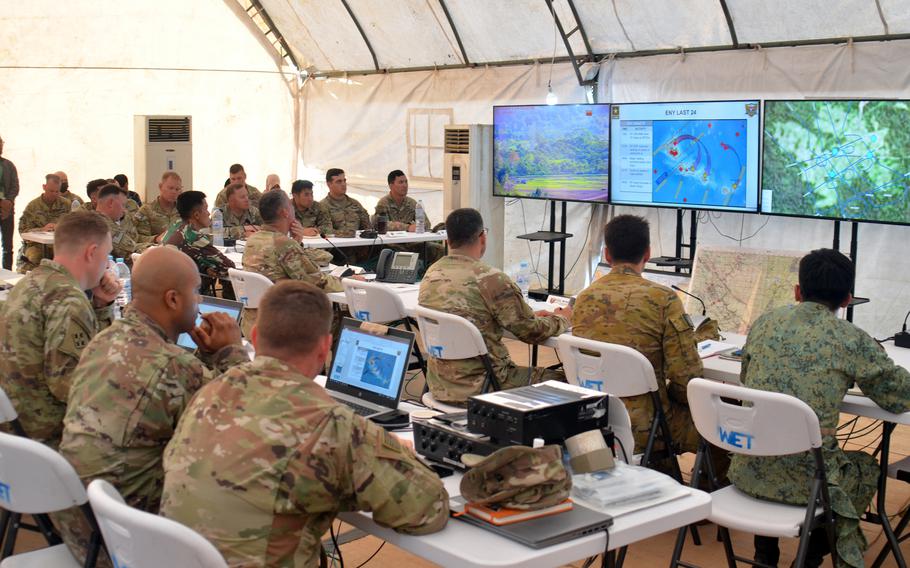 The main complement of Super Garuda Shield is 2,000 American and 2,000 Indonesian troops. This year's installment is the largest in the 16-year history of the annual exercise.
The training is "a natural progression of where we need to be as we see what China is doing in the region," Smith said.
Super Garuda Shield is an Indonesian initiative, said Carlyle Thayer, an emeritus professor at the University of New South Wales and lecturer at the Australian Defence Force Academy.
China is applying pressure in Indonesian waters around the Natuna Islands, he said in an email Tuesday. The islands northeast of Singapore are close to a part of the South China Sea claimed by China.
Chinese coast guard patrols, now routine, protect illegal Chinese fishing boats near the islands, Thayer said.
"Indonesia responded by beefing up the infrastructure at its nearby military airfields and naval ports, even deploying its most modern jet fighters," he said.
Indonesian leaders assumed that China recognized Indonesia's sovereignty over the Natunas but claimed historic rights over adjacent waters, Thayer said.
"Within the past year, China informed Indonesia that it had disputed sovereignty claims," he said. "There were further incidents of Chinese harassment of Indonesian oil exploration efforts."
Indonesia has long refused to recognize China's claims in the South China Sea, Thayer said.
"Indonesia argues that all of its maritime boundaries are legitimate and based on international law," he said. "Therefore, Indonesia refuses to enter into negotiations with China or any other claimant state."
Super Garuda Shield is a message Indonesia sends to China, Thayer said.
Indonesia is "developing its capacity to defend its sovereignty and sovereign jurisdiction over its Exclusive Economic Zone and continental shelf by exercising with advanced navies including the United States and significantly Japan for the first time," he said. "In other words, Indonesia is signaling its ability to deter China."
Japan sent paratroopers and Australia and Singapore both sent infantry companies to Super Garuda Shield. Canada, France, India, Malaysia, South Korea, Papua New Guinea, Timor Leste and the United Kingdom sent observers.
The Australian company commander, Maj. John Moulton, 35, said at Baturaja on Wednesday that his unit routinely works with both U.S. Marines and the Indonesian army.
He saved video on his phone of a Sumatran tiger crossing a road in the training area.
robson.seth@stripes.com Twitter: @SethRobson1
---
---
---
---