Missile-defense exercise off Hawaiian island includes first live-fire intercept
By
Stars and Stripes
August 16, 2022
---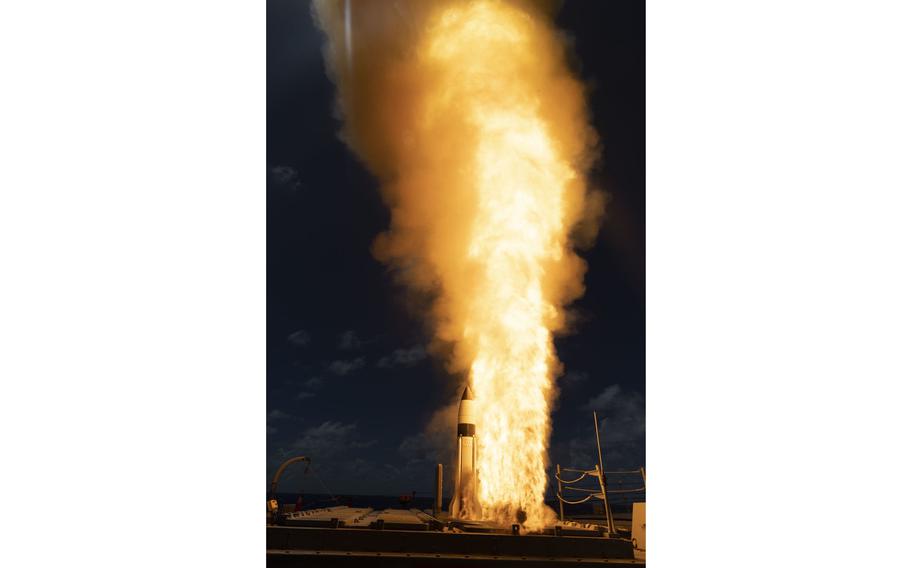 FORT SHAFTER, Hawaii – The Navy and its Pacific allies recently demonstrated their ability to use the Aegis Combat System to down ballistic missiles of the type tested by North Korea this year.
The Navy for the first time in the Hawaii-based Pacific Dragon exercise used a Standard Missile 3 Block IA from an Aegis-equipped destroyer to shoot down a short-range ballistic missile. North Korea tested at least 13 short-range missiles in January, May and June.
The Aegis trial took place during the weeklong missile-defense exercise in Hawaii that concluded Sunday, the Navy said in a news release the next day. Japan, South Korea, Australia and Canada also employ the Aegis Weapon System and took part in Pacific Dragon.
The exercise was held at Pacific Missile Range Facility Barking Sands on Kauai and off the island's coast.
The Navy's Aegis Weapon System can search for, track and destroy more than 100 targets.
The United States, Japan and South Korea all have expressed concerns about North Korea's record 17 rounds of tests – more than 30 missiles – so far this year, and have maintained a high level of military cooperation throughout the summer.
The nations met for a trilateral ministerial meeting in Singapore in June, and in July they were among the 26 countries participating in the monthlong Rim of the Pacific exercise in Hawaii.
The Kauai exercise underscores the shared goals among the three, the Defense Department said in a news release Monday.
"[T]his missile warning and ballistic missile search and tracking exercise demonstrated the commitment of the U.S., [South Korea], and Japan to furthering trilateral cooperation to respond to [North Korean] challenges, protecting shared security and prosperity, and bolstering the rules-based international order," the release said.
North Korea has stepped up its pace of test firing missiles in the past year as it seeks to develop intermediate- to long-range ballistic missiles capable of reaching Guam, Hawaii and the U.S. West Coast.
Ships participating in Pacific Dragon included the U.S. Navy guided-missile destroyers USS Fitzgerald and USS William P. Lawrence; Australian guided-missile destroyer HMAS Sydney and the replenishment vessel HMAS Supply; Canadian frigate HMCS Vancouver; Japanese guided-missile destroyer JS Haguro; and South Korean guided-missile destroyer ROKS Sejong the Great.
---
---
---
---