INDOPACOM, Indonesian commanders meet for Super Garuda Shield's live-fire finale
By
Stars and Stripes
August 12, 2022
---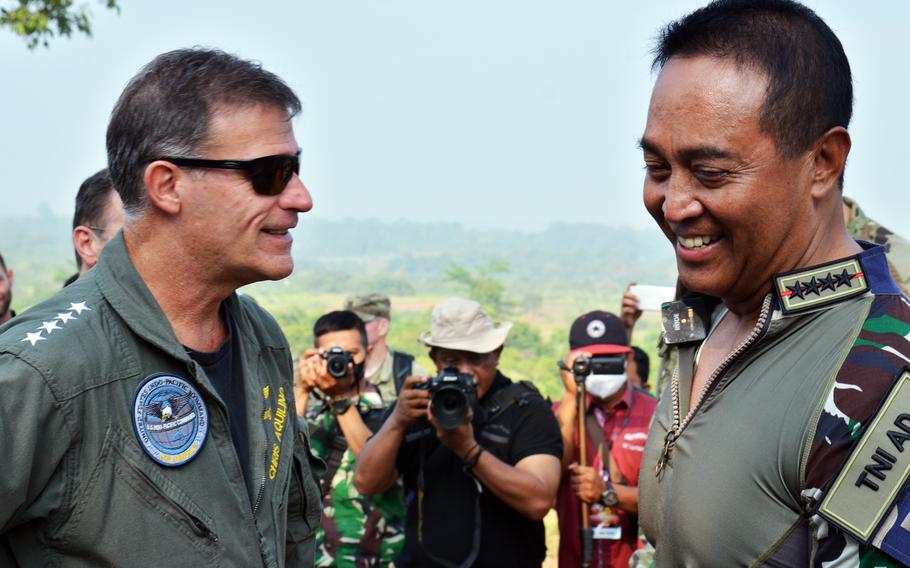 BATURAJA TRAINING AREA, Indonesia – The top U.S. commander in the Indo-Pacific joined the head of Indonesia's armed forces atop a five-story tower Friday to watch their troops fire a lethal fireworks display, including Javelin anti-tank missiles and machine guns.
Artillery sounded in the distance and AH-64 Apache helicopter gunships sliced through the sky overhead.
The drill was the largest live-fire event of Super Garuda Shield, two weeks of field training on Sumatra by 2,000 U.S. and 2,000 Indonesian troops and smaller contingents from a dozen other nations. The exercise began Aug. 1 and officially concludes Sunday.
Adm. John Aquilino, the head of Indo-Pacific Command, arrived that morning at Baturaja, Indonesia's largest military training area, and was greeted by Gen. Muhammad Andika Perkasa of the Indonesian National Armed Forces.
Aquilino took up a familiar refrain in his remarks to reporters afterward.
Peace and prosperity in the region have "been in place for 80 years and underlined by the-rules based order," he said. "This exercise is part of that."
It also strengthens ties between the two countries' militaries as potential adversaries in the regions, especially China, become more aggressive.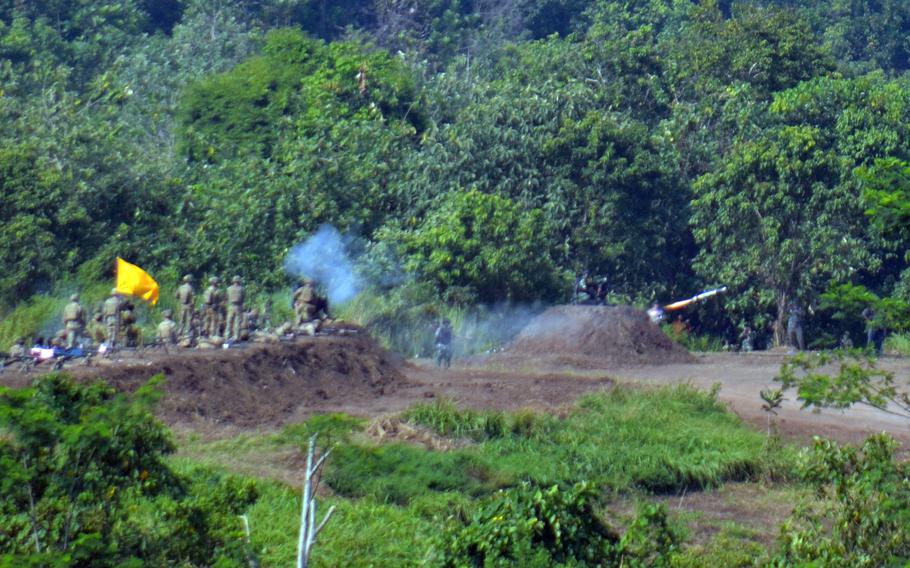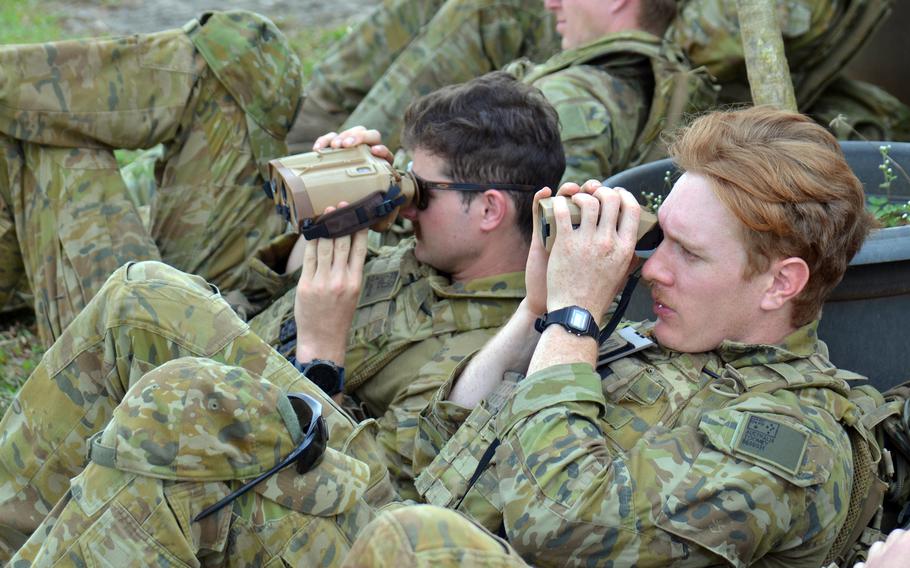 Super Garuda Shield overlapped with a weeklong series of exercises by China's armed forces around Taiwan that also included live fire of artillery and ballistic missiles. China's exercises began Aug. 4 in response to U.S. House Speaker Nancy Pelosi's visit to Taiwan on Aug. 3 and concluded Thursday.
Beijing punctuated its exercises with a white paper Wednesday that justifies using force to unite Taiwan, a self-governing democracy, with the mainland.
"Destabilizing activities by China in Taiwan is exactly what we are trying to avoid," Aquilino said. "Every day we try to prevent war."
Perkasa told reporters that his forces should be able to work with anyone who shares a common goal.
The commander, who studied in the U.S. at Harvard University and the National War College, told Stars and Stripes that training together created friendships between American and Indonesian soldiers despite the language barrier.
Baturaja Training Area is comparable to the Joint Readiness Training Center at Fort Polk, La., said Perkasa, who helped develop the Sumatran range during his previous job as Indonesian Army chief of staff.
"It's the military's duty to prepare itself for future contingencies, he said. "We don't know what's going to happen in the future."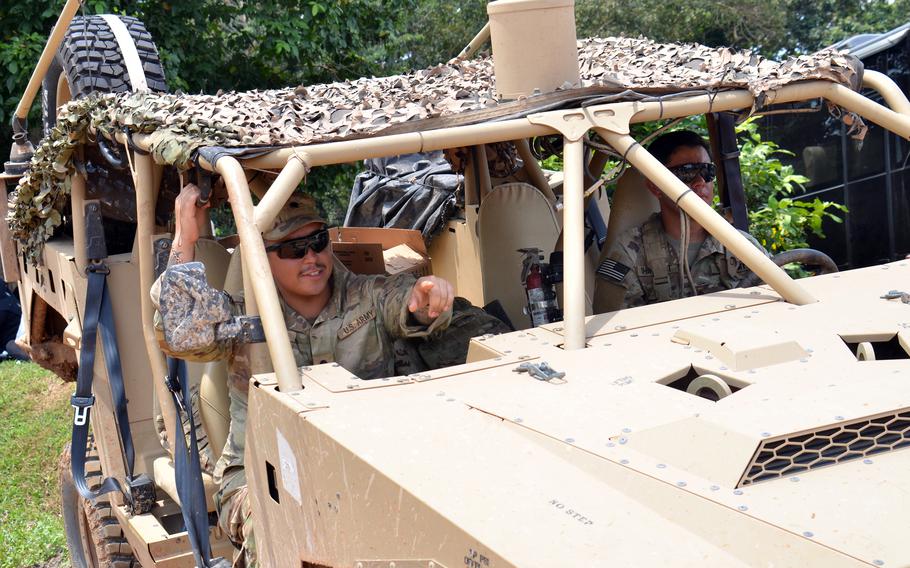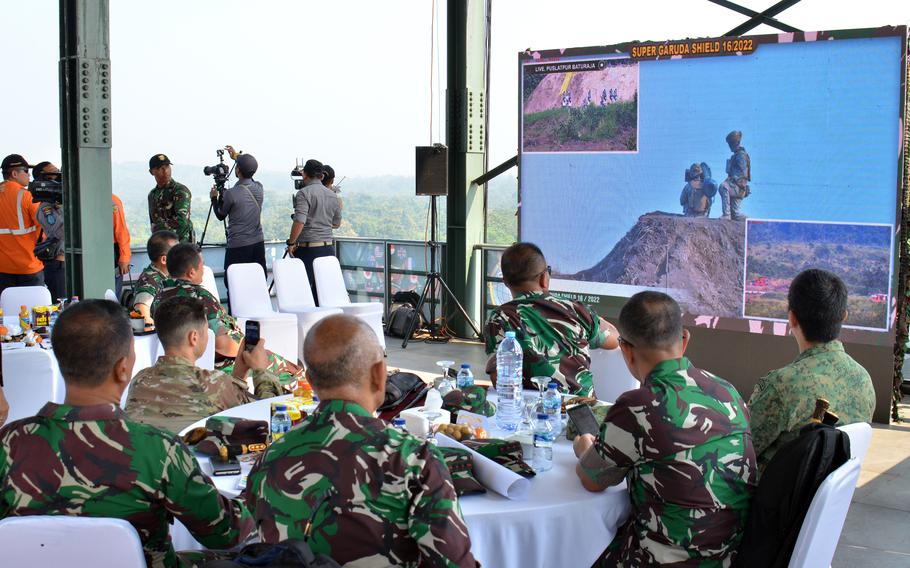 Spc. Matthew Morales, 26, of San Antonio, Texas and Sgt. Jon Shifflet, 23, of Charlottesville, Va., both infantrymen with the U.S. Army's 3rd Brigade Combat Team, spent Friday moving personnel around the training area in a Dagor tactical vehicle.
The Dagor was made for the bumpy Sumatran terrain, which can be soft after rain, Shifflet said.
"It's a lot better than a Humvee," he said of the dune buggy-style all-wheel-drive vehicle with sturdy suspension. "I've only got it stuck once."
Morales, whose specialty is attacking tanks, was interested in watching the Javelin, and AT-4 and Carl Gustaf rocket launchers.
Shifflet said he was impressed with the U.S. Army and Indonesian Apache helicopters firing overhead.
---
---
---
---