Key NATO allies show commitment to Indo-Pacific with fighter deployments
By
Stars and Stripes
August 29, 2022
---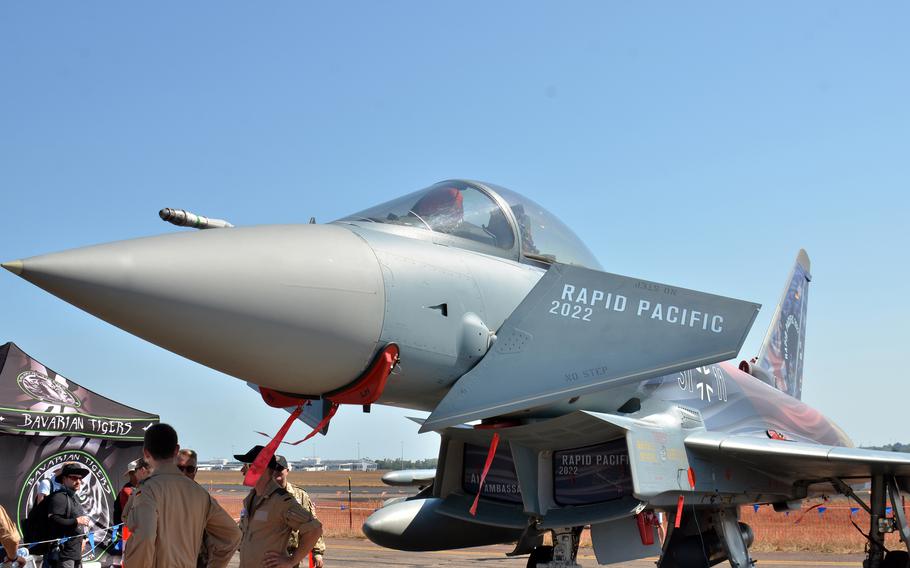 DARWIN, Australia — An armada of warplanes deployed to the Indo-Pacific by the United Kingdom, France and Germany signals the Europeans' commitment to reinforce the region in a crisis, even during the challenge posed by Russia's invasion of Ukraine, according to security experts.
The NATO members sent 13 Typhoon and Rafale fighters, seven tankers or cargo planes and more than 350 airmen to Australia's northern city of Darwin. They're part of the biennial Pitch Black airpower drills involving 2,500 airmen and over 100 planes from 17 nations, including the United States, underway until Sept. 8.
The presence of the European jets demonstrates "capability to deploy quickly to the Indo-Pacific and then conduct combat operations promptly," according to Ross Babbage, a former Australian assistant defense secretary.
The deployments are welcomed in Australia because they underline the commitment of key European countries to quickly reinforce the region in a crisis, he told Stars and Stripes in an email Friday.
The deployments come as Australia grapples with a security challenge from China, its largest trading partner. Beijing has been building influence with Australia's neighbors, including the Solomon Islands, which inked a security pact with China in April and denied a port call request by a U.S. Coast Guard cutter this month.
Australia will continue maritime surveillance flights over the South China Sea despite "robust" encounters with Chinese military planes, the chief of the Royal Australian Air Force told reporters on Wednesday in Canberra. In May, Chinese fighter intercepted an RAAF surveillance plane in international airspace claimed by Beijing, prompting intimidation accusations from Canberra.
The deployment of the European fighters to the region "sends a strong signal to those who might wish to challenge the free and open Indo-Pacific that most major powers across the globe stand united in defending national sovereignty and international law," Babbage said.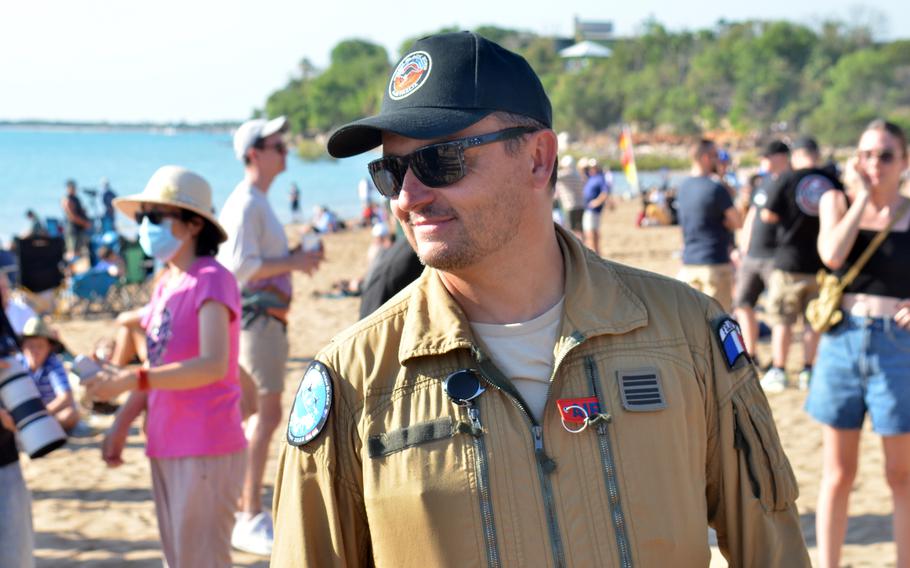 The Europeans are showing they're ready and able to work with allies and partners anywhere in the world, despite pressures at home resulting from the Russian invasion of Ukraine, Ian Chong, an associate professor of political science at the National University of Singapore, said in an email Saturday.
German flexibility
It's the first time that the German air force has participated in Pitch Black, according to an Aug. 15 Australian defense department statement. They arrived with 250 airmen and six Typhoons, three A330 multirole tanker transports and an A400M transport aircraft.
On the way they stopped at Abu Dhabi and Singapore, 1st Lt. Pascal Stieg, 26, a technical officer with the 74th Tactical Fighter Wing out of Neuburg, Germany, told Stars and Stripes at RAAF Darwin on Saturday.
The 10-week mission had been planned for 18 months, he said.
"We want to show the flexibility of the German armed forces," he said. "We were in Singapore within 24 hours."
The Indo-Pacific is of great importance to Germany, according to German air force Lt. Gen. Ingo Gerhartz, who is flying a Typhoon during Pitch Black.
"We share the same values with many partners in this region," he said in the Australian statement. "Defending those values in case of a war emergency and being able to support our partners is something that needs to be practiced."
The German government recently agreed to purchase the F-35 Lightning II fighter to replace its Tornado aircraft.
"Since the Royal Australian Air Force is already flying this combat aircraft, we will be able to learn from them as well," Gerhartz said.
After the Australia training, the German planes will head to Japan and South Korea.
'Good test of our agility'
French Polynesia, with a population of nearly 300,000, includes 121 islands, including Tahiti and New Caledonia east of Australia. France tested nuclear weapons at some of the islands until 1996 and maintains forces there, including several warships and amphibious troops.
France brought to Pitch Black three Rafale fighters, a multirole A-330 tanker and a New Caledonia-based CASA CN-235 twin-engine transport plane along with spare parts and maintainers for a 60-day mission, Col. Franck Bottero, the French exercise director, told Stars and Stripes in Darwin on Thursday.
"The first stage of the mission involved going to New Caledonia to demonstrate force deployment," he said, adding that the planes stopped in India on the way and will visit Indonesia, Singapore, and the United Arab Emirates on the way home.
"The challenge was to come without any civilian aircraft or containers from the Navy," Bottero said.
French involvement in Pitch Black follows a recent rift with Australia, which canceled a $60 billion deal in September 2021 to buy diesel-electric submarines from France. It signed up instead to the AUKUS pact with the U.S. and Britain that includes a plan to buy nuclear-powered submarines.
The Royal Air Force's 6 Squadron deployed 100 airmen and four Typhoons to Darwin from RAF Lossiemouth, Scotland, Flight Lt. Kieran Bedford, 31, of Manchester, England, a typhoon pilot, told Stars and Stripes at RAAF Darwin on Saturday.
A Voyager tanker traveled with the jets carrying spare parts, mechanics and additional pilots, he said.
"We found out about the mission five or six weeks ago," he said. "It was a good test of our agility as an air force to deploy assets around the world."
The Typhoons traveled to Cyprus, the United Arab Emirates, India and Singapore on their way to Australia, Bedford said.
"This is the first time Typhoons from the U.K. have been in Australia," he said. "We are normally more NATO focused."
---
---
---
---