'Dirt det' marks first time American F-35Bs have operated from an Australian base
By
Stars and Stripes
September 2, 2022
---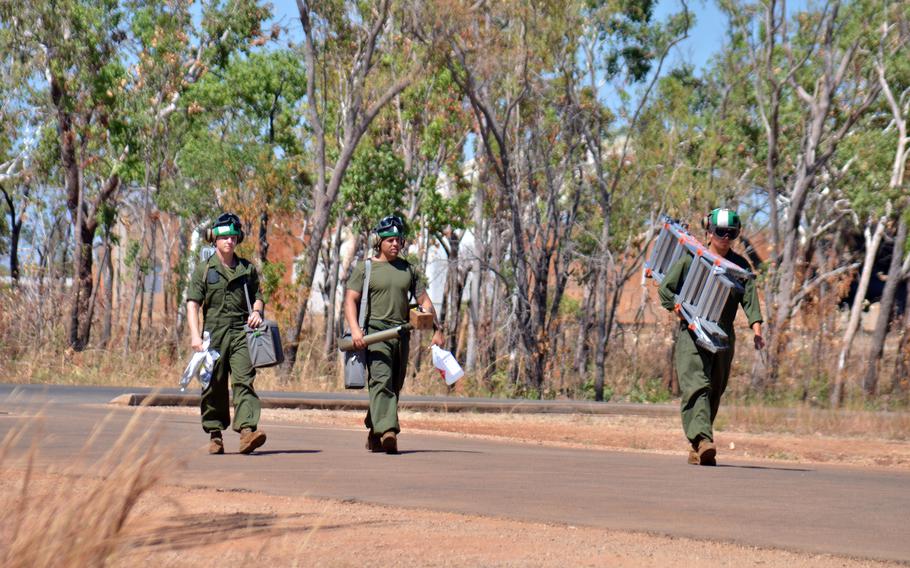 RAAF TINDAL, Australia – A dozen Marine Corps F-35B Lightning IIs flying from this Outback base are the first of the U.S. military's latest stealth jets to operate from Australian soil.
The fifth-generation aircraft belong to Marine Fighter Attack Squadrons 121 and 242, both deployed from their home base, Marine Corps Air Station Iwakuni, Japan, for Pitch Black 2022, an airpower exercise that ends Thursday after 21 days.
The Marines' F-35Bs flew over Australia during the biennial Talisman Sabre drills in 2019 and 2021 but those jets operated from amphibious ships offshore, Capt. Michael Donahue, 28, of Philadelphia, an intelligence officer with the 242nd, said Thursday at Royal Australian Air Force Base Tindal.
The Marines call the Australian mission a "dirt det," or dirt detachment, since it's on dry land rather than at sea, where the short takeoff, vertical landing F-35Bs operate from amphibious assault ships with shorter flight decks than aircraft carriers.
RAAF Tindal, just over 200 miles' drive south of Darwin in an expanse of red soil and gum trees, is home to the F-35As of No. 75 Squadron and is one of only two bases with a unit of Australia's newest fighters.
The other is RAAF Base Williamtown in New South Wales, home to stealth jets from No. 3 and No. 77 Squadrons as well as 2 Operational Conversion Unit, which trains pilots to fly the conventional takeoff and landing F-35As.
Australia has, so far, accepted 50 of 72 F-35As from Fort Worth, Texas-based manufacturer Lockheed Martin, according to the RAAF.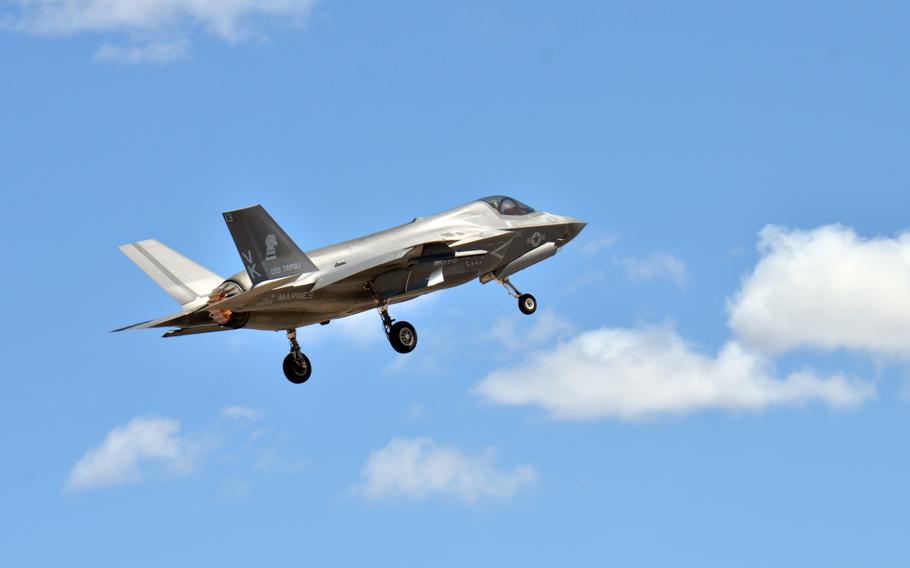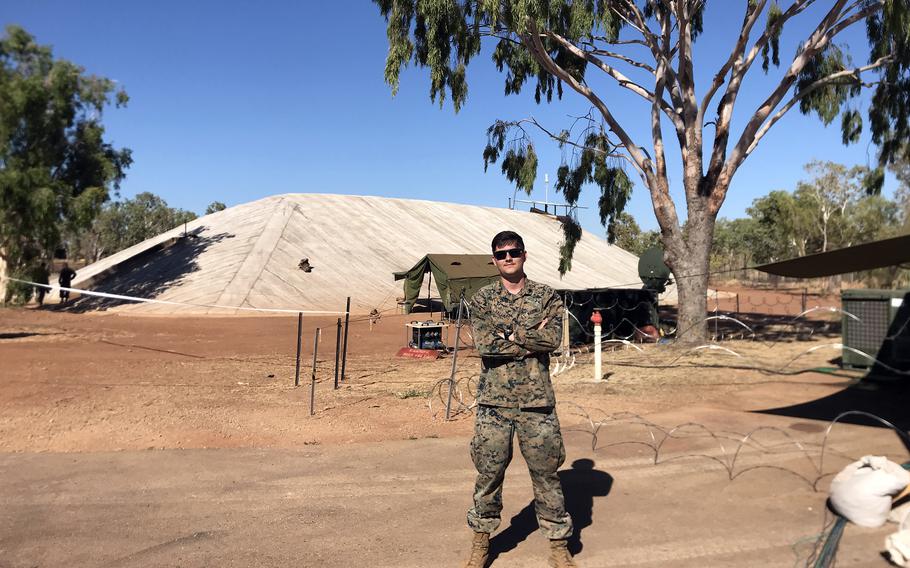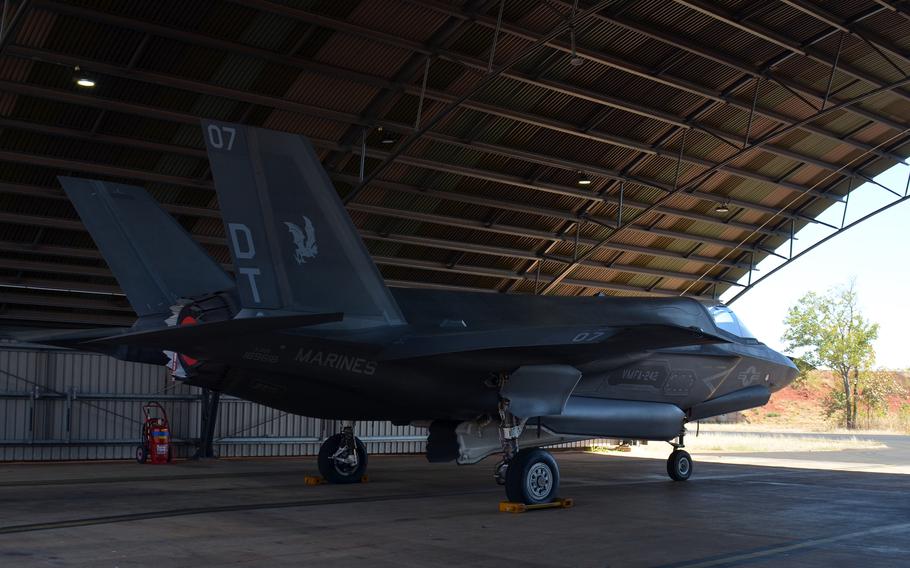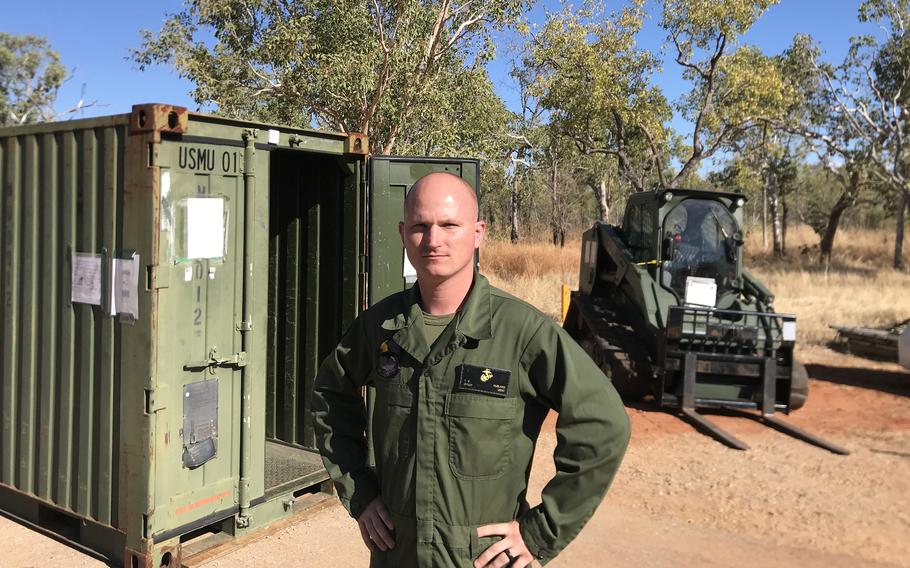 Three hundred Marines from the two squadrons in Japan have been at Tindal for a month, Donahue said. They operate day and night shifts; the day crew sleeps in tents and the night crew rests in air-conditioned bunkers during daylight hours, he said.
The base has a well-watered Australian Rules football pitch and a large, shaded and refrigerated swimming pool where the Marines can cool off.
Marine F-35B mechanics work on the jets in open hangars while others guard a small operations center surrounded by gum trees and razor wire where pilots plan missions.
One of the Marines helping guard the F-35Bs, Sgt. Connor Ballard, 26, of Atlanta, said he's helping translate local accents.
His childhood involved frequent trips to Perth in Western Australia, to visit his Australian mother's relatives, he said Thursday during a break near the RAAF Tindal flightline.
Another Marine with the F-35Bs, Gunnery Sgt. Terrence Hubbard, 35, of New Albany, Ind., said he's seen wallabies, snakes, spiders, colorful birds and bats during the mission.
"I'm into marine biology and hope to see crocodiles and sharks," he said Thursday as jets screamed overhead nearby.
The communications Marine said he enjoys working with the Australians.
"If things go bad, we are going to be working side by side to defeat our nations' enemies," he said.
---
---
---
---