Supporters of Navy officer jailed in Japan hope Biden administration will 'right a wrong'
By
Wyatt Olson and Alex Wilson
Stars and Stripes
September 1, 2022
---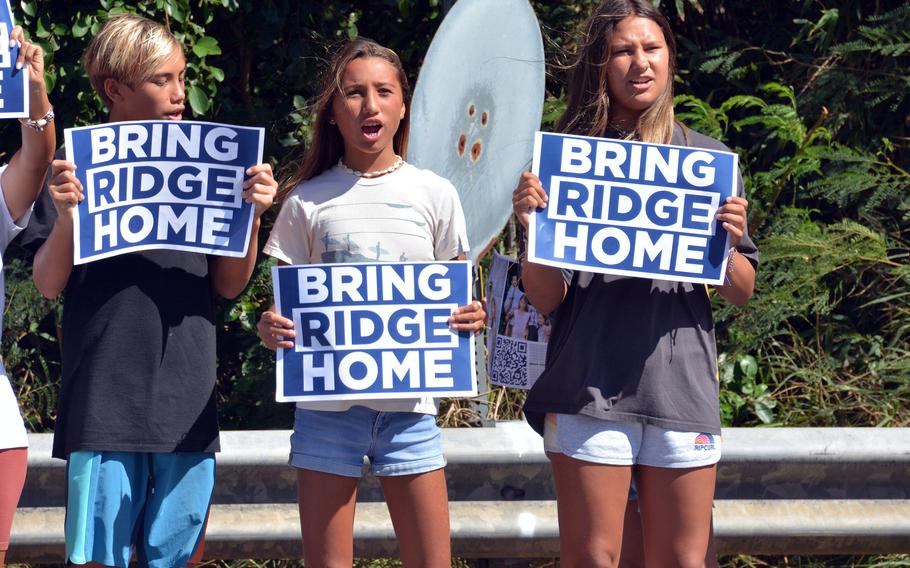 CAMP H.M. SMITH, Hawaii — Supporters of a Navy officer serving three years in a Japanese prison gathered outside U.S. Indo-Pacific Command's front gate on Wednesday to protest what they believe is an unfair sentence.
Around 20 people joined the demonstration in support of Lt. Ridge Alkonis, who reported to the Tokyo Detention Center in July after a Japanese court found him guilty of negligent driving in the death of two pedestrians in Fujinomiya, Japan, in May 2021.
Alkonis, a weapons officer previously assigned to the destroyer USS Benfold at Yokosuka Naval Base, Japan, maintained throughout his trial in Shizuoka District Court that altitude sickness caused him to pass out behind the wheel. The district court rejected that defense, as did the Tokyo High Court that heard his subsequent appeal.
Hoping to draw the attention of U.S. government and military leaders, the protesters held signs reading "Bring Ridge Home," chanting that phrase as vehicles entered and exited Camp H.M. Smith, a Marine Corps base on the outskirts of Honolulu.
"Hopefully, this makes enough noise so that the Biden administration sees it, recognizes it for what it is, and tries to right a wrong," Seth Hannemann, a cousin to Alkonis, told Stars and Stripes on Wednesday.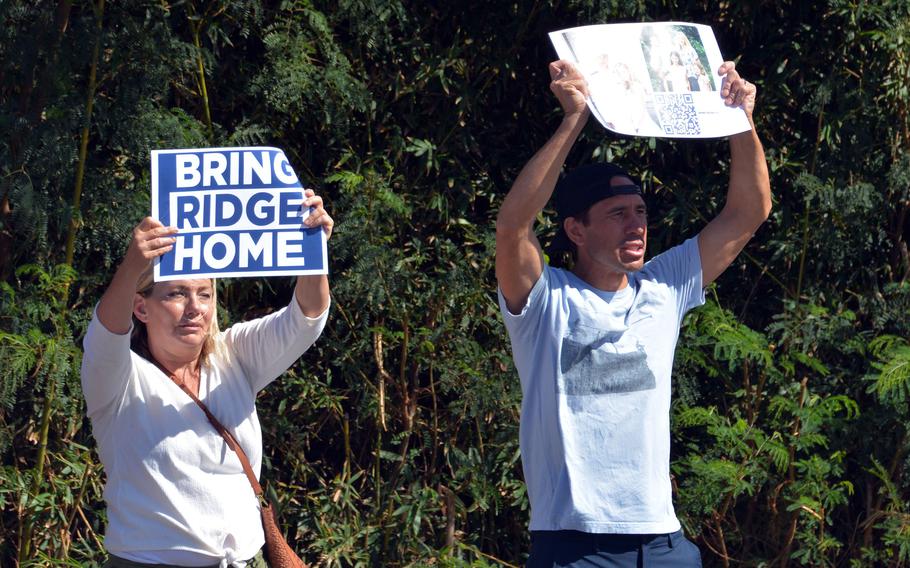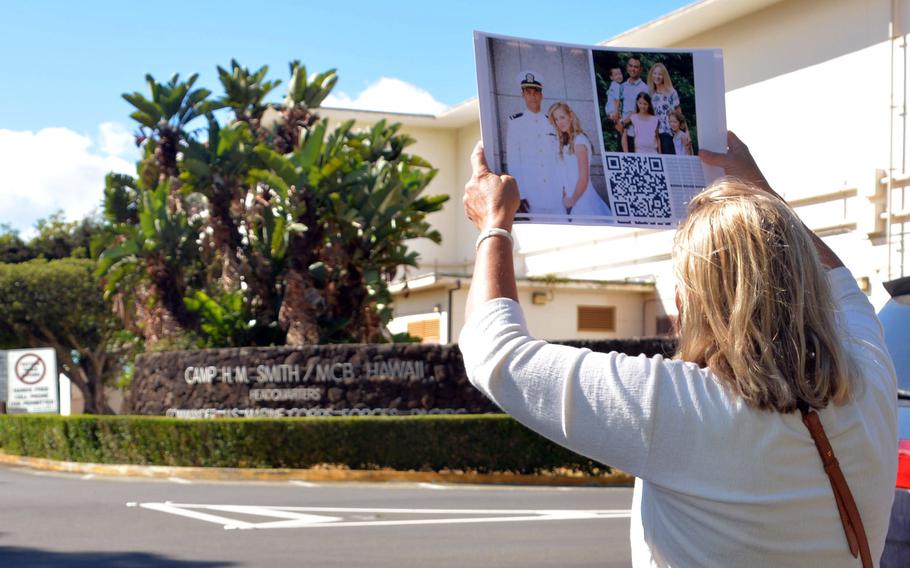 The group, most of whom live in Hawaii, chose the base because White House national security adviser Jake Sullivan was slated to meet with counterparts from Japan and South Korea on Wednesday and Thursday, Hannemann said.
"We have reason to believe there are people here over the next two days who have either heard about Ridge's case and are significant enough and powerful enough to do something, or else rub elbows with people in the Biden administration who can," he said.
Sullivan was slated to discuss the United States' "alliances in defense of the free and open Indo-Pacific" with Akiba Takeo, secretary general for Japan's National Security Secretariat, and Kim Sung-han, director of South Korea's National Security Office, according to a Tuesday news release from the White House.
The group planned to return on Thursday, Hannemann said.
Alkonis was driving on May 29, 2021, when he lost consciousness and his car plowed into pedestrians and parked cars outside a soba restaurant about two hours from Yokosuka Naval Base. Alkonis, along with his wife and three children, were returning from a hike at Mount Fuji's fifth station.
A woman, 85, died that day; her son-in-law, 54, died June 11. A second woman, 53, the daughter and wife of the other victims, was injured.
The demonstration is the continuation of a small-but-vocal movement that has accused the Japanese legal system of conducting an unfair trial and handing down a disproportionate sentence.
A 2021 white paper from Japan's Ministry of Justice showed that 1,071 people were convicted of negligent driving resulting in death during the previous year. Of those, only 70 people — or 6.5% — were sentenced to prison time; the remaining 1,001 were given a suspended sentence.
Alkonis' supporters, which include legislators such as Sen. Mike Lee, R-Utah, and Rep. Mike Levin, D-Calif., have also alleged that prosecutors violated sections of the status of forces agreement between the U.S. and Japan, which governs the rights and responsibilities of individuals affiliated with the U.S. military.
The violation allegations include claims of illegal detention and inhumane treatment while detained.
A Fujinomiya police spokesman in June told Stars and Stripes that the investigation was conducted lawfully. The prosecutor's office declined to comment at the time.
Both the Tokyo High Court and its public prosecutor's office acknowledged a request for comment on Thursday but had not done so as of 5 p.m.
Japan's Ministry of Justice didn't respond to a request for comment. The Ministry of Foreign Affairs said it was in touch with American officials but declined to comment further, the Washington Post reported on Aug. 27.
---
---
---
---