Petition for Navy officer facing prison in Japan alleges mistreatment by police, prosecutors
By
Alex Wilson and Hana Kusumoto
Stars and Stripes
June 17, 2022
---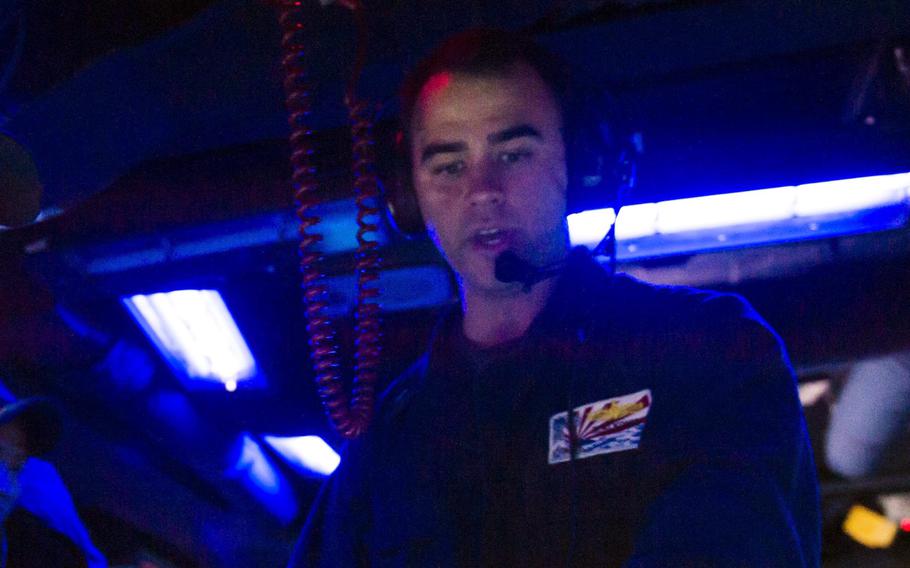 TOKYO — A petition seeking the release of a U.S. Navy officer convicted of killing two people in a 2021 vehicular accident near Mount Fuji alleges he was mistreated by Japanese police and denied a fair trial.
The petition, started on Change.org by a family friend, claims that police interrogated Lt. Ridge Alkonis, 34, several times per day for 26 days without legal counsel present and deprived him of sleep.
A spokesman for Alkonis' family, Jonathan Franks, also alleged Wednesday that Japanese authorities ignored the status of forces agreement, which allows the release to U.S. custody of service members accused of crimes in Japan. SOFA outlines the rights and responsibilities of individuals in Japan with the U.S. military.
"Lt. Alkonis' detention was in violation of SOFA, and the conduct of his interrogation was indefensible - so much so that interrogators didn't video tape it as required by Japanese law," Franks said in a text message to Stars and Stripes. Franks also alleged that Alkonis was pressured into signing statements in Japanese that should have been translated into English.
Aspects of Alkonis' treatment, however, appear to be the norm in Japan. Suspects in criminal cases may be held up to 23 days, without an opportunity to post a release bond until they're formally charged, according to information from the Japan Federation of Bar Associations.
Police may question a suspect in a closed interrogation room for a long time over many sessions without an attorney present, according to the bar associations. Video or audio recordings are required only under specific circumstances.
Martin's petition also claims police kept Alkonis in a cell under bright lights that kept him from sleeping.
"Lt. Alkonis has not received a fair trial and has endured numerous injustices," according to the petition.
A spokesman at the U.S. Embassy in Tokyo referred questions Tuesday to the Defense Department, the lead agency for cases involving American citizens covered by SOFA.
"The Department of State has no higher priority than the safety and security of U.S. citizens overseas, including those arrested or detained," embassy spokesman Kurt Aufderheide said.
The Defense Department and the Navy Chief of Information referred questions this week to Naval Forces Japan, whose spokeswoman Cmdr. Katie Cerezo in an email Friday said she had no new comment to make on Alkonis' case. A spokesman for U.S. Forces Japan did not respond by Friday to requests for comment on Wednesday from Stars and Stripes.
Alkonis is free on bail while the Tokyo High Court considers his appeal of a three-year prison sentence stemming from the deaths of a woman and her son-in-law when the Alkonis family car veered into a restaurant parking lot in Fujinomiya on May 29, 2021.
The petition, begun June 6 by Kristin Martin, a Navy spouse and friend of the Alkonises, alleges Alkonis was falsely convicted in October in the Shizuoka District Court. By Wednesday, 30,082 people had signed the petition, which calls on the U.S. government to do "whatever is necessary to return Alkonis to the U.S."
Martin, of Newport, R.I., started the petition to create public support for the lieutenant's situation and prompt government and military authorities to act, she told Stars and Stripes by phone Tuesday. She referred questions about the specific allegations to Franks.
"Military families just need to know that the U.S. will give full support by advocating for their safety and wellbeing of our service members overseas," Martin said. "We send our families over there and we want to know that, even when tragedies happen, that our government is still going to be there to ensure that we get fair treatment."
A Fujinomiya police spokesman declined comment on the petition but told Stars and Stripes by phone Tuesday that the investigation was conducted lawfully. The prosecutor's office also declined to comment, citing the pending appeal. The high court is scheduled to rule on Alkonis' appeal on July 13.
In October, Shizuoka District Judge Kumiko Maesawa rejected as "unlikely" Alkonis' defense at trial that he fell unconscious behind the wheel due to altitude sickness. Alkonis, his wife and their three children had walked partway up Mount Fuji prior to the accident. In court Alkonis said a general practitioner and a neurologist had afterward diagnosed him with acute mountain sickness.
Alkonis' car plowed into pedestrians and parked cars outside a soba restaurant in the city about two hours from Yokosuka Naval Base, where Alkonis was stationed as a weapons officer aboard the destroyer USS Benfold.
A woman, 85, died that day; her son-in-law, 54, died June 11, 2021. A second woman, 53, the daughter and wife of the other victims, was injured.
Alkonis has expressed remorse in and out of court and according to his defense attorney paid $1.6 million in compensation to the victims' families.
"The Alkonises are very grateful for the outpouring of support they have received since going public last month," Franks said Wednesday. "I'd also invite those praying for the Alkonis family to join us in praying for the families of the two Japanese civilians who lost their lives that day and healing for all involved."
---
---
---
---