Navy officer attributes fatal car crash to altitude sickness after trip to Mount Fuji
by
Alex Wilson and Hana Kusumoto
Stars and Stripes
August 24, 2021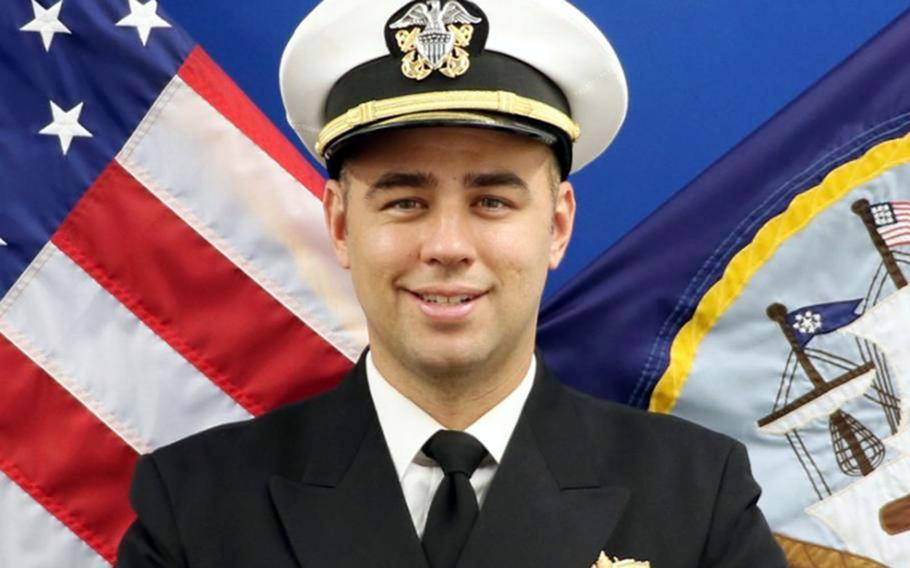 NUMAZU, Japan – A U.S. naval officer, facing 4 ½ years in a Japanese prison, described in court Tuesday how he lost consciousness driving home from Mount Fuji and caused an accident that ultimately claimed the lives of two people.
Lt. Ridge Hanneman Alkonis, 33, crashed his car into pedestrians and parked vehicles at a soba restaurant parking lot in Fujinomiya on May 29, according to an indictment. The city is about two hours from Yokosuka Naval Base, where Alkonis is assigned to the destroyer USS Benfold as a weapons officer.
Alkonis, who is charged with negligent driving resulting in death, said he lost consciousness due to acute mountain sickness, a common set of symptoms that occur with a trip to high altitude.
Killed in the crash was a woman, 85, who died that day, and a man, 54, who died in a hospital on June 11. A second woman, 53, suffered bruises to her knees and elbows.
Alkonis testified Tuesday in Shizuoka District Court that he suffered a bout of altitude sickness that day, a leftover effect of the trip he, his wife and their three children had made up the iconic mountain.
He said two doctors, a general practitioner and a neurologist, had diagnosed him with acute mountain sickness after the accident. Symptoms can feel like a hangover and include dizziness, headache, muscle aches and nausea.
"I felt my body get weak, and my car drifted out of the lane, but I was able to quickly correct it," he said in court. Five minutes later, Alkonis said, he began to talk with one of his children when he "lost his memory," and the crash ensued.
"I feel sorry for the suffering and the pain I've caused" the victims and their families, Alkonis said during the trial.
Alkonis did not dispute the facts of the indictment. A sentencing hearing is scheduled for Oct. 18.
The Shizuoka District Public Prosecutors Office recommended he serve a 4 ½-year prison term without hard labor. Alkonis' defense attorney asked instead for a suspended sentence that would effectively mean probation.
The indictment alleged that Alkonis "dozed off" at the wheel.
He could have prevented the accident, a prosecutor argued in court, had he immediately stopped driving upon feeling drowsy.
"There was no emergency or necessity for him to continue driving," she said. "He carelessly continued to drive."
Alkonis' defense attorney countered that Alkonis didn't feel sleepy. He fell ill following the trek up Mount Fuji and lost consciousness on the way to a planned stop for lunch.
"He was almost to the destination," she said. "It is hard to say that his action was extremely malicious."
Alkonis told the presiding judge, Shizuoka District Judge Kumiko Maesawa, that a suspended sentence would likely mean he'd be ordered back to the United States and discharged from the Navy.
His defense attorney said Alkonis was ready to pay compensation to the injured woman and the deceased victims' families and had already compensated the people whose cars were damaged.
In Japan, it's customary to offer extrajudicial compensation for damages or injuries in an effort to apologize.
A relative of the two people killed in the crash made a statement in court. The 85-year-old victim was her mother, the woman told the court, and the 54-year-old was her brother-in-law. That day was her mother's birthday.
"I couldn't believe what happened, thinking about her cheerful voice in the morning," she said. "It's painful to think how scared she was and how painful it was for her."
She said that Alkonis ran toward the victims to help, saying he was sorry, but her sister saw him with his family standing away from the victims when the ambulance arrived.
"I ask the court for severe punishment. Otherwise, a similar tragedy like this will continue to happen," she said. "The bereaved family will not forgive the defendant, who took two lives."
Asked by a prosecutor why he didn't stop at the time, Alkonis said he was so close to his destination that he felt he could make it there before resting.
Alkonis said he had never before experienced something like that. He doesn't drink alcohol, hadn't taken any medicine that could cause drowsiness and had slept well the night before.
Alkonis testified that he rendered aid as best he could, including trying to move vehicles off two of the victims who were trapped.
"I've tried to do everything I can to help those who had been hurt," he said. "If those efforts were not enough, insufficient, I'm sorry," he said.
Alkonis' wife, Brittany Alkonis, testified that she felt severely carsick due to the winding roads and could not take over driving for her husband.
"We are terribly sorry this happened," she said. "We love this country, and we only wanted to contribute to it."
---
---
---